Coffee Makers with a Difference
By Evelyn J Stafford ~ Updated 25 September 2022
Today we are looking at the very best Amazon Alexa coffee makers that work with the sound of your voice. We are talking about the best smart coffee makers in the business, complete with the best brew strength, the capability to use a smart speaker, and programmable through the Alexa mobile app.
If you just stumbled upon this article by accident, you probably didn't even know that you could get a smart coffee maker that works with Alexa. But you absolutely can! Hamilton Beach makes great smart coffee makers, while Atomi makes a particularly solid coffee maker that 100% compatible with Alexa.
Today we're going to talk about how these Alexa enabled coffee makers work, what the coffee actually tastes like, and if you should go with a budget smart option or a premium version – and what all the differences are. We will also teach you how to program your coffee maker so that it works with Alexa properly. If you thought coffee was great, wait until you try smart coffee!
Ever wondered if you could connect your coffee maker to you phone and get a fresh cup brewing 10 min before you get home? Take your coffee making to the next level with an Alexa coffee maker!
Overview
Having a wifi coffee maker compatible with Alexa gives you the ability to make your coffee from anywhere in your house. That is the real bonus when we're dealing with a Wi-Fi-enabled coffee machine. All you need is to download the application onto your phone, and with the App you can tell her to make your coffee and she will do it for you. You get complete wireless control that works with Alexa – no getting out of bed!
Of course, almost every coffee maker that's compatible with Alexa allows you to make at least 12 cups of coffee. These are not single-serve espresso machines. You can make an entire cup of coffee just like you would with a traditional coffee machine, only you are going to use Alexa to do it for you.
How does this benefit you? If you're lazing in bed in the morning, too tired to get up and turn on your coffee maker, simply speak to your phone and tell Alexa to make it for you. So long as your coffee maker is compatible with Alexa, she can do all the legwork for you.
Of course, you can always get a smart home coffee maker that's fully programmable, able to make a cup of coffee at any designated time. But what if that time changes? What if it's not ready when you wake up! By having a coffee maker compatible with Alexa, you can brew coffee at any time even if you're not in the room. It's like starting your car from your bed with a portable starter.
Also see: Coffee Nutrition Facts & Labels for your 18 Favorite Brews
Our Top Selections
There are two main coffee machines that are going to work the best for you. We have selected one budget smart coffee machine and one premium model, that way you have a choice and can see what your money gets you. And don't worry, each smart coffee maker works hand in hand with Alexa.
Hamilton Beach Programmable Smart Coffee Maker
The Hamilton Beach Programmable Smart Coffee Maker works with Alexa to bring you a fresh cup of coffee in the morning, in the afternoon, and at night. Whenever you're ready for coffee, this machine is here for you. It's a full coffee maker that can make 12 cups of coffee. It works just like any coffee machine you are familiar with, using a front-fill basket, a water reservoir, and a digital display. This model also has a cleaning cycle reminder that will inform you when it's time to do a deep clean on your coffee maker.
You're going to need to use the Alexa iPhone / Android app or the Alexa smart speaker, but either way as long as you have a Wi-Fi connection the appliance will do its job. You can even change the coffee strength or turn the machine off. Each of these features works with Alexa. And because your coffee machine is connected to the Internet, the clock will automatically keep the correct time.
The only issue with this machine is that you obviously need to prepare it yourself. Alexa can't pour the coffee grinds and she can't fill the water reservoir by herself. This machine is 100% 'Alexa certified,' which means it meets all the rules for responsiveness, functionality, and reliability that it needs to have such a certification. It's one of the best home brewers you can have that works hand in hand with Alexa, and it's dirt cheap.
This units cost-effective, easy to use, it doesn't make a mess, and it doesn't matter if you accidentally leave the house with the coffee maker still on. You can simply tell Alexa to turn off the machine – or it will turn off automatically on its own after 2 hours.
Features
Compatible with Alexa
Cleaning Reminder
12 Cups of Coffee
Mess-Free Serving
24/Hour Programmable
We like
Super Cheap
Easy to Use
Smart Home Ready
Compatible with Alexa's Speaker
Automatic Shut Off
We don't like
Lower-End Model
No Espresso Capabilities
Machine Itself is Big/Takes Up Room
See It In Action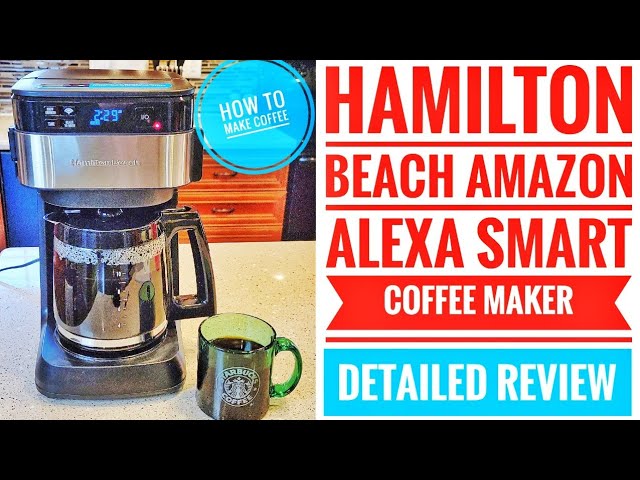 Atomi Smart Coffee Maker
This is definitely the best drip coffee maker. Yes, it's quite a bit more expensive than the previous model we talked about, but it's better in terms of overall quality. It also has a few more features that makes it ideal for home use.
Yes, the Atomi Smart Coffee Maker works hand in hand with Alexa, but it also works with Google assistant. It's completely voice activated, meaning you can use your Alexa smart speaker, your Google Assistant, or your Alexa mobile app. You just need to say something like "Google, make my coffee," or "Alexa, brew my coffee." It's really that easy. You can also speak to your device to change the strength of the coffee, to turn the appliance on or off, and you can do it from anywhere in your house.
This coffee machine also comes with full programmability. You can create a daily and a weekly schedule that conforms to your lifestyle, changing the times that your coffee maker will brew throughout the day. It's great for people with a very busy schedule. It even comes with a manual option so that you don't need to use voice activation if you don't feel like it.
Finally, you get full Wi-Fi enabled the drip coffee machine. There are only two steps to activating your appliance. Download the free app onto your phone, make sure you're on Wi-Fi, and that's it. You are all set and ready to brew while having a shower in the morning. Brew your coffee without ever stepping foot in the kitchen!
Features
Fully Programmable
Bright LED Display
Quality Construction
Voice Control
Daily Brew Schedule
We like
Easy to Set Up
Smart Home Ready
Syncs Well w/ Alexa
Looks Great & High Quality
Alexa & Google Assistant Ready
We don't like
Easy to Accidently Turn Off Wi-Fi
Only Comes w/ Glass Carafe
More Expensive
See It In Action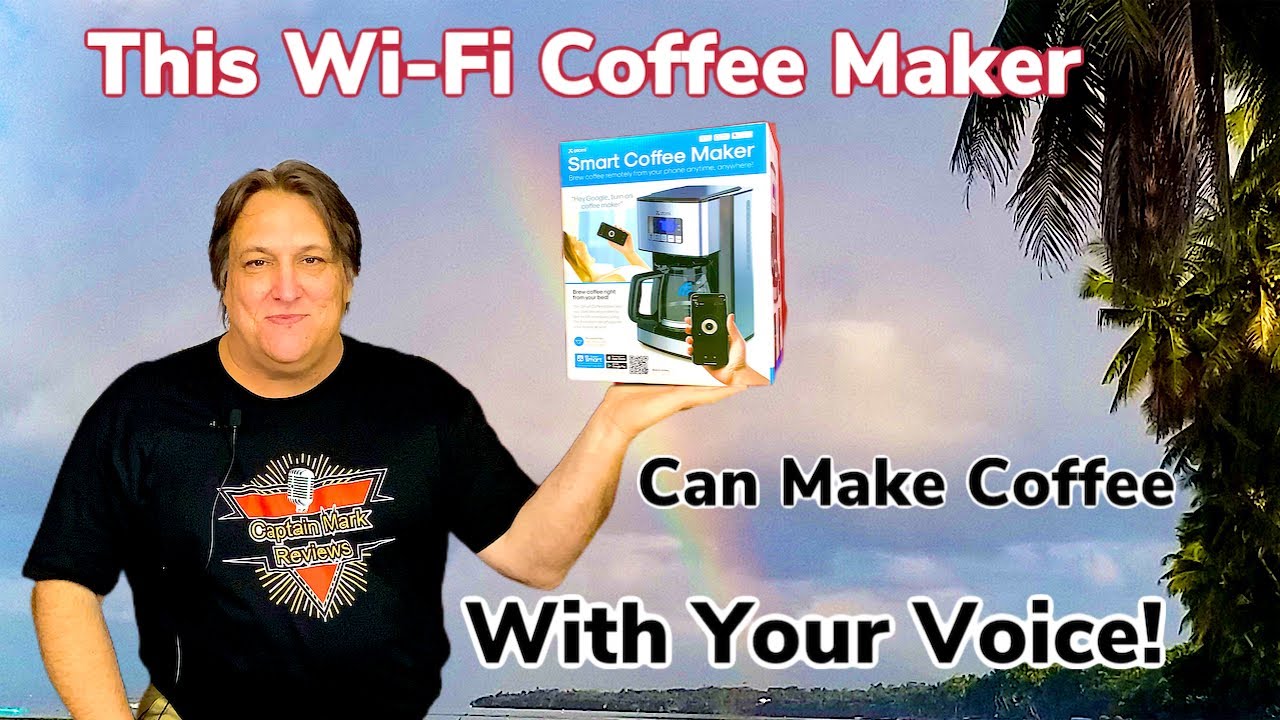 How Do I Know it's an Alexa Compatible Coffee Maker?
What is Amazon Certified? It basically just means that your appliance is compatible with Alexa. There are not very many of these coffee makers around right now, and the few that are available for purchase are absolutely Amazon certified. If the machine is being sold on Amazon and it connects to Alexa, it's going to be certified.
While there is no actual certification, it really just means that machine is guaranteed to connect to Alexa, either through the Alexa speaker or through the Alexa application.
How do I Connect My Alexa Coffee Maker?
Connecting your smart home Alexa coffee machine is super simple. No matter which machine you choose, it's as simple as downloading the application, syncing your maker with the app, and then never dealing with it again.
Don't forget that the instructions are always going to be found with the machine when you purchase it. The coffee machine will need to connect to Wi-Fi, but this isn't a problem because they will all be Wi-Fi enabled. Then it's only a matter of connecting the Amazon Alexa mobile app to the coffee machine. From then on, you don't have to do anything except ask Alexa to make you your coffee.
Our Pick
It's always hard to choose the best, especially when we're dealing with such a new and impressive technology. At the end of the day, this battle comes down to budget against premium. The Hamilton Beach Coffee Maker is a smart machine that can make scrumptious coffee using the Alexa application from anywhere in your house, but it does lack the sophistication of the Atomi coffee maker.
When it comes to Atomi, you can expect 100% reliability. All of its features work very well, the machine is designed and manufactured with quality in mind, and its compatible with Alexa to brew your coffee no matter where you are! Even better is that it also works with Google. You have a lot more choices when you pick the Atomi coffee machine.
It's for this reason that our pick is going to be the Atomi! Yes, it's grossly more expensive, but we think it's worth it. If you want to dip your toes into this exciting technology, why not spend the extra money?
That being said, if you don't have the cash to spare and you still want a coffee machine that works with Amazon Alexa, by all means pick up the Hamilton Beach. It's still a great unit, it still makes delicious coffee, and it's definitely not going to let you down.
Recommended Reading
The 7 Best Smart Coffee Makers Available Now
Today we are looking for the best wifi coffee maker. We are talking about smart…
Learn More >
COMMENTS
Coffee Makers with a Difference
Today we are looking at the very best Amazon Alexa coffee makers that work with…
Learn More >
COMMENTS
The 7 Best Smart Coffee Makers Available Now
Today we are looking for the best wifi coffee maker. We are talking about smart…
Learn More >
COMMENTS