The 10 Best Espresso Machines Under $100
By Evelyn J Stafford ~ Updated 30 June 2022
As an Amazon Associate I earn from qualifying purchases
The only motivation that gets most of us on our feet every morning is the aroma and taste of a rich coffee. Most assume that with a higher price tag, will come a better quality shot of espresso. The good news is, they're not!
Recent developments by companies such as De'Longhi, Hamilton Beach and Mr Coffee are rapidly closing the gap, paving the way for people with a smaller budget to enjoy quality espresso.
Here are the 10 best espresso machines under $100.
If you find these options a little basic and want to see what a little extra bang for your buck will fetch, be sure to stop by our guide to the best espresso machine under 200.
How We Review The Best Espresso Machines Under $100
We start our search by compiling a list of products that meet your criteria – espresso machines under $100 in this case. We single out the very best performers of the category by overall performance and value; then rank them in order.
We then search every corner of the internet for relevant facts and customer feedback for the products that made the cut. We then compile the data and form your detailed review.
In each review, you will find:
We score our top-rated products out of 10 in terms of their features, ease of use, durability, brew quality, and overall value for money so you get a good idea of what to expect at a glance.
Where possible, we provide a video to get you a hands-on demonstration.
We provide the important product statistics in one handy place.
We form a list of pros and cons for you to consider from reading customer feedback. We pick out the most common threads and list them as pros and cons so you can see what works and doesn't with each product.
OUR TOP 3 SELECTIONS FOR 2022
Espresso machines are a blessing! Every morning is a rush, and grabbing the cup of coffee sitting there made just for you will start your day on a high note. If you are in search of a coffee maker as an amateur and are willing to try one out for less than $100, you have come to the right place.
While reviewing the best machines, one particular model stood out as the clear winner. The De'Longhi Stilosa is simply above the rest and undoubtedly our favorite. It delivers one great coffee after another and will save you hundreds of dollars compared to premium espresso machines. You can enjoy a smoother, clearer, and frothy coffee with a wide range of options incorporated for your tastes.
While we loved that model, De'Longhi's Espresso & Cappuccino machine is another excellent option with a wide range of brilliant features. It provides you with a variety of beverages, be it a latte, espresso, or cappuccino. This espresso machine will be a great addition to your countertop with its perfect design and in-built machine elements.
These two models were brilliant but we also found another 8 which are excellent value for money and maybe more suited to your needs. Let's take a look at them all in a little more detail.
Our Ratings & Detailed Reviews
In this section, our team of testers go into further detail, demonstrating why they'd be a good fit for your lifestyle.
1. De'Longhi Stilosa Manual Espresso Machine
The De'Longhi Stilosa Manual Espresso machine is designed to elevate your coffee experience and provide you with specialty drinks like never before.
For casual coffee lovers, this manual coffee maker provides barista-quality beverages without taking much space in your kitchen. The outer body blends pleasingly with any surrounding, thanks to its high-gloss black color mixed with stainless finishing.
The design is also suited to accommodate taller cups with a removable drip tray, allowing you to pull the shots directly into your mug. It comes with two filter baskets, one for single shots and the other for double shots. Two espresso spouts also let you make two one-shot drinks simultaneously, saving time for a large family.
15-bar pump pressure and stainless-steel boiler help in the extraction of the espresso, and a manual milk frother comes to play if you are in the mood for a latte or cappuccino. Afterward, it is recommended to flush out the residual milk to avert the clogging of the steam wand.
Another selling point of the Stilosa is it is straightforward to clean and maintain. Despite being a manual machine, it is easy to disassemble the parts and clean them thoroughly. You can effortlessly remove the filter from the portafilter, unscrew the filter cap and frothing wand, and wash them using warm water. It is an efficient and user-friendly machine and is worth the cost.
Highlights:
Manual steam wand to texture milk for lattes and cappuccinos
Two-level cup holder
Simple cleaning and maintenance
Water level indicator
Compatible for ESE pods
Coffee tamper included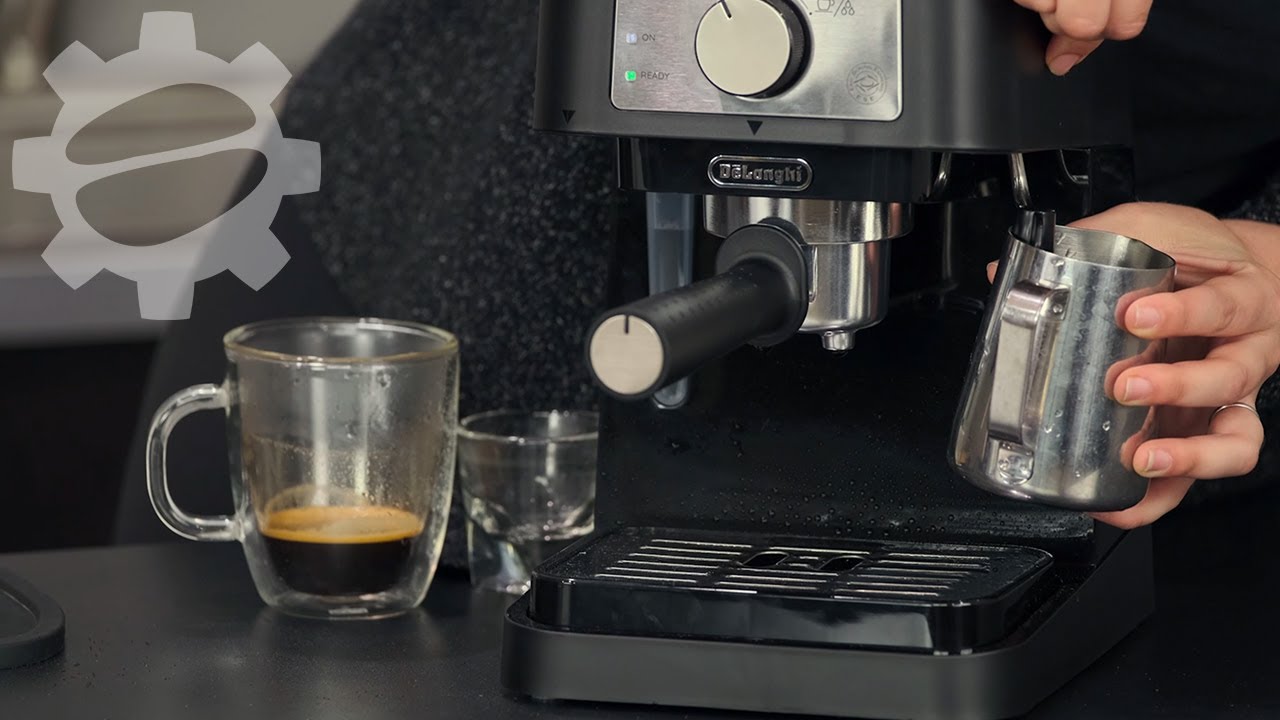 Product Specs:
Pros & Cons:
Ground Coffee or Pods
1 - 2 Espresso Shots
Milk Frother
34oz Reservoir
1 Year Warranty
Manual Operation
15-barr Pressure
No Water Filter
Removable Reservoir
13.5' D x 8.1' W x 11.2' H
Pros:
We found the new De'Longhi Stilosa just as simple to use & makes quality espresso
You can use the top of the machine to warm your coffee cups / shot glasses
You can use the De'Longhi Stilosa to make hot water only
Cons:
We found water drips from the brew head when the steamer is engaged
You need to remove the drip tray in order to fit a normal sized cup / glass
We found the pannarello wand produces too much froth
Check Current Price →
more

See it at 1st In Coffee →
See it at Newegg →
See it at Walmart →
2. De'Longhi Espresso & Cappuccino Machine
For a manual machine that prepares your espresso as soon as you crave one, the De'Longhi Espresso & Cappuccino machine is a must-buy. It has all the features you need while having an incredibly low price.
The device features a patented manual milk system and a steam wand to get a rich and thick espresso with lasting foam. It is quick to brew and delivers a superior beverage at the optimal temperature with its stainless steel boiler and integrated dual thermostats. You have the option to choose between one and two shots, or easy serving espresso pods. The 3-in-1 filter holder will quickly brew your desired beverage.
On the exterior, the body material is made of plastic with this being a budget model and weighing a meager 6.7 lbs. As the machine is designed for amateurs, it does not allow many options for manual modifications. Nevertheless, the ones present are impressive, to say the least. It is compatible with coffee grounds and ESE coffee pods, allowing you to choose your preference. After this, turn on your device, start to brew, and stop when it is done, everything is hands-free!
The machine is also great for cleaning as it comes with a descaling feature. You can easily remove the drip tray and water reservoir, and a dual-function filter holder keeps the portafilter spotless.
Highlights:
Stainless steel boiler
Two separate thermostats
15-bar pump pressure
35 oz. detachable water tank
A cleaning light lets you know if the machine needs descaling
Built-in swivel jet frother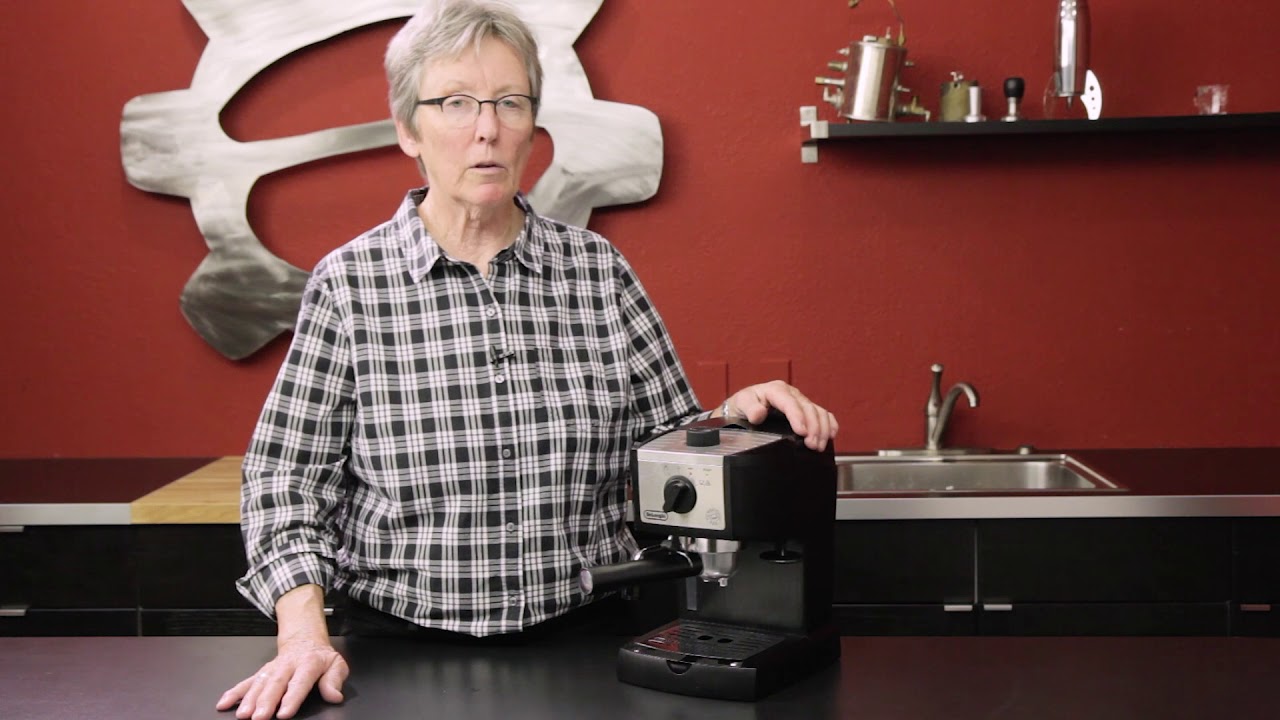 Product Specs:
Pros & Cons:
Ground Coffee or Pods
1 - 2 Espresso Shots
Milk Frother
35oz Reservoir
1 Year Warranty
Manual Operation
15-barr Pressure
No Water Filter
Removable Reservoir
12.2' D x 19.3' W x 15' H
Pros:
We found the De'Longhi simple to use, easy to clean & makes quality espresso
The grind size of does not matter with the De'Longhi as it has a pressurized portafilter
You can see the water level at the front of the machine without opening the lid
Cons:
We found the pannarello wand produces too much froth
We found the incorporated tamper awkward to operate
The De'Longhi produces a soupy puck, regardless of grind
Check Current Price →
more

See it at 1st In Coffee →
See it at Newegg →
See it at Walmart →
3. Hamilton Beach Espresso & Cappuccino Machine
An impressive multi-tasking machine, the Hamilton Beach Espresso & Cappuccino Machine takes not only espresso cups but also cappuccinos, lattes, and mochas. Its 15-bar pump can extract a rich espresso using fresh ground coffee or pre-measured soft espresso pods. A stream control system aids in streaming the milk to a thick liquid, and a Panarello delivers the froth within seconds.
The water reservoir has a capacity of 40 oz. and is straightforward to remove, refill or even replace. You can also see the water level from outside and add the necessary amount without turning off the device.
The machine is designed for easy cleaning and maintenance. The frothing nozzle, cup rest, brew head, filter holder, and the removable water reservoir and drip tray are instantly accessible and make the cleaning process brief and effortless. Descaling is also a standard option when you have used the appliance for a few months.
A standout point of this machine is that you can serve two cups at the same time. Two brew head spouts make it possible, and you can enjoy multiple servings while going about your day. The developers have also included a use and care manual that we recommend going through. With a unique style for this brand, this appliance is one of the best-sellers.
Highlights:
Brews multiple cups simultaneously
Five years of warranty
Externally visible 40 oz. water reservoir
Flexibility with coffee grounds and espresso pods
Frothing nozzle with adjustable steam control heats milk to the best temperature
Easy to clean and fill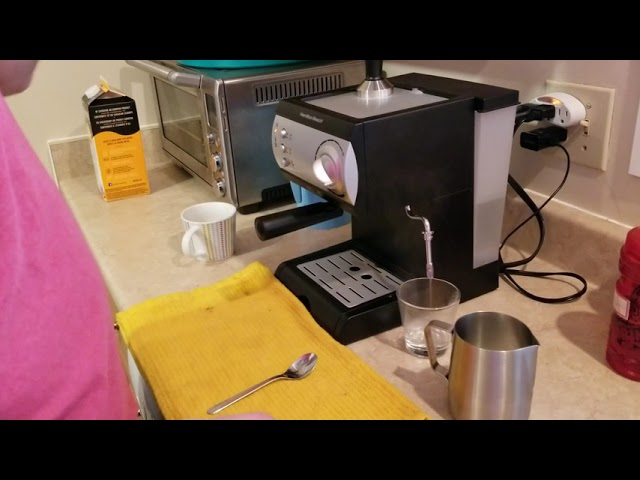 Product Specs:
Pros & Cons:
Ground Coffee or Pods
1 - 2 Espresso Shots
Milk Frother
40oz Reservoir
1 Year Warranty
Manual Operation
15-barr Pressure
No Water Filter
Removable Reservoir
13' D x 8.2' W x 12.3' H
Pros:
We found the Hamilton Beach easy to use, clean & makes good quality espresso
It only takes around 45sec to warm up the espresso machine before use
In general, it's a very good coffee maker considering the price point
Cons:
We found the steam wand does not produce much froth
We found the power cord to be short - around 20
You need to place the water tank on precisely or it may leak
Check Current Price →
more

See it at 1st In Coffee →
See it at Newegg →
See it at Walmart →
4. Mr. Coffee Pump Espresso Maker
If you are not much of a coffee drinker and are mostly down for those occasional cravings, Coffee Pump Espresso Maker is an ideal budget-friendly investment. Just under $100, this machine will deliver barista-style bold espressos sweetened by steamed milk.
While it is pretty wide in its dimensions and larger than the other machines mentioned here, the end product makes up for its big footprint. The water reservoir takes a vast portion of the space and can hold an impressive 52 oz. of the liquid.
The performance is above average, and honestly, they are no complaints about someone who wants espresso sporadically. The appliance works quickly and can start brewing in a short time, and the frothing process for lattes and cappuccinos is decent and is as expected from a machine like this.
The design is sleek, and while its thermal block heating system heats the water rather quickly when compared to other appliances, the temperature of the espresso is either a hit or a miss. A 15-bar strong pump extracts the essence of the espresso and will hit your tongue at all the sweet spots, giving it hearty quality.
The removable components like drip tray, filters, water reservoir and drip grid make the cleaning process easily possible. As most parts are dishwasher safe, you are left pleased with the appliance's hygiene for further use.
Highlights:
Simple to operate
Quick brew time
Requires manual turning off
Very easy setup
Large water reservoir capacity
Thermal block heating system heats the water quickly and evenly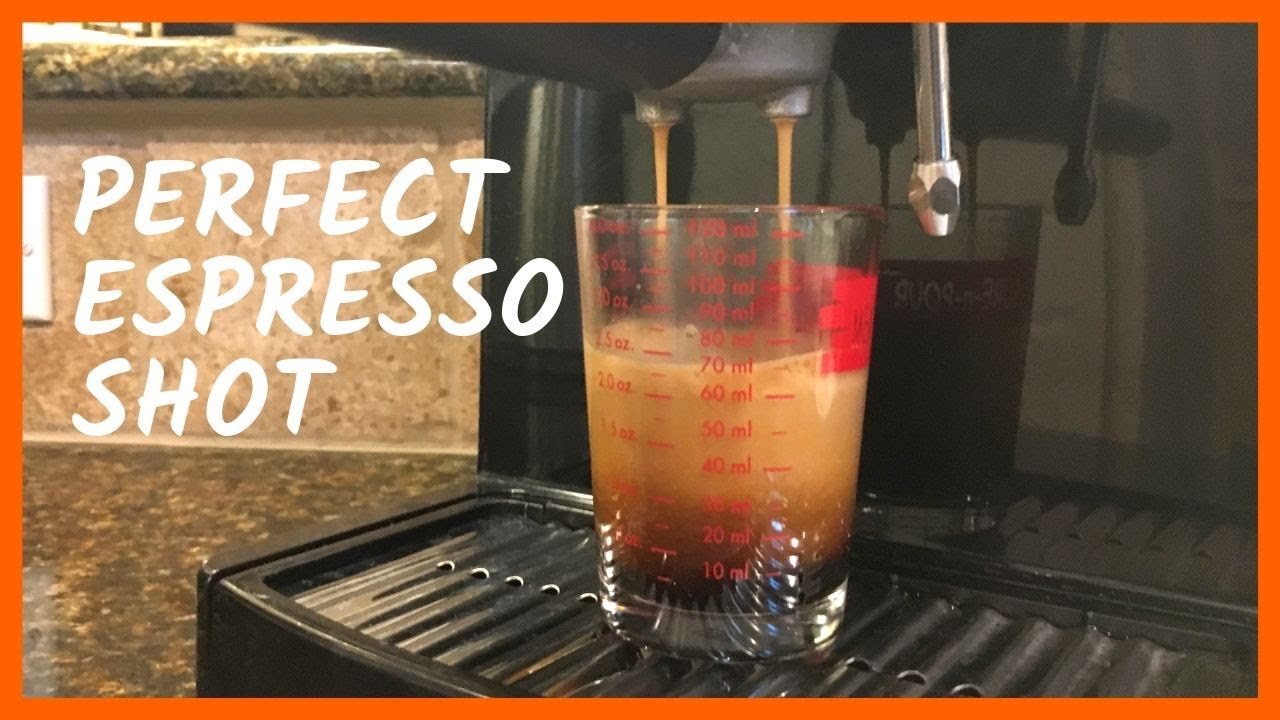 Product Specs:
Pros & Cons:
Ground Coffee Only
1 - 2 Espresso Shots
Milk Frother
40oz Reservoir
1 Year Warranty
Manual Operation
15-barr Pressure
No Water Filter
Removable Reservoir
11.5' D x 10.7' W x 9.5' H
Pros:
We found the Mr. Coffee pump easy to setup and use + pulls good quality shots
We found the espresso machine takes around 1 minute to warm up
The extra large water tank means less time filling it up at the sink
Cons:
Quite a few reports indicate the machine will only last 2 years
We found the machine to be quiet loud while in operation
We found the frothing arm not quite long enough for a deep pitcher
Check Current Price →
more

See it at 1st In Coffee →
See it at Newegg →
See it at Walmart →
5. Mr. Coffee Espresso, Cappuccino & Latte Maker
If you are a newbie and are not looking for a complex machine, the Mr. Coffee 4-Shot Steam Espresso, Cappuccino, and Latte maker might be a good candidate for your need.
This machine makes rich espressos and whips up lattes and cappuccinos to frothy perfection. It is equipped with a powerful frother, and the steam brewing process will give you a rich and dark espresso within minutes. A large enclosed portafilter can brew up to four shots, making it easily popular for a great Cuban coffee right at home. This device also includes a measuring scoop, making coffee scooping and leveling easier.
The exterior material is plastic and stainless steel and has a delicate weight of 6.4 lbs. It is also remarkably stylish, and the design is engineered to fit in all small kitchen spaces. It provides various features for your convenience, like a water pitcher that has measurement markings for a consistent brewing and steaming process. The stainless-steel frothing pitcher is integrated for steaming milk, and a frothing wand to froth milk for lattes and cappuccinos.
The coffee type to be used for this machine is ground espresso, and with meticulous handling, you can enjoy rich natural coffee for years to come.
Highlights:
Powerful steam brewing process
Large portafilter to brew up to 4 shots of espresso
Easy to wash and clean
Very small footprint
Integrated frothing wand and pitcher
Comes with a measuring scoop
Product Specs:
Pros & Cons:
Ground Coffee Only
1 - 4 Espresso Shots
Milk Frother
20oz Reservoir
1 Year Warranty
Manual Operation
3-barr Pressure
No Water Filter
Fixed Reservoir
10.3' D x 9.5' W x 12.4' H
Pros:
The Mr Coffee4 Cup is lite, extremely affordable and very quiet to operate
You use the provided glass container to easily fill the reservoir before use
The power cord is short and retractable inside the machine
Cons:
We found it takes around 2.5min to start brewing your coffee shots
We found the steam wand tricky to operate and makes too much foam
The machine does not come with a stainless-steel steaming pitcher
Check Current Price →
more

See it at 1st In Coffee →
See it at Newegg →
See it at Walmart →
6. Mr. Coffee Steam Espresso & Cappuccino Maker
This affordable and authentically brewed espresso delivers a deep and rich coffee that can lighten your mood in any situation. A very lightweight body weighing just 5.3 lbs., it takes very little room yet achieves twice its expected performance.
The steam pressure brews a delicious cup of rich, crema-topped espresso, and you can brew up to 4 shots in an ergonomically designed carafe. You also get a frothing arm with this machine that supplies a creamy, rich froth to top off your drink. Your surroundings are kept clean with the help of a removable and washable drip tray that collects any spills.
The material is plastic with bits of stainless steel, and careful handling is advised for this machine. This includes proper maintenance and periodic checking for its smooth functioning. Cleaning it regularly by following the guidelines mentioned in the instruction manual will keep it going strong and durable.
Sometimes, the operation of the espresso can become quite noisy. The developers have advised properly fitting and maintaining the water reservoir at full water level in those situations. Besides these fixes, we also recommend you to descale the machine once every 1-3 months.
Highlights:
Extremely lightweight
Steam heat feature provides rich and dark espresso
Frothing arm delivers flavorful creamy froth
Easy-pour carafe for added convenience
Includes milk steamer to prepare cappuccinos
Includes recipe for popular hot drinks
7. BELLA Personal Espresso Maker
One of the cheapest machines in the market, the BELLA Personal Espresso maker is compact, versatile, and a great coffee maker by large. One thing that catches everyone's attention is its exquisite profile and extravagant design, giving it a premium impression.
This steam-based espresso machine is similar to the others, like its large portafilter and glass carafe, for instance. You can brew up to four cups of coffee at a time, and the glass carafe holds your espresso hot for hours. The device delivers 5 bar pressure, and the taste and flavor extracted will deliver delicious beverages for casual coffee lovers. A measuring and tamping tool is integrated with the device, and you can skillfully alter the grounds to suit your tastes. As the steam wand that comes with this machine is stationary, it will take a while for beginners to figure out the right way of heating and frothing the milk.
The water reservoir is not removable, and you will have to keep an eye on it. The carafe comes in handy in this scenario, and the grate is removable in case of any spills. Otherwise, this device has many unique features and retains an edge over the others. The manufacturers have developed a polarized plug that is highly protective against shocks, and its large orifices are easily reached by cleaning sponges.
Highlights:
Serves four cups of coffee in one go
The carafe keeps the beverage hot for an extended period
5-bar pump system
Easy-pour decanter with a cool touch and drip-free spout
Polarized plug safety feature
Frothing steam wand and detachable permanent filter basket
8. Bialetti Moka Express (6 Cups)
While the coffee obtained from a Moka pot will never have the full flavor of espresso compared to electric machines, Bialetti Moka Express delivers a quality drink every time you use it. They are also exceptionally handy and straightforward to use.
This Italian appliance is loved by users worldwide and is undoubtedly one of the best Moka pots available. Its octagonal design consisting of a phenolic knob and handle is made of solid cast aluminum. This demonstrates its build quality, and it can also easily be stowed in any small space. The device is easy to clean, and you can wash it with warm water and soap to get it glistening for the next time.
The Bialetti is likewise worth every penny. With the largest capacity of a 12-cup brewer (the 12 cup model), it can produce around 14 ounces of espresso, enough for at least seven cappuccinos or fourteen lattes. Buying a machine with all these capabilities at such a cost is a bargain!
Coming to its performance, it can produce six cups of rich espresso in less than five minutes, and you can brew barista-quality espresso from 1 to 6 cups. While the brewing process is relatively straightforward, you will need some time to make the perfect espresso. Experimenting with the ratio of different components will help you in achieving this.
Highlights:
12 oz. boiler capacity
Cast aluminum construction
Can brew up to 6-cups
Patented safety valve
Utilitarian design
Easy to disassemble and clean
9. NESCAFÉ Dolce Gusto 2 Coffee Machine
One particular company that needs no introduction, the NESCAFÉ Dolce Gusto 2 Coffee machine will deliver a rich and steaming coffee on demand. Within a minute after the machine is turned on, you can have a beverage of any choice, be it espresso, Americano, latte, or cappuccino.
The device is very convenient to use and provides an abundance of options for the users to pick from. Besides giving you 15 beverages, you also have the choice to customize your cup with hot or cold dispense. A patented innovative capsule keeps your drink fresh and delivers consistent flavor to every cup. The coffee reaches high-quality extraction with temperature control and a 15-bar pump system, ensuring a rich and intense espresso with velvety crema.
One drawback of every Dolce Gusto machine is that they use unique Dolce Gusto pods. Hence, you cannot use other pods interchangeably, including the popular Nespresso pods. Nevertheless, they provide options for both hot and cold climates and have an assortment of drinks to choose from.
The body has a minimalistic design to perfectly fit your single cup, black, and specialty coffee brewing needs. An adjustable drip tray ensures lesser mess during spilling and is very easy to maintain. With a capacity of 1.28 kgs and a weight of 9.7 lbs, the device will impress you with its light and quick features.
Highlights:
15 varieties to choose from
Lightweight and fits in all spaces
Cannot interchange with other pods
15-bar pump pressure
Delivers hot and cold beverages
Patented smart capsule for freshness and flavor
10. Mixpresso Espresso Machine
The Mixpresso Espresso machine is a definite upgrade for any coffee lover. Being one of the best sellers in the market, the espresso machine delivers all types of your favorite coffee pod and brews them with a single brew coffee maker.
The device fits all kitchen spaces and enhances its surroundings with a stylish dot indent decor at its sides. You can enjoy a variety of beverages ranging from hot latte to cappuccino with its milk frother. It consists of a powerful 19-bar pump to extract the best flavor for your drink. The drip system ensures a clean brew every time, and includes a capsule insert system and a very slim cup stand. Other important features include its 27 oz. capacity water tank, Nespresso compatibility, auto shutdown, etc. An inventive folding cup tray helps you with taller glass drinks and recipes. The machine is quick and has a fast heat-up system that reaches the ideal temperature within 30 seconds upon starting.
The cleaning of the parts is hassle-free as the capsule container, drip tray, and water tank are easily removable and facilitate quick and efficient washing. With careful handling, you can enjoy rich Italian capsule coffee for years.
Highlights:
Reaches optimum temperature in a short time
Auto turn-off feature during inactivity
Compatible with Nespresso capsules
Quick and simple cleaning
Soft-touch keyboard
Energy saver mode
Final Thoughts
You need not spend thousands of dollars to buy the perfect coffee maker. There are a lot of options under $100 that will make incredible coffee as well as the expensive ones. All 10 machines we've looked at here are great and all you need to do now is choose the best one for you.
FEATURED PRODUCTS
De'Longhi Stilosa Machine
1-2 Shots + Frother
15-bar Pressure
Removable 34oz Reservoir
(L) 13.5″ (W) 8.1″ (H) 11.2″ (W) 9.5lbs
Shop Amazon →
or
Shop Direct
* Details updated less than an hour ago (by Amazon's Advertising API)
De'Longhi Cappuccino Machine
1-2 Shots + Frother
15-bar Pressure
Removable 35oz Reservoir
(L) 12.2″ (W) 19.3″ (H) 15.0″ (W) 6.7lbs
Shop Amazon →
or
Shop Direct
* Details updated less than an hour ago (by Amazon's Advertising API)
Hamilton Beach Espresso Machine
1-2 Shots + Frother
15-bar Pressure
Removable 40oz Reservoir
(L) 13.0″ (W) 8.2″ (H) 12.3″ (W) 9.2lbs
Shop Amazon →
or
Shop Direct
* Details updated less than an hour ago (by Amazon's Advertising API)
Recommended Reading
The 10 Best Espresso Machines Under $300
As someone whose day starts with a cup of coffee, you might want to get…
Learn More >
COMMENTS
The 10 Best Espresso Machines Under $500
The $500 budget range hits the sweet spot in espresso machines for a proper home…
Learn More >
COMMENTS
Best Thermal Carafe Coffee Makers of 2022
There is no better way to keep your coffee hot than with a thermal carafe.…
Learn More >
COMMENTS