The Best Espresso Machine with Grinder
By Evelyn J Stafford ~ Updated 8 August 2022
As an Amazon Associate I earn from qualifying purchases
Today we're looking for the best espresso machine with grinder, and we're not messing around! We're talking about the very best in the business. No cheap espresso machines. No espresso machines that aren't high quality. We're only looking at premium espresso machines for people who truly love drinking espresso.
Yes, picking up the best espresso machine is going to be expensive. But if you truly want to have an at-home espresso machine with a built-in grinder to provide you with the most majestic coffee of all time, it's not going to be cheap. But we guarantee you it's going to be worth it!
Today we're checking out super automatic, fully automatic, semi-automatic, and manual espresso machines of the highest caliber. All of them come included with a professional built-in grinder, all of them make delicious espresso, and all of them are going to integrate nicely into your kitchen at home.
If you're looking to seriously upgrade from a budget espresso maker or a standard coffee machine to something that would be used by professionals in a legit café, you want to read through our following reviews. We have ten of the most advanced espresso machines from all the best manufacturers. And yes, they are all available right now!
For a different spin on the good old espresso machine with grinder, be sure to stop by our guide to the best grind and brew espresso machine.
Overview
It's hard to describe the difference when changing from a budget espresso maker or coffee machine to a dedicated espresso machine used by professional baristas. It's the difference between driving a beater and sitting behind the wheel of a Ferrari. It's truly not comparable.
If you don't want to read all ten reviews of the best espresso machines available right now, don't worry. The top two units on our list deserve as much attention as the others, if not more. The Breville Barista Express Espresso Machine and the Philips 3200 Series really encapsulate what owning a luxury coffee machine is all about.
First, the feel of the espresso machine. When you upgrade to a real coffee machine that makes espresso the way the pros do, you feel it immediately. It's smooth, it's easy to use, it cleans up nice, and all the pieces do exactly what they're supposed to. It's a little magical to go from a low cost machine to a premium model that has moving pieces that actually work. And you feel it right away.
Then there's the grinding. With the Breville and the Philips, you get perfect grinding. Your favorite coffee beans are busted into dust in just seconds, and it's the most beautiful sound in the world. Also, there's the milk texturing. A cheap frother has literally nothing on the milk frother that comes with these machines. It's like drinking milk from heaven!
And finally, there's the taste. The silky coffee taste that comes from using one of these luxury espresso machines is unreal. You will never want to go to a coffee house ever again, and will actually prefer brewing your own ground coffee beans at home using your new espresso machine. We know the price can be a bit scary, but it's an investment for you and your family that will pay off for years to come.
How to Choose the Right Espresso Machine
Manual, Semi-Automatic, Fully Automatic or Super Automatic?
The most confusing part about purchasing the best espresso machine with grinder is determining which type you want. And there are some serious differences between espresso machines.
The manual espresso machine is ideal for traditionalists who like to work with their hands. These types of espresso machines are usually piston driven and require you to pump the lever to generate the necessary pressure for brewing an espresso.
If you don't want to use your hands so much, you can try the semi-automatic espresso machine. This type of unit uses an electric pump instead of a manual one. All you need to do is press a button to extract your espresso shot. But you still need to grind the coffee yourself, load the filter, tamp, and press the button!
An automatic espresso machine is even more convenient. The machine will use an internal timer for cutting off the water instead of you having to do it manually. However, you begin to lose control over the brewing process. But at least you can walk away and let your shot brew itself.
Finally, the super automatic espresso machine will do literally everything for you. This is the ultimate espresso machine for people who love convenience. The super automatic espresso maker will grind the coffee, set the portafilter and tamp, pull the shot, and even steam the milk for you. It's the most comprehensive system available.
The Grinder
When it comes to the built-in grinder, there are two kinds. You can use the burr grinder or the blade grinder. The big difference here is that the burr grinder utilizes a pair of revolving surfaces to grind coffee more effectively, while the blade grinder uses propeller-like blades, just like a normal blender.
To be wholly honest, a burr grinder is far superior to a blade grinder. A burr grinder is smooth and effective. A blade grinder is more primitive.
Steam Wand
When it comes to the steam wand, there is really just one way to go. The Pannarello steam wand will attach to the steam arm of your espresso machine to enhance the quality of your froth. It's much easier to use than a normal commercial steam wand, which is ideal for beginners. It's also better quality.
The Pannarello steam wand works by infusing air with steam to make frothing easier and tastier while creating micro-foam. Standard commercial steam wands just don't have that kind of finesse. Commercial steam wands are often too small, too frustrating, and they can't make true micro-foam.
Coffee Types
All the best espresso machines are going to make different types of coffee. The good news is that when you purchase a luxury espresso machine, you can typically make any coffee at all. With concentrated espresso of unmatched quality and a milk frother that creates beautiful micro-foam, the sky is the limit when it comes to espresso, americano, cappuccino, latte, and anything else that can be crafted at your favorite café.
However, some models will come with dedicated service for specific drinks, like espresso + americano or latte, mocha, etc.
Price
When it comes to price, the best espresso machines are certainly not cheap. But you have to remember that they craft the best coffee on earth. The taste is smooth, rich, and you're left satisfied with every sip. This is not the kind of bland coffee that gets squirted out of a standard espresso maker. It's pure magic in a coffee mug, and the price reflects the quality down to the last cent.
Product Selections
1. Breville Barista Express
The Breville Barista Express Espresso Machine is one amazing piece of equipment. It really does come with everything you need to become a skilled and authentic barista. Out of all the luxury coffee makers we're talking about today, this is by far the best machine for the price.
It's stainless steel, it looks amazing in your kitchen, and it's a fully equipped espresso experience. It uses a built-in burr grinder to break down your favorite beans into a magnificent coffee ground. Plus, everything is automated. The coffee grounds are delivered straight into the portafilter!
Why spend so much money on an espresso machine? Because you love quality coffee. And that's the bottom line with the Breville. It has hands-free operation, a massive 67oz water reservoir, the ability to make single or double shots – but it's the pure flavor and authenticity of the machine that really make this such a smart choice.
It's also worth mentioning that this is one of the best-rated brewers on the market right now. Even at such a high price, the quality of this machine is hard to describe. If you're upgrading from a standard drip brewer or instant pod machine, you're going to be a little overwhelmed by how much better the espresso tastes, how easy the machine is to use, and how much fun you'll have brewing!
Coffee Types
Espresso
Americano
Latte
Coffee
Unbelievable Quality
Huge Bean Hopper Capacity
67oz Water Tank
Precise Extraction w/ Digital Temperature Control
Dose Control Grinding
Heats Up Slowly
Not Ideal for Large Gatherings
See It In Action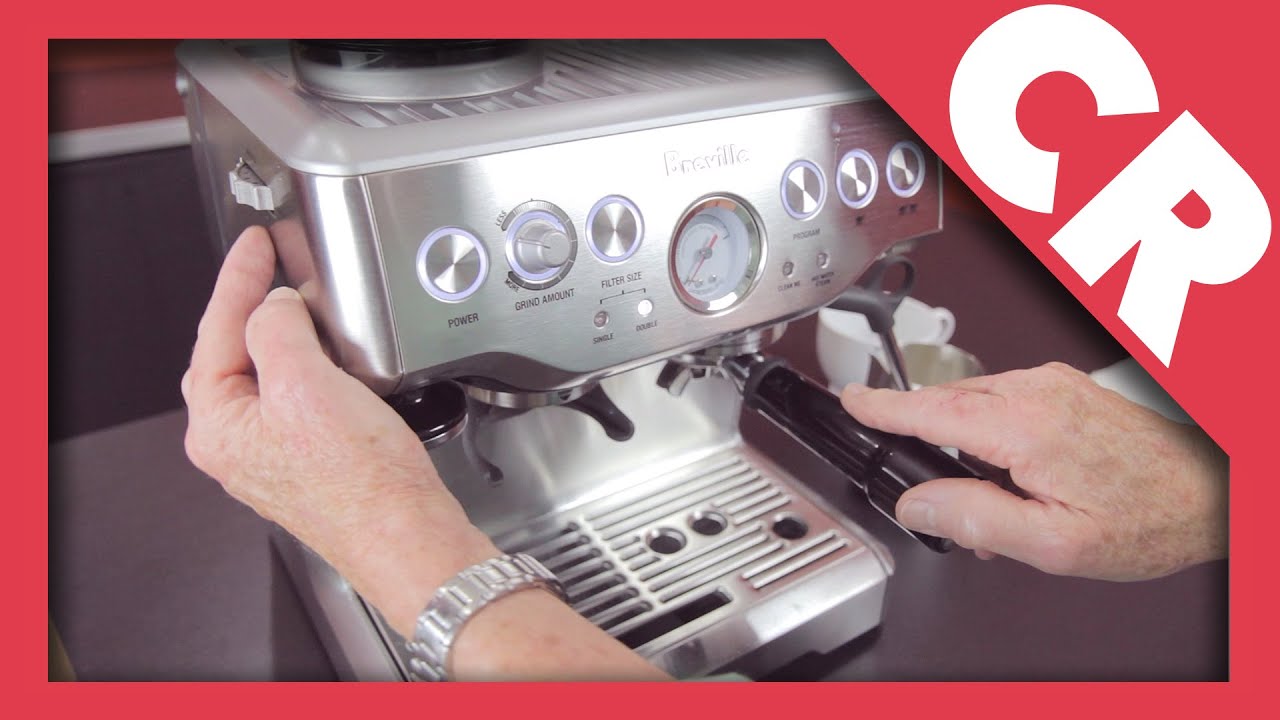 2. Philips Series Fully Automatic Espresso Machine
The Philips Series 3200 Fully Automatic Espresso Machine is one of the most advanced units available right now. This incredible machine offers 5 different coffees to choose from, it utilizes an intuitive touchscreen display for your convenience, and it has a 12-step grinder adjustment system.
You can adjust the strength of your espresso as well, and you can make coffeehouse style froth using the LatteGo milk system. The system works to mix milk and air at extremely high speed to give you a beautiful layer of froth at just the right temperature. It's also really easy to clean either under the tap or in the dishwasher.
Another great bonus when you choose this machine is that you won't need to descale it for at least 5000 cups. Now that's a lot of coffee!
Coffee Types
Coffee
Espresso
Cappuccino
Latte Macchiato
Americano
Hot Water
Advanced Touchscreen Controls
12-Step Grinder Adjustments
5,000 Cups Without Descaling
Dishwasher Safe & Easy to Clean
Keeps Beans Very Fresh
Wildly Expensive
Very Loud
See It In Action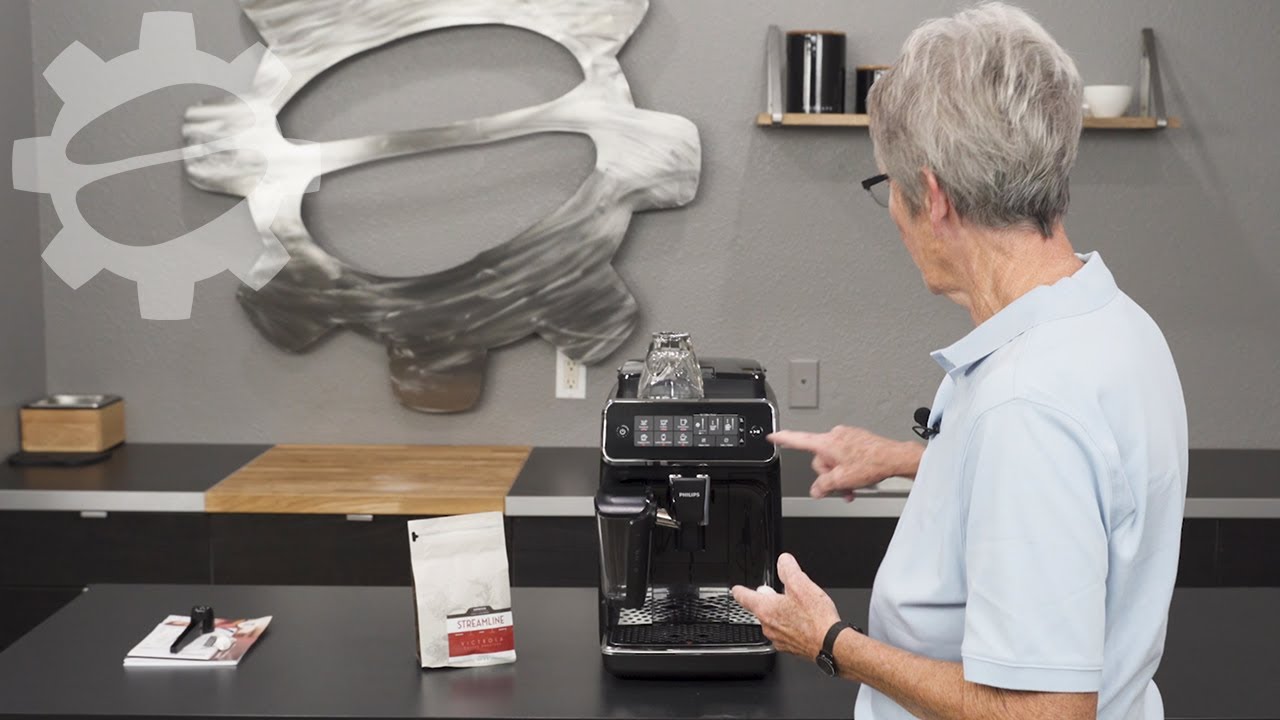 3. De'Longhi Magnificent Super Automatic
The De' Longhi Magnificent Super Automatic Espresso Machine is exactly what it sounds like. It's magnificent! This machine has a built-in grinder to make your favorite ground coffee. It offers a smooth, stainless-steel construction and easy maintenance. It also comes equipped with a unique cappuccino system frother that creates the milkiest and creamiest froth ever!
Because this machine is super automatic, it does basically everything for you. That means it's a great unit for beginners who don't know much about operating one of these machines.
The steel burr grinder is powerful, the twin-brewing cycle works to make a quick beverage that's rich in flavor, and the control panel allows you to set the temperature, strength, and cup size.
Coffee Types
Multiple-Length Espresso
Americano
Cappuccino
Latte
Hot Water
Steel Burr Grinder
Removable Water Tank
Excellent Milk Frothing
Unique Cappuccino System
Easier to Use Than Most
Beans Sometimes Stuck in Grinder
Poor Customer Service
4. 15 Bar Espresso Machine & Cappuccino Maker
The 15 Bar Espresso Machine & Cappuccino Maker brings the best of everything straight to your home. It's a dedicated espresso maker that comes in several different colors, including red and blue – and it's wildly affordable!
The machine is crafted from stainless steel, it brews an espresso or cappuccino in just 45 seconds with its advanced heating system, and you can either make one shot or two! The water tank is completely removable, and the drip tray is easy to clean.
If you want an advanced espresso machine with a quality grinder to bust your beans into ground coffee and you don't want to spend a fortune, we suggest checking this machine out right now!
Coffee Types
Espresso
Cappuccino
Macchiato
Americano
Removable Water Reservoir
Super Affordable
Comes in Different Colors
One-Touch Operation
Manual Milk Frothing Wand
Slight Learning Curve
Needs to Be Cleaned Frequently
5. Breville Barista Touch Espresso Machine
The Breville Barista Touch Espresso Machine takes coffee making to a new level. Its modest price in mind, you bet this is going to be the best coffee machine you've ever used. It has some of the smartest technology available in a kitchen appliance, including an intuitive touchscreen display, adjustments for coffee strength, milk texture, and water temperature. You can even save settings for up to 8 personalized coffees.
The burr grinder is powerful, with lots of room inside the bean storage container. The water heats up insanely quickly. Plus, the micro-foam milk texturing lets you create stunning latte art that will impress all your barista friends and give you a Zen moment in the mornings. And the best part is that everything works with just one touch!
Coffee Types
Espresso
Americano
Flat White
Cappuccino
Latte
Extremely Advanced Interface
The Most Professional Machine Available
Barista-Quality Micro Foam
Lightning-Fast Heating Time
8 Personalized Coffee Creations
Massively Expensive
May Need Expert Advice
6. De' Longhi La Specialista Espresso Machine with Sensor Grinder
The next coffee machine on the list for today is an exceptional unit that will make all your espresso dreams come true! This machine utilizes sensor grinding technology to deliver consistent grinding and the optimal amount for your preferred espresso. Plus, it comes with a bean sensor to make sure you'll never run out of beans when making your espresso.
There are tons of other features with this machine, like the smart tamping station, active temperature control, dual heating systems, advanced latte creation, micro-foam frothing for latte art, and an incredibly quick start. The spout also works to deliver hot water so that you can make tea without having to fuss with the system.
Overall, this unit gives you access to all your favorite brews, including lattes, macchiato's, and espressos.
Coffee Types
Americano
Espresso
Tea
Latte
Cappuccino
Fantastic Sensor Grinder
Looks Beautiful in the Kitchen
Smart Tamping Station
Full Temperature Control
Amazing Milk Frothing & Latte Art
Super Heavy
Tamp Not Super Sturdy
7. 10-Piece All-In-One Espresso Maker with Milk Steamer
If you don't have 4 figures to spend on a luxury machine, don't worry. This unit from Espresso Works comes with everything you need to become a barista without breaking your bank account. It doesn't lack quality either. It still has a powerful burr grinder, it can still make an espresso, cappuccino, or latte, and it can be ready to use in just 45 seconds.
This machine can do single shot or double shot, it has a large removable water reservoir with a convenient handle, and it uses a 19-bar pump system to make perfectly rich espresso drinks. It's not completely automatic, but it's a great learner machine that makes delicious drinks at an affordable price!
Coffee Types
Single + Double Espresso
Cappuccino
Latte
Americano
Easy to Use
Sets Up Quickly
Extra-Large Water Tank
Quality Drip Tray
Comes w/ All Necessary Pieces
Doesn't Make Normal Coffee
Milk Reservoir Hard to Clean
8. Gaggia Brera Super Automatic Espresso Machine
The Gaggia Brera Super Automatic Espresso Machine is a real piece of equipment. It's crafted from a tough polycarbonate material, it only weighs 22 pounds, and it's one of the most convenient luxury machines on the market.
It has an excellent Pannarello wand for frothing, which doubles as a hot water dispenser for teas and americanos. Plus, all the pieces are within reach, which is nice for such a complex machine. The water tank, drip tray, and dregs drawer are all able to be accessed from the front of the unit.
The display is electronic and easy to figure out. The rapid steam technology enables ultra-fast brewing and powerful operation. It can support either grounds or beans. It even comes with an impressive 1-year warranty so that if you don't like it or something doesn't work, you won't be out any money!
Coffee Types
Latte
Cappuccino
Espresso
Americano
Hot Water
Large Drip Tray
Controls Are Easy to Use
Rapid Steam Technology
Pannarello Wand
Compact & Stores Nicely
No Removable Water Tank
Only One Spout
9. Breville Oracle Touch Fully Automatic Espresso Machine
It's time to check out the Breville Oracle Stainless Steel Automatic Espresso Machine. This is at the absolute top of the pile for home brewing systems. Everything is automated, you can swipe to choose from a large list of coffee house drinks, and the quality is superb. Yes, it costs about as much as a small car and weighs nearly 40 pounds. But this is the real deal!
Any feature you've ever wanted from a professional brewer, you get it with the Oracle. Its touchscreen, it has an integrated burr grinder that will automatically grind, dose, and tamp up to 22 grams of coffee. This is the exact kind of machine that is used in the most famous cafes all over the world.
In fact, I've been to a lot of cafes that don't serve beverages anywhere near the same quality that you get with the Oracle, probably because they didn't want to spend so much cash on an espresso maker. But guess what. It really does make a difference, and you'll find out for yourself after just one sip.
The water temperature is perfect, and of course it uses digital temperature control technology. It also has optimal water pressure for the best extraction, and it uses a triple heating system to maintain thermal stability. If this machine were a vehicle, it would be a spacecraft. That's because it is so advanced, so well made, and just so freaking cool!
Coffee Types
Espresso
Americano
Coffee
Flat White
Latte
Cappuccino
Luxury Machine w/ Amazing Features
Built-In Grinder Burr Style
Easy Selection w/ Touchscreen
The Best Coffee Quality Ever
Amazing Steam Pressure
Insane Price
Nothing Else!
10. Gaggia Anima Coffee and Espresso Machine
Last but not least, the Gaggia Anima is another one of those high-tech espresso machines that will make your mouth water every time you look at it. It comes complete with a simple and stylish LCD display, which shows notifications when the bean hopper is empty, when maintenance is required, or when you're running out of water.
This is one of the best units to have set up in an office or a workspace. It's just so easy for anyone to push a button and immediately get their favorite brew straight into their cup. It makes great americanos and espressos. It even uses a Pannarello wand for creamy froth in a latte or cappuccino. And everyone knows that Pannarello wands are the best!
As with any quality automatic brewer, you control everything from the temperature to the size of your drink. It's quiet, it's not too expensive, and it's going to brew the best coffee drinks you've ever tasted.
Coffee Types
Espresso
Hot Water
Americano
Temperature Settings
Panarello Wand + Hot Water Dispenser
Convenient Notifications
Stylish & Professional Design
Can Set Aroma Strength
Only 5 Grinder Settings
No Normal Coffee
Final Verdict
For our final verdict of the best espresso machines, we have to choose the Breville Barista Express. It's simply the greatest at what it does. This unit makes the best drinks out of any other machine we've talked about today. Specifically, it makes a killer espresso.
This is because the machine is top-notch. It's truly a work of art. It uses precise espresso extraction with digital temperature control to deliver you water at the exact temperature for optimal espresso taste. The steaming wand allows you to craft beautiful micro foam, which always enhances the flavor. You can also use it to craft personalized latte art.
Plus, the machine is fully automatic. The burr grinder works amazingly to grind your beans directly into the quality port filter. The water tank is huge, you can make a double or single shot, and there is even a manual override. It takes some skill to master, but it's also the best machine on the list for turning you into a professional barista.
Anyone who comes over to your home is going to be blown away by the coffee quality with the Breville machine. The grinder, the controls, the feel of the machine – it's a total experience that is worth every last penny.
FEATURED PRODUCTS
Breville Barista Express
Single / Double Shot + Coffee Grinder
Semi-Automatic / 67oz Reservoir
Manual Milk Frother
(L) 12.5″ (W) 12.6″ (H) 13.1″ (W) 23.0lbs
Shop Amazon →
or
Shop Direct
* Details updated less than an hour ago (by Amazon's Advertising API)
Philips Automatic Espresso Machine
Coffee Types + Coffee Grinder
Fully Automatic / 60oz Reservoir
Automatic Milk Frother
Shop Amazon →
or
Shop Seattle Coffee Gear
* Details updated less than an hour ago (by Amazon's Advertising API)
Recommended Reading
10 Best Single Cup Coffee Maker with Grinder Options
If you love the idea of grinding your own coffee, you may be overwhelmed by…
Learn More >
COMMENTS
The Best Grind and Brew Coffee Makers
Today we are finding out the best grind and brew coffee maker. We will be…
Learn More >
COMMENTS
The Best Espresso Machine with Grinder
Today we're looking for the best espresso machine with grinder, and we're not messing around!…
Learn More >
COMMENTS