7 Best Manual Espresso Machines in 2022
By Evelyn J Stafford ~ Updated 8 August 2022
As an Amazon Associate I earn from qualifying purchases
Today we are looking for the best manual espresso machine. There are two main types of espresso machines on the list, those that use a lever and those that work using your hands. The best part about using a manual espresso machine is that they don't require any special technology. Sure, they take a little longer to craft your drink, but it's a fun way to do it.
The best espresso machines are also way cheaper than your typical unit. They enable you to make a handcrafted shot of espresso even if the power is out. So long as you have hot water and one of these great manual espresso machines, you can always enjoy your favorite beverage.
There's no better shot of coffee you can pull than that of a manual coffee machine. But what if you you're planning on going camping and want something small and portable? Explore all the options in our guide to the best battery powered coffee maker.
Overview: The Best Manual Espresso Machines
Out of all the manual espresso machines on today's list, there are two that stand out. Both the Flair Signature Espresso Maker and the same version with the pressure kit are easy to use, great for making espresso, and wildly affordable.
The machine is sturdy, it comes with great online ratings, and it's one of the best ways to craft an espresso at home with nothing but a bit of boiled water and some pressure. The unit is 100% powered by you with absolutely zero electronics. It cleans quickly and is designed to work for the long run, with a strong base and lever.
If you pick up the version with the pressure kit, you can expect to pay quite a bit more. However, it is better quality. The pressure kit offers advanced brewing. You can use the pressure gauge to track and manage the pressure to brew your shot of espresso.
Best Manual Espresso Machine Options
It's time to find out which unit is the best manual espresso machine. First we're going to look at lever espresso machines, then we will take a look at some units that are operated strictly using your hands. At the end, we will say once and for all which espresso machine is the best!
1. The La Pavoni Europiccola 8-Cup Lever
Here we have a great manual espresso maker. But watch out, this thing costs a literal fortune. Is it quality? For a manual machine, the La Pavoni is top quality! It really doesn't get any better than this. La Pavoni is obviously not portable, as it weighs about 14 pounds, but if you want a high-tech manual machine at home to make the best espresso ever, this is it.
The steel construction is immaculate, with most of the parts having heavy chrome plating. The manual machine comes with a tamper, a screen, a measuring scoop, and even a cappuccino attachment so that you can make better specialty drinks.
You can make not only one cup of espresso, but two at the same time. The espresso maker even comes with an automatic milk foamer for an even more authentic flavor. It's an overall stylish machine, designed to last for countless years without any issues. Each manual pull of the lever is going to give you perfect espresso.
This manual machine operates using a piston and steam pressure. It also has internal thermostats that will continuously monitor the pressure for maximum flavor. The water tank has a 20-ounce capacity, and the traditional steam wand helps to create the thickest and richest foam. At this modest price point, you bet this machine is going to go the distance.
Features
Stylish & Strong
Great Pressure
Traditional Steam Wand
Internal Thermostats
Makes 8 Cups Espresso
We like
Fabulous Espresso Quality
Sturdy Machine/Lasts Forever
Italian Power in Your House
Comes w/ Everything
Large Water Capacity
We don't like
Outrageous Price
Must Learn How to Operate
Possible Overheating
See It In Action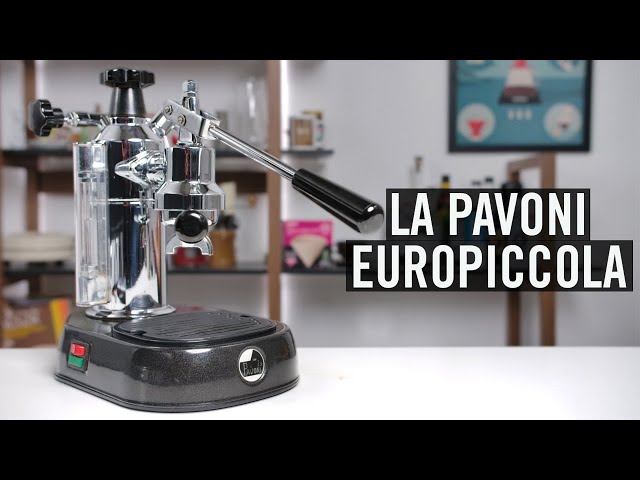 2. Flair Signature Espresso Maker (Pressure Kit)
This is the exact same Flair espresso machine we just talked about, only it's improved with the unique pressure kit. This lever espresso machine uses a pressure gauge to allow for advanced brewing. It comes included with a custom carrying case to make sure the unit is always secure during transport. This model also comes included with a stainless-steel tamper and a custom pressure gauge so that you can track and manage the pressure while brewing your shot of espresso.
Other than that, it's the same quality espresso machine. This unit has been designed to make the best drink possible, using simplistic methods to produce coffee house espresso that will make your mouth water. It's still super portable, it is still very easy to use, and you're still not wasting any electricity. This is just an upgraded version of the standard Flair manual espresso machine with more features.
For those who understand that making espresso is an art form, this is the best espresso machine. The quality rivals all others. You get a shot extraction time of around 30 to 45 seconds with a lever pressure of between 6 and 10 BAR. The cylinder water capacity is 6ml, and the entire setup only weighs about 7 pounds.
So long as you have a quality burr grinder and your favorite coffee beans, you can make coffee anywhere. This is the ideal unit for camping. Surprise all your camping friends with a quality espresso in the morning!
Features
Built to Last
Fully Portable
Simplistic Cleaning & Design
Included Pressure Gauge
Handcrafted Quality Espresso
We like
Full Adjustability for Custom Espresso
Smooth Components & Portable
Sturdy Base w/ Reinforced Aluminum
Gauge Provides Immediate Feedback
Ideal for Coffee Enthusiasts
We don't like
Significantly More Expensive
Little Heavy
A Little Slow
See It In Action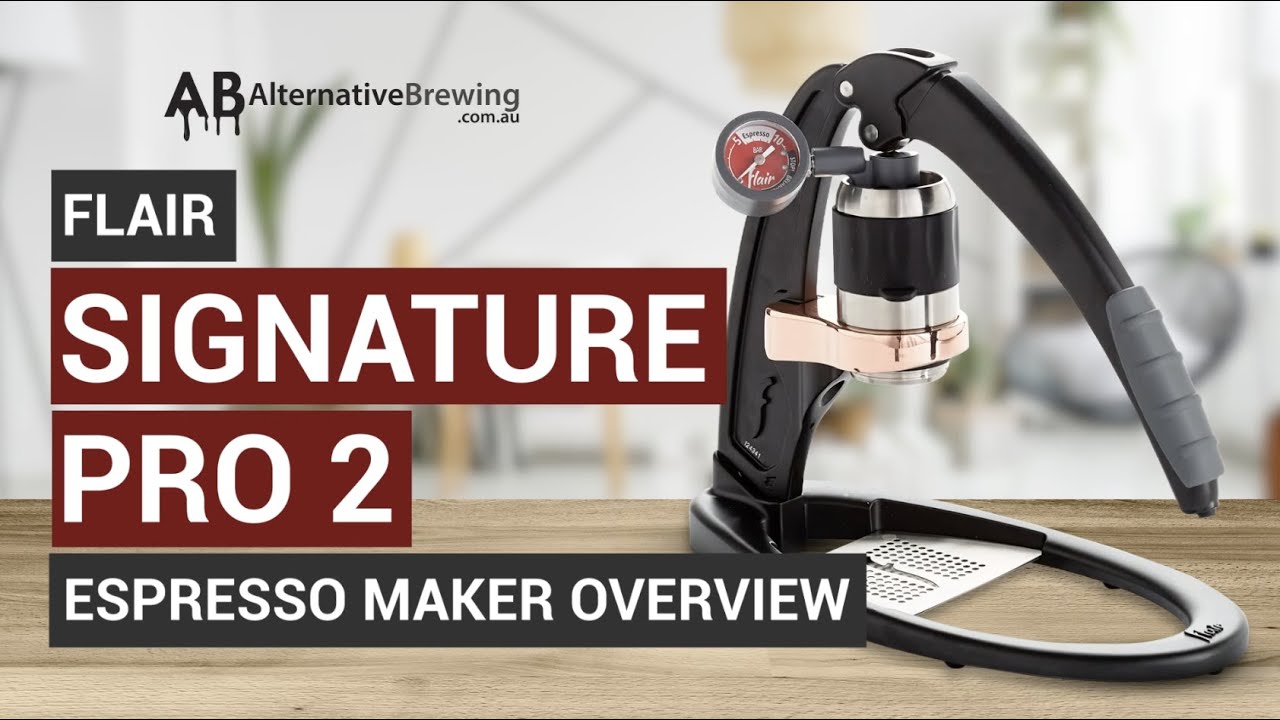 3. Wacaco Picopresso – Portable Espresso Machine
The Picopresso is the latest offering from Wacaco who are well known for making high quality espresso maker that fit in the palm of your hand. Weighing in at 350 grams, you can take portable espresso machine anywhere.
The Picopresso produces a high-quality double shot of espresso (not coffee), through a hand pump that produces up to 18 bars of pressure (comparable to expensive machines). The results are comparable to that of an automated espresso machine – a rich, full bodied double shot of espresso, ready for hot water, milk or straight.
You simply add 20 grams of freshly ground coffee (espresso grind) to the 52mm stainless steel the basket and use the distribution tool to even out the grind before you tamp to ensure it as even as it can be. Next, tamp down with the steel tamper – found at the bottom of the water chamber lid.
If you find it to difficulty to pump the coffee out of the unit, you may have a grind that is too fine. If you find it flow's to easily and lacks depth, you have a grind that's to course.
It's a good idea to add some boiling water to pre heat the unit to provide a more consistent temperature. Add boiling water to the water chamber that holds up to 90ml. assemble the unit and hold it above your cup / shot glass.
Release the pumping arm and begin pumping. You should start to see espresso within 10-12 pumps of the unit. You need to pump once a second to achieve a consistent level of pressure and flow of espresso.
All the accessories such as the cleaning brush, steel tamper, scoop cup, distribution tool and rubber caps all fit with in the Picopresso quite neatly. Clean up is easy, with the puck releasing easily and all part are rinsible under a tap.
So long as you have a quality burr grinder and your favorite coffee beans, you can make coffee anywhere. This is the ideal unit for camping. Surprise all your camping friends with a quality espresso in the morning!
Features
Wide commercial coffee basket
Makes a Double Shot (40ml)
Durable, Tough Design
Only weights 350 grams
Easy to store & clean
We like
Quality Espresso Shots
Tough Cary Case
Accessories fit in unit
Built like a tank
We don't like
Takes a few tries to find the right grind
Takes a few tries to master
Not dishwasher safe
See It In Action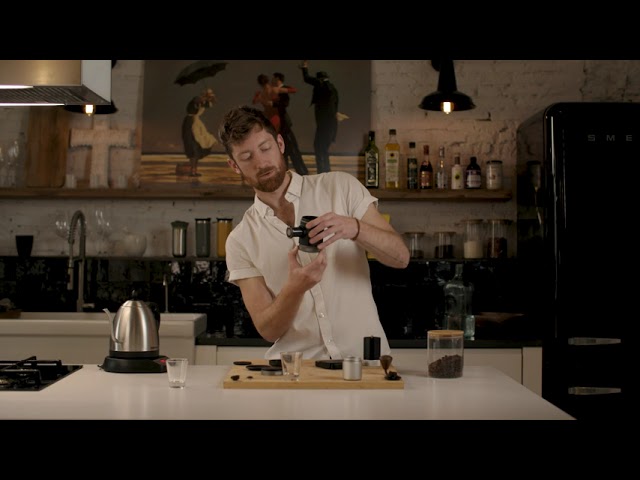 4. ROK Espresso GC
Out of all the best manual espresso machines, the ROK EspressoGC is quite unique. It really is a revolution in how these machines work. It's been updated with an improved list of glass composite components, the machine is completely redesigned with a better piston assembly, and it produces a quality amount of pressure.
The result is that this machine is hotter, it produces a richer crema, and it makes a fantastically tasty espresso. And it does all this without needing an insane amount of force. The machine is lightweight, it's portable, and it is incredibly durable. If you're looking at espresso machines to take traveling, we highly recommend this unit. It's only 3.5 pounds!
If you want a machine that will last forever, this is also a good option. The metal components are backed by an unbelievable 10-year warranty. To brew your espresso, simply fill the water reservoir, lift the arms of the machine kind of like a wine opener, lock your portafilter inside, and proceed to plunge.
This machine is 100% human powered. It has a compact design, it doesn't take a lot of strength to use, and it's easy for anyone to figure out, even if you don't have any experience with these types of machines. It comes included with a single spout portafilter, a plastic double spout attachment that is fully detachable, and a useful measuring cup.
Features
Ultra Lightweight
Upgraded Piston
10-Year Warranty on Metal Parts
Superior Insulation
Slip Resistant
We like
Smart Design w/ Sturdy Metal Finish
Hands-On Manual Brewing
Compact & Portable
Superior Coffee
Easy to Figure Out
We don't like
Some Plastic Parts
Milk Frother Not Good
Poor Customer Support
See It In Action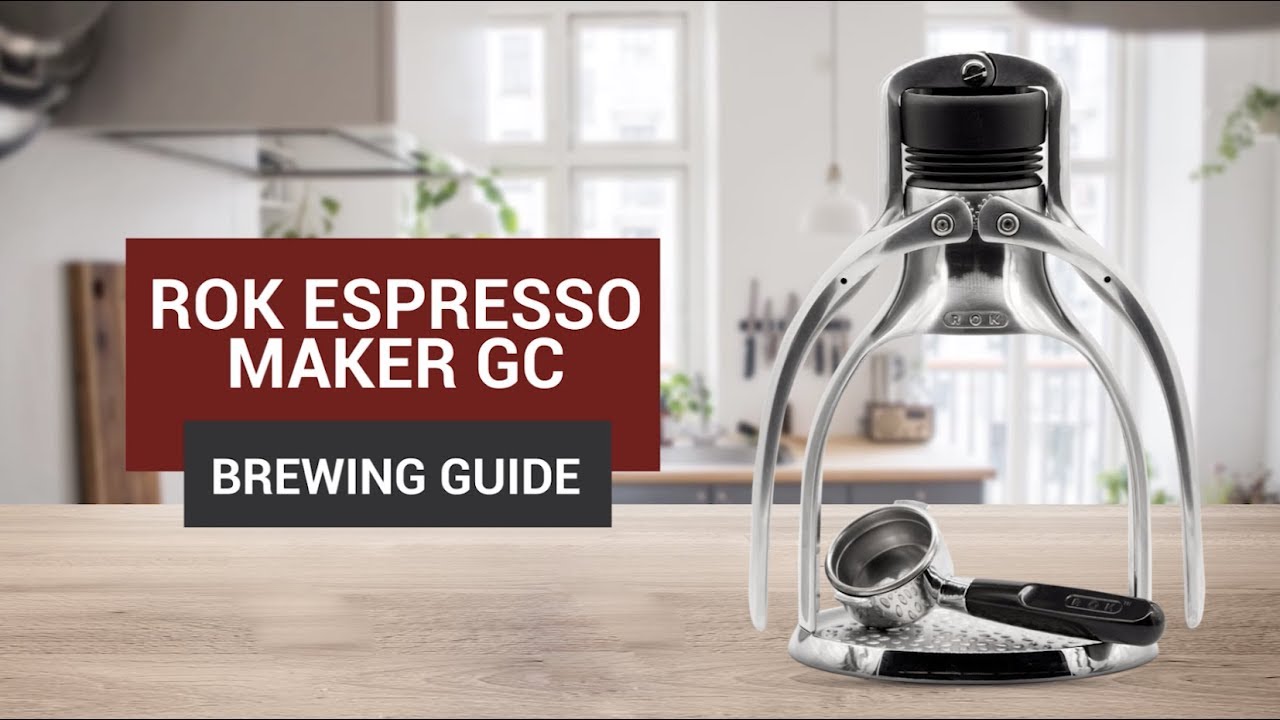 5. Flair Signature Espresso Maker
Flair espresso machines are great. This model is the original. It allows you to create handcrafted shots of espresso coffee the exact same quality you would get in a coffee house. And it does this without using any electricity or electronic components. All you need is 60ml of boiled water and your favorite coffee grounds.
A single espresso brewed in this espresso machine gives you a 40ml shot. It also delivers a beautiful crema, which is pretty fantastic considering this is a portable espresso machine that you can use anywhere on Earth. It folds very nicely and comes with a precision-molded kit to protect all your parts. That means you can take this machine with you camping to have an espresso in the morning.
The Flair Espresso Machine was designed from the ground up to use nothing but human power. It looks gorgeous, it's easy to clean, and it comes with a detachable brewing head. This smart design allows you to take the brewing head off, separate the parts, and rinse everything properly under cool water.
And the big bonus with this espresso machine is that it comes built to last. All the parts are super strong, including the post, the base, and the lever. The components are made from durable cast aluminum and stainless steel materials. Plus, you get an impressive 5-year warranty. Sure, it costs around the same price as a budget electronic espresso machine, but this unit gives you full control and full portability.
Features
Removable Brewing Head
10 Bar Pressure
Custom Travel Case
45ml Shot Volume
30-45 Second Extraction Time
We like
Feels Solid & Durable
Makes Quick Espresso w/ Easy Clean Up
Small & Portable
Quality Espresso w/ Strong Pressure
Thick Crema
We don't like
Preheating is Difficult
Components Hot After Brewing
Extras Don't Fit in Case
See It In Action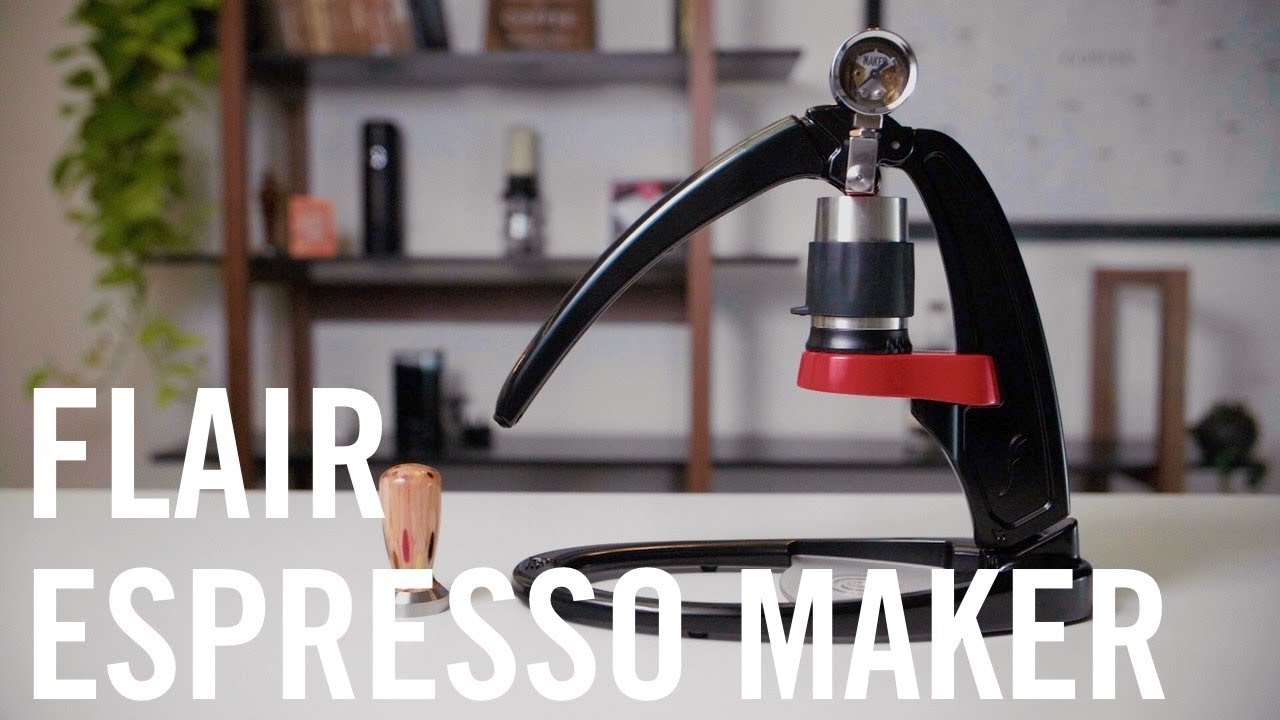 6. STARESSO Portable Espresso Machine
Who doesn't love a good hand espresso maker? The STARESSO Portable Espresso Machine takes manual coffee making to a whole new level. Unlike other machines that use levers and hand actions, this baby is totally automatic.
Well, not fully automatic. You still need to add your favorite Nespresso pods or favorite ground coffee, and you still need to add the boiling water. But rather than working hard like you have to with other machines, you simply push the pump down manually with one hand. It creates an incredible 20 BARs pressure to craft an instant espresso.
This manual machine is easy to use, it's compact and lightweight, and you can easily store it on the side of your backpack. If you're looking at manual machines to take camping with you, this is the best option available. The unit comes in black, pink, or white.
Unlike some of the confusing espresso machines out there, this one is super intuitive. All the complex components are trapped inside the machine to remove any complications. It is very straightforward. The materials are BPA-free, meaning it's safe to use for brewing, and everything is of the highest quality. It even has a stainless-steel coffee chamber.
Obviously, you're not going to be using this manual espresso machine at home. That would be a little over the top. But if you're an adventurer, an outdoor explorer, or a backpacker, this is the guaranteed way to have quality espresso no matter where in the world you are. It simply works!
Features
Compact & Portable
Makes Thick Crema
Uses Pods + Grounds
Holds 80ml Water
Cleans Quickly
We like
Best for Traveling
Very Affordable
Stylish w/ Great Colors
Easy for Anyone
Very High Pressure
We don't like
Can Get Messy
Milk Doesn't Work Great
Basket Hard to Clean
7. Wacaco Minipresso Espresso Machine
The Wacaco Minipresso is another one of the great manual machines on the list. It is also the cheapest that we have listed today. It's certainly cost-effective and offers unparalleled quality. This is the ultimate travel espresso maker. It's small, it works, and it's designed to be smart.
Forget about all the hard work you have to do with other manual machines. This unit comes with a clever push button on the side that takes care of all the work for you. It's still technically manual, but it doesn't really take much effort.
The Minipresso is compatible with Nespresso capsules and it can use coffee grounds. You have total control over what type of coffee you're putting into this little machine. Even if you're in the middle of the woods sitting under a tree, you can still make a custom espresso. It's convenient, it doesn't make a very big mess, and all it takes to clean is a little bit of rinsing.
How does it work? Like other similar machines, simply add the capsule into the outlet head, pour in the hot water, unlock the piston, and then pump it a few times to get the proper pressure. Within seconds, you will be extracting a delicious espresso with a generous serving of crema. Just imagine sitting down after a long hike and brewing your own espresso on the side of a mountain. It's incredible!
Also, the minipresso comes with all kinds of cool accessories that you can purchase. For example, there are special pods made specifically for the unit, you can get a special attachment to make longer espressos, and much more.
Features
Compatible w/ Nespresso Pods
Easy Manual Operation
Designed for Travel
Weighs Less Than 1 Pounds
Available Accessories
We like
Makes Espresso Anywhere
Sleek & Modern
Great Customer Service
Unbelievable Coffee Taste
Very Affordable
We don't like
Leaves Water in Reservoir
Don't Misplace the Lid
Hard to Order Capsules When Traveling
About the Manual Espresso Machine
Manual espresso machines are great, but they can be fairly tough to use. This is especially true if you're a beginner. There is a slight curve to operating a manual espresso maker, but once you get the hang of it you can always make your favorite drinks at home without wasting power.
Not only is a manual espresso machine fun to use, but you get complete control over everything. When you use a manual espresso machine, you control the grind, the roast, the beans, the temperature, and of course the pressure. You are always the barista, and you can tweak how your drink tastes.
Also, a manual espresso machine is easy to clean. It doesn't matter if you have a lever espresso maker or a different kind, because of the simplistic designs of the manual units, cleaning doesn't take more than a few seconds.
And they're built to last! If you purchase a manual espresso coffee maker, it is guaranteed to last you for years to come. Without any electronic components, it can't really fail. A manual espresso maker is about as durable as a can opener. They are so simplistic that you never need to worry about getting a replacement. Having one of these beauties at the center of your kitchen will draw attention!
Spring vs Direct
When choosing the best manual espresso machine, you have to pick either spring lever or direct lever. Each type has its pros and cons. Let's take a look at the different models.
Spring Piston Lever Espresso Machine
Spring piston lever espresso machines are typically easier to use. They don't require as much learning and are better for beginners. The pressure you get from the lever is going to be more consistent, but you exchange higher consistency for less adjustments, meaning you can't always control exactly how your espresso turns out.
Direct Lever Espresso Machine
When talking about direct lever espresso machines, you are typically getting a cheaper unit. However, they are often trickier to learn how to operate. You have way more control over all the aspects of brewing your espresso, meaning you get a better-quality drink. But learning how to operate the espresso maker can be a little time consuming.
Extra Factors to Keep in Mind
There are a few key principles to keep in mind when purchasing one of these exquisite espresso machines. You want to consider the construction, what kind of pressure you will receive, how the temperature is regulated, what your water tank is going to look like, and the type.
Construction: Construction is important. You want your manual coffee maker to have the best possible construction. What this means is reliable parts. Plastic parts can break, especially if you're using a lever machine in which you must constantly pump your coffee. Always try to go for metal parts.
Pressure: Espresso isn't espresso without pressure. Otherwise it's just hot, coffee-flavored water. The good thing about most manual units is that you control the pressure, and some of them actually produce more pressure than electronic machines. Something that can produce 10 BAR is OK, but you definitely want 15 BAR or more.
Temperature: Temperature regulation is not something you have a ton of control over with a manual espresso machine. This is especially true if you're using a portable espresso machine, as you basically only have boiling water from a kettle to work with. Most of these machines are going to easily brew a perfect espresso no matter the temperature.
Water Tank: The water tank is important if you're lazy and don't want to change the water often. Some of these units are going to come with large water tanks so that you can make up to 8 espresso shots before needing to refill. However, some of the others, specifically the more portable espresso makers, are going to be single use. That means the water tank is only big enough to make one serving of espresso.
Machine Type: Finally, the type of machine all comes down to you. The portable travel espresso machines are obviously used for backpacking, vacations, and hiking. You don't want to use these in your home. If you want a quality lever machine for your home, they are all pretty similar. It depends how much work you want to put in, and nobody will know your preference except for you.
Our Top Coffee Pick
If you want a quality manual espresso maker for your home, there is really only one unit that we want to recommend. It's all about the Flair Signature Espresso Maker. There are two versions, and each one works great. The standard Flair Signature has all the same features as the more expensive version, but the upgraded version comes with a gauge. But if you want to take your brewing to the next level, we suggest going with the upgraded version.
On the other hand, if you're looking for a travel espresso maker that you can pump with your hands, the STARESSO Portable Espresso is absolutely amazing. It works with Nespresso capsules and can be taken to any corner of the globe so that you can make coffee everywhere. While the Flair Signature is awesome, it's not exactly small enough to fit into your backpack. The Flair Signature is better for at home or at the office.
FEATURED PRODUCTS
Flair Signature
6 – 9 Bar / 40ml Shot
Manual Espresso Only
No Pressure Gauge
(L) 12.0″ (W) 6.0″ (H) 10.0″ (W) 4.9lbs
Shop Amazon →
or
Shop Direct
* Details updated less than an hour ago (by Amazon's Advertising API)
Flair Signature (Pressure Kit)
6 – 9 Bar / 40ml Shot
Manual Espresso Only
Pressure Gauge
(L) 12″ (W) 6″ (H) 10″ (W) 5.2lbs
Shop Amazon →
or
Shop Direct
* Details updated less than an hour ago (by Amazon's Advertising API)
Recommended Reading
Wacaco Minipresso vs Nanopresso – What the Better Choice?
If you are a coffee lover who needs your coffee on the go, the Nanopresso…
Learn More >
COMMENTS
Bambino vs Bambino Plus – Are the Extras Worth It?
If you are looking for an espresso machine to make café-quality espresso drinks from home,…
Learn More >
COMMENTS
Best Cheap K Cup Coffee Maker
If you love to have your dose of caffeine before you start your morning routine,…
Learn More >
COMMENTS