The Best Ninja Coffee Makers of 2022
By Evelyn J Stafford ~ Updated 8 August 2022
As an Amazon Associate I earn from qualifying purchases
Today we're looking at the best Ninja coffee bar. Ninja always makes fantastic pieces of equipment that gift you the most delicious coffee with every sip. If you're in the market for a new coffee machine, you've come to the right place.
When you purchase a Ninja coffee maker, you get everything. Yummy coffee, ideal features, affordability, and ease of access. These coffee makers are easy to use, they make multiple brew sizes, and some of them even use an advanced milk frother.
To find out the greatest Ninja coffee bar system, we'll be looking at the three most popular models available for purchase right now. We have all the information to help you make the smart choice when it comes to a Ninja coffee maker.
Overview: The Best Ninja Coffee in Town
The Ninja features classic, rich, over ice and specialty brew types with 6 different brew sizes. Fill the water tank less often with the removable 40 oz reservoir. This Ninja has a little something for everyone!
The Ninja programmable brewer features a classic or rich brew type with 2 different brew sizes. The Ninja will keep your coffee hot for up to 4 hours once brewed, with a 24-hour programmable delay timer so you can wake up to hot coffee.
If you want the best Ninja coffee maker, look no further. You have three great options. The Ninja Specialty Coffee Maker is an advanced unit that makes remarkable coffee. It comes with all the gimmicks that you need in a modern coffee machine. It's a bit more expensive, but that's because it's the whole package.
For those with exquisite taste in coffee, the Ninja Specialty Coffee Maker offers a glass carafe or a thermal carafe, a working milk frother, multiple brew sizes, and the ability to make iced coffee. It really is at the top of its class, providing scrumptious specialty brew beverages that you simply can't get anywhere else.
If you're the kind of person who prefers a standard drip coffee machine, Ninja still has you covered. The Ninja Programmable Brewer uses a strong glass carafe to conveniently brew you a classic coffee or a rich coffee. You can make multiple brew sizes, you can keep your coffee fresh for hours, and the removable water reservoir is super convenient.
At its core, the Ninja Programmable Brewer is a highly advanced traditional coffee machine that will put all your older models to shame!
And finally, the Ninja Hot and Cold Brewed System introduces advanced Auto-iQ technology to give you one of their most technologically savvy products to date. It's the best Ninja coffee in the business, allowing you to make many different brew sizes, to brew tea using bags or loose leaf, and providing a built-in milk frother for all your specialty drinks.
To find out which Ninja coffee bar system is the best, keep reading and check out our in-depth review of each Ninja coffee maker below so that you can find out which one is going to make your life easier and your coffee tastier.
And just to show good these makers are, we've put together a Keurig vs Ninja comparison, highlighting the differences between the Ninja and the standard coffee maker.
What to Expect from Ninja?
There is so much to expect from the Ninja coffee bar system. When you purchase a Ninja coffee maker, you are committing to a lifestyle of rich coffee, smart technology, and easy living. These coffee makers are all about enhancing flavor while making your life easier. Instant coffee, any time of the day, with cold brew or hot brew, and everything else you could ever want.
But hold up, there are a few different types of coffee makers that are part of Ninja's lineup. You can expect fully comprehensive coffee makers that brew iced coffee, specialty beverages, and that use the Auto-iQ system. These are affordable, they last pretty much forever, and other coffee makers just don't compare.
That said, you can also expect simplistic Ninja coffee makers. They really do make every type of brewing machine that a person could need, and the Ninja coffee bar lineup is arguably the best in the business.
But what about features? Tell you the truth, the features are endless. You can always make multiple brew sizes, you get a fully functioning control panel with every quality machine, you can make your favorite cold brew beverages with most models, and you are always able to use your favorite coffee grounds when brewing. Plus, the milk frother is always a huge bonus.
You can expect great customer service after the purchase of a Ninja coffee bar unit. They offer fantastic technical support. Ninja also makes their machines to last. So, while at first glance it may seem like all these fancy features are prone to fail, but it's actually not true. You get a full barista-quality system in a compact and reasonably sized machine that will generally last for the rest of your coffee-drinking years.
Best Ninja Coffee Bar Models
Now it's time to check out the three greatest Ninja coffee bar units one at a time. These are really the best coffee makers in the business, packed full of features, engineered for flavor, and hugely reliable. Let's take a detailed look at each Ninja coffee maker one at a time.
1. Ninja Specialty Coffee Maker (Ninja Coffee Station)
The Ninja specialty coffee maker is at the top of its game. This is the ultimate coffeehouse experienced stationed on your kitchen counter.
Yes, it is one of the larger coffee makers out there, but that's because it's equipped with pretty much everything. Just look at its incredibly in-depth control panel. You have the time, six different cup sizes to choose from, two different brewing styles, and the option for cold brew. It even has a special cleaning function right there on the front of the machine.
This thing does it all. Iced coffee, cappuccino, macchiato, and extremely rich coffee for those who love espresso. The fold-away frother turns your milk into a silky froth, and it works either with hot milk or with cold milk. The price is shockingly reasonable for the value. For those who have struggled with other coffee makers in their life, choosing a Ninja coffee maker is the way to never stress again.
And the list of features goes on. It has a long cord so that you don't struggle to find room on your counter, it has a programmable brew so that you can have your coffee programmed, and it uses a removable water reservoir for easy cleaning. You can brew up to twelve cups, choosing between a quality thermal carafe or a sturdy glass carafe. Basically, this is the machine your whole family will fall in love with.
In fact, we should put a warning up that you could get addicted to using the Ninja coffee bar system! The quality of the coffee is so extraordinary that you'll likely use it throughout the entire day.
Available w/ Glass Carafe or Thermal Carafe
Brews Iced Coffee
Fold-Away Milk Frother
6 Brew Sizes
Extremely Well-Rated Online
It's Quite Large
Machine Won't Heat Milk
See It In Action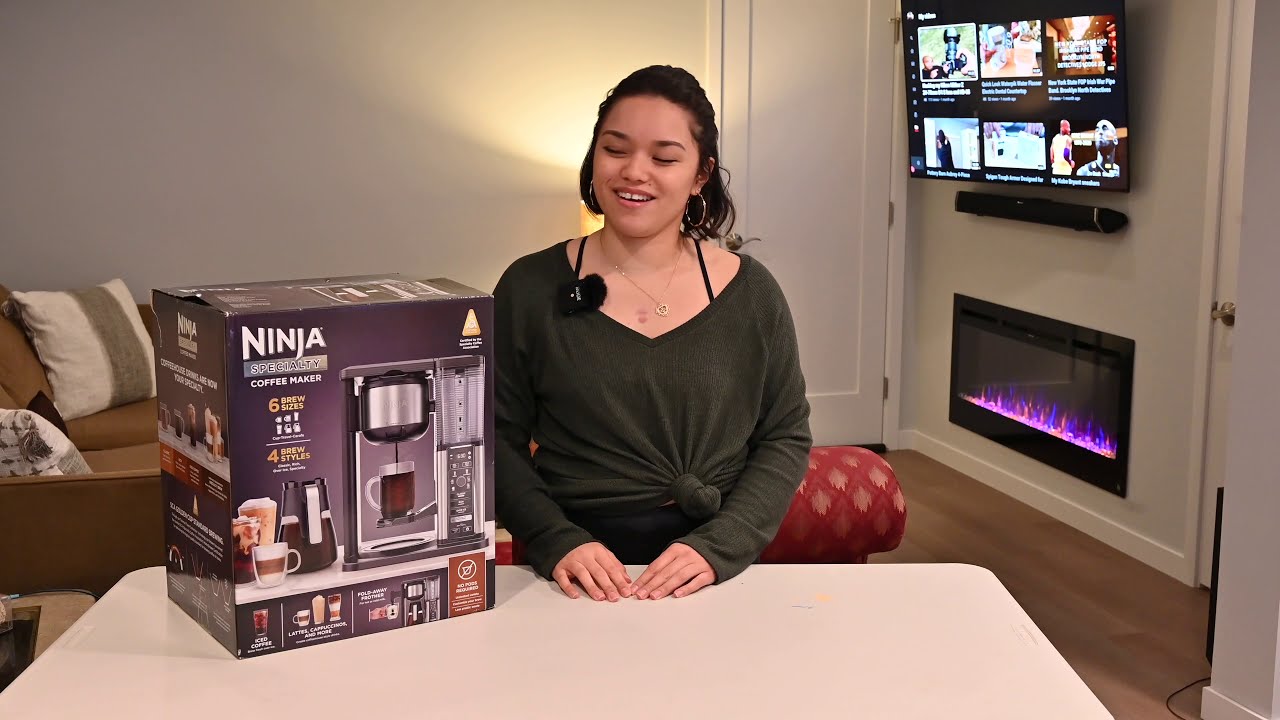 2. Ninja Programmable Brewer
The Ninja Programmable Brewer is definitely one of the best coffee bar systems available. It delivers the same Ninja coffee you know and love, but in a simplified format. No bells, no whistles – and never any hassles!
This unit is advanced. Take one look at the coffee machine and you can see that it is superior to the old and clunky models of yesteryear. For starters, it has a remarkable control panel, with easy-to-read options. And speaking of options, you can program this machine to make coffee 24 hours in advance. You can also program it to make the coffee you like the best, either a classic brew or something rich and delicious.
This unit does not come with any fancy Auto-iQ technology, but considering how affordable it is and how many features it has, this is a great replacement coffee bar for at work, at home, or at the office. It's also ideal for people who love drinking a full glass carafe of coffee rather than messing around with annoying pods! You get a full 12 cups with just one brew.
You can also keep your coffee warm for up to four hours with the quality warming plate. The water tank is removable and has a capacity of 60 ounces, meaning you can easily clean the entire system without wasting your precious time. And speaking of cleaning – almost all the parts on this brewing miracle are safe to put in the dishwasher. Stop slaving over the sink and let your dishwasher do all the heavy lifting!
But perhaps the best feature with this Ninja coffee maker is that it allows you to wake up to the smell of your favorite brewed coffee every morning.
Great Coffee Bar System
Strong Glass Carafe
Cost-effective
Classic Brew + Rich Brew
24-Hour Programmability
No Milk Frother
No Thermal Carafe
See It In Action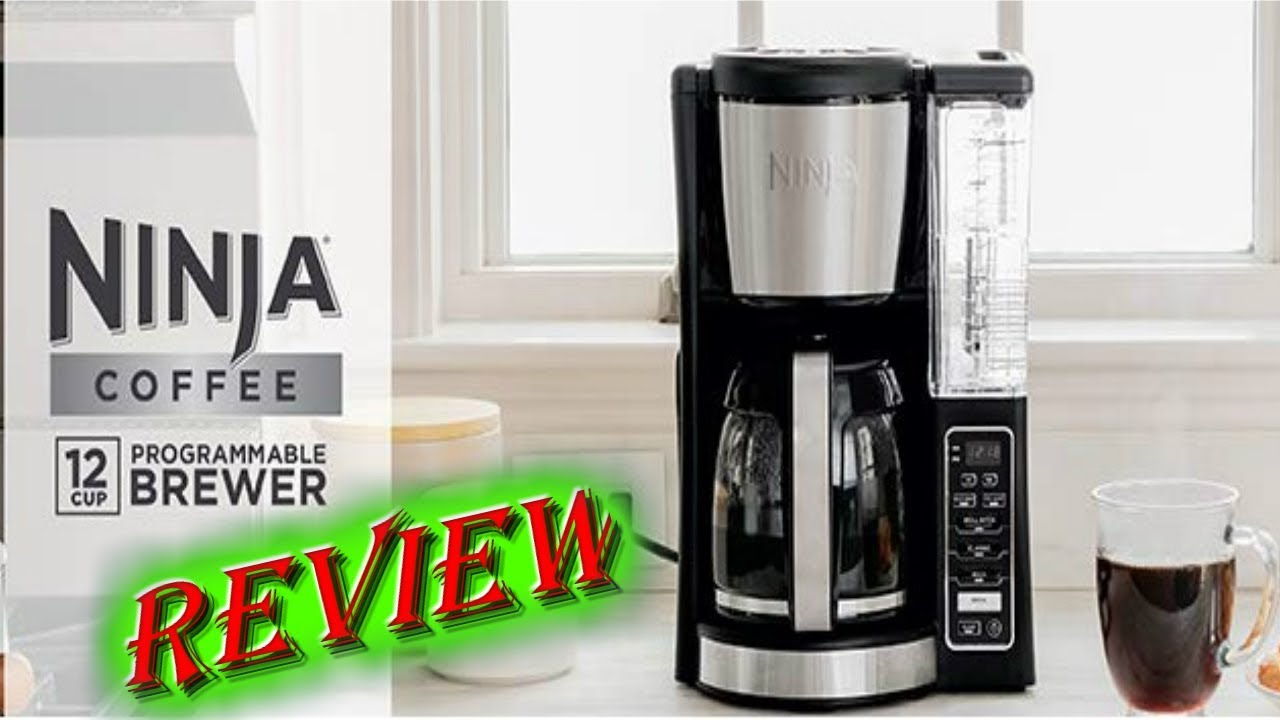 3. Ninja Hot and Cold Brewed System with Auto-iQ
The Ninja Hot and Cold Brewed System with Auto-iQ technology is one of the most advanced brewers known to mankind! It takes the Ninja coffee maker to the next level, providing you with a simple system of machine intelligence, flavorful coffee, and specialty brewing.
The Auto-iQ really does work. It's based on simple, one-touch technology that helps you navigate the coffee maker with ease. But the Auto-iQ technology isn't the only advancement here. This machine from Ninja can brew several different sizes, anywhere from a single cup of coffee to a full travel mug. It can also make a full carafe of coffee. It can brew refreshing iced beverages, and you can even make specialty beverages in mere minutes.
But what's so fabulous about the Hot and Cold Brewed System with Auto-iQ is that it can also make tea. You can do hot tea or cold tea, and the settings for switching between tea and coffee are right there on the front of the machine. This unit is specially designed so that you can brew your favorite type of tea using either tea bags or loose tea leaves. It comes with a specially modified tea brew basket to satisfy even the pickiest tea drinker.
But the fun doesn't stop here. The integrated frother can turn hot or cold milk into the most delicious froth you have ever tasted in your own home. And because of the Auto-iQ system, it all works with just one touch of a button.
The unit is available with either a thermal carafe a or a glass carafe, and some of the parts are removable and safe to put in the dishwasher. You also receive the precise temperature of your favorite blends every time, along with even saturation and variable blooming and steeping times. That means you get the best thermal flavor extraction technology in the business.
Auto-iQ Technology Really Works
Frother is High Quality
Coffee Flavor is Superior
Iced Coffee Tastes Great
Affordable/Easy to Use/Great to Look At
Warming Plate Needs Improvement
Often Sold Out!
Ninja Coffee Bar Comparison
When talking coffee, everyone is going to have their own opinion. When talking Ninja coffee bar systems, people are also going to have their own opinions. That's why we're here to break down all the comparisons of these great Ninja products to find out which one is ideal for your lifestyle and your coffee tastes.
First, if you want the best coffee using your own grounds, any of the machines we talked about today will work. They all make notoriously flavorful coffee. Ninja is reliable for that much. Also, none of these machines use pods, so you never need to worry about wasting your money on disposable junk!
The Ninja Specialty Coffee Maker is the machine for coffee lovers and baristas. If you see yourself as ahead of the coffee curb, this is the machine you want to pick up. It's easy to maintain, it has a cleaning cycle, and you have a long list of possibilities for the types of brews you can craft.
Then there's the Ninja Hot & Cold Brewed System with Auto-iQ technology. This is the machine best used for people who enjoy cold drinks and tea. Yes, it does make great coffee as well – and it is jammed full of features. But if you're just a straight coffee drinker, it might be a bit overwhelming for you. This machine is designed for people who like tea and coffee, so if you have several different people in your household with different tastes, this is probably the best option for you.
Then there's the basic Ninja Programmable Brewer. It's a straight-up coffee machine that uses your coffee grounds to make a full pot of your favorite java. You can program it to be ready when you wake up in the morning, and it's very easy to maintain. If you don't want something fancy and you're perfectly content purchasing the cheapest coffee bar system, this is definitely the unit for you.
Ninja CF091 vs CF092
There are two major models of Ninja brewers that you may have heard of – the CF91 and CF92. If you've been thinking about picking up one of the previous models at a discount price but are confused by all the similar part numbers, check out the following comparison.
Believe it or not, the Ninja CF091 and the Ninja CF092 are basically the same machine. It's a very confusing issue. People are always asking what the difference is between the 91 and the 92. It's confusing because they look the same, the information online is incredibly vague, and they are pretty much the same price.
But the deal here is that both units are older Ninja machines and are actually outdated. They also aren't that different. Both machines are able to brew fantastic coffee like you expect from Ninja, they each offer different types of brews, different brew sizes, and they both have a quality frother attached to them.
The only difference between these two models is that the CF092 comes included with an XL Hot & Cold Multi-Serve Tumbler. The CF091 does not come with this feature. Put the XL Tumbler aside and you're looking at twin machines that are not the least bit different.
Final Verdict
Out of all the machines we talked about today, the Ninja Specialty Coffee Makeris definitely our recommended pick. That's because it does a little bit of everything. Delicious coffee, amazing iced coffee, a reliable frother that makes your drinks smoother, and integrated technology so that you can always enjoy your favorite brew of coffee at home.
The other models are great too, but when comparing price and functionality, the Ninja Specialty Coffee Maker is going to win every time. It comes included with a very useful thermal carafe, and this allows you to make whatever kind of brew size you're in the mood for. It's a versatile piece of equipment like no other in the coffee business.
But don't forget about the Ninja Programmable Brewer. If you're not into a fancy coffee bar system, simply go with the more traditional drip machine. It still has the great control panel, the technologically advanced features, and great reliability – but it's significantly cheaper and more straight forward.
FAQ
1. Which is the Best Ninja Coffee Bar?
The best coffee bar system by a mile is going to be the Ninja Specialty Coffee Maker. It is our recommended pick and the recommended pick of thousands of satisfied customers all over the world. It's one of the most popular coffee machines used globally, and it has enough fancy features to make you and the whole family happy.
2. Is the Ninja Coffee Bar Worth it?
The Ninja coffee bar is definitely worth it. This is arguably the most effective system in the world for making coffee. If you're the kind of person who likes to drink coffee on a regular basis, no other system gives you the kind of convenience as the Ninja coffee bar.
3. What Filters Does Ninja Coffee Bar Use?
The Ninja coffee bar uses permanent filters. You will never need to purchase a pod or a paper filter because you just rinse the permanent filter that comes included with the machine and then use it again. This is the most environmentally friendly way to make coffee.
FEATURED PRODUCTS
Ninja Specialty Fold-Away Frother
6 Brew Sizes / 4 Brew Types
Single Serve or Carafe
No Pods Required
(L) 12.0″ (W) 8.8″ (H) 15.0″ (W) 9.2lbs
Shop Amazon →
or
Shop Direct
* Details updated less than an hour ago (by Amazon's Advertising API)
Ninja Programmable Brewer
2 Brew Sizes / 2 Brew Types
Carafe Only (12 Cups)
No Pods Required
(L) 8.0″ (W) 10.0″ (H) 14.0″ (W) 7.0lbs
Shop Amazon →
or
Shop Direct
* Details updated less than an hour ago (by Amazon's Advertising API)
Recommended Reading
Wacaco Minipresso vs Nanopresso – What the Better Choice?
If you are a coffee lover who needs your coffee on the go, the Nanopresso…
Learn More >
COMMENTS
Bambino vs Bambino Plus – Are the Extras Worth It?
If you are looking for an espresso machine to make café-quality espresso drinks from home,…
Learn More >
COMMENTS
Chulux Coffee Maker Review
Small, reliable, easy to use, and makes great coffee. The CHULUX Single Serve Coffee Maker…
Learn More >
COMMENTS