The 7 Best Smart Coffee Makers Available Now
By Evelyn J Stafford ~ Updated 8 August 2022
As an Amazon Associate I earn from qualifying purchases
Today we are looking for the best wifi coffee maker. We are talking about smart coffee makers that work using Amazon Alexa, the Alexa app, your personal smartphone, your smart home service, Google Assistant, and everything between.
We have DIY wifi coffee makers, smart brew coffee makers, and so much more. You can finally make all your favorite beverages with the sound of your voice. Never get out of bed to make a coffee ever again. Even if you have a standard drip coffee maker, we're going to tell you how to turn it into a wifi-enabled coffee machine.
This is relatively new technology, but it's great for people who have a big house, for people who want to order a coffee from the safety of their bed, or for anyone curious about the coffee wifi combo! Plus, almost all the machines on our list today are extremely affordable.
Your next espresso machine needn't cost you a fortune. If you find these coffee makers a little out of your budget, our guide to the best espresso machine under 100 might be of interest.
Overview of Our Top Picks
Here we have the two best smart coffee makers, built with the best technology to work with your Alexa app, brewing you perfect coffee at your command. Never lift a finger to brew your own coffee ever again!
Hamilton Beach Works with Alexa Smart Coffee Maker
This is our top budget pick. This is a certified smart coffee maker that works 100% with Alexa. The only thing you need to control this Alexa coffee maker is your Alexa app and your voice. It brews a strong pot of coffee, it comes with the cleaning cycle reminder, and it works the exact same as your typical drip brew coffee maker.
If you don't want to spend a whole lot of money but you still want delicious coffee that you can order Alexa to make, the Hamilton Beach Coffee Maker has you covered. You can make a full 12 cups, it's the same coffee taste you know and love, and the machine will even shut off automatically if you forget. It's easy to connect to Wi-Fi, and you can even select different brew strengths using Alexa.
Hamilton Beach 49968 FlexBrew Connected Single Cup Coffee Maker
The Hamilton Beach FlexBrew is definitely the best premium wifi coffee maker. This is the real deal. It can brew regular and bold coffee, you can select different cup sizes, and it's compatible with Keurig K-Cups! It really doesn't get better than this. It connects easily to the Wi-Fi, and you can use the Hamilton Beach app to track all your coffee drinking, which is available on Google Play and at the App Store.
The big bonus when using this machine is that the application integrates with Amazon Dash Replenishment and will immediately reorder you new K-Cup pods so that they show up before you run out. And even though it is compatible with K-Cups, you can still use your own ground coffee using the unique brew basket.
The DIY Home Wifi Coffee Maker
Before we start talking about the best smart coffee makers, how would you like to turn your ordinary drip coffee maker into a Wi-Fi-enabled powerhouse? No application and no nerd knowledge needed! All you need is the DIY spirit and you can make your coffee maker wifi capable.
It's all about the Smart Plug, a tiny device that can work with both Alexa and Google Voice Assistant to transform ordinary appliances into wireless devices. It's actually a very simple device. You simply plug the Smart Plug into the wall, then plug your device into it. With the sound of your voice, the smart plug can turn a device on or off.
It works for lights, for the TV, for your stereo, and yes, for your coffee maker. Its cost-effective and works like a charm. Of course, it can't change your brew strength or fill the coffee pot for you, but you can use voice activation to turn your coffee maker on or off, and depending on what kind of model you have, this will enable you to brew your coffee from anywhere in your house using your voice.
How to Use the Smart Plug with Your Coffee Maker
Installation is easy. Insert the smart plug into the outlet, plug your device into the Smart Plug, then control the on/off power of your device using your phone or tablet. All you need is a secure 2.4GHz connection. Install the Smart Life app on your phone, add your coffee machine to the list of devices, and that's it. You're ready to rock!
You can even schedule your device to activate at certain times of the day on your phone. It's completely programmable for your specific needs. Turn your boring coffee machine into coffee maker with wifi!
The Best Wifi Coffee Makers
Here we have a list of the best smart coffee makers available for purchase right now, starting with our top two picks!
Hamilton Beach Works with Alexa Smart Coffee Maker
If you're only looking to use Alexa for all your voice-activated coffee needs, the Hamilton Beach Coffee Maker should be at the top of your list. This unit is cheap even for a normal coffee machine! You can turn it on and off using Alexa, you can schedule it as part of your morning routine, and you can even tell Alexa what type of coffee you want, normal brew or strong brew! This really is the future in home device technology.
This model comes included with the cleaning cycle reminder so that you never have too much buildup inside the coffee machine. It works exactly the same as a normal drip coffee maker, with a front-fill basket and a water reservoir. It also connects extremely easily and remains reliable. You don't have to download any additional apps. You only ever need to use the Alexa app, which makes it quite a bit more convenient than some other smart coffee makers.
The only thing you need to do for yourself is to add the coffee and add the water. But this can easily be done before bed, or even after you enjoy your coffee in the morning. If you always have the machine prepped and ready to brew, you can activate it from any point simply using the Alexa application. You have complete peace of mind! It also has automatic shut-off after two hours.
Features
Alexa Certified
Brews 12 Cups
Mess-Free Pouring
Cleaning Cycle Reminder
24/Hour Programmable
We like
Super Affordable
Control Settings w/ Alexa
Brew Strength Options
Standard 12-Cup Coffee Maker
Works w/ Amazon Echo Devices
We don't like
No Fancy Features
Doesn't Make Single-Serve Coffee
Cheap Plastic Build
See It In Action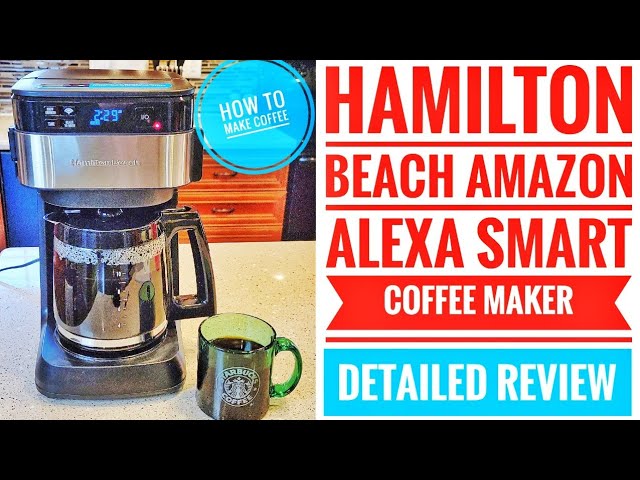 Atomi Smart WiFi Coffee Maker
There are all kinds of smart coffee makers on the market right now. But if you want a really smart coffee machine, check out this unit from Atomi. It's reasonably priced and has extremely positive reviews online, and it comes included with a whole basket of great features.
Unlike some coffee machines that are only programmable using Alexa, the Atomi allows you to use Alexa, Google, and the Atomi Smart app. If it has an application, you can use it to make coffee. And as long as you have a smartphone and a voice, you can make coffee right from your bed when you wake up in the morning. No alarm required!
You can activate the coffee maker using your voice, or you can use the manual operation to program and brew your coffee. You can create a daily or a weekly schedule that fits to your lifestyle, and you can even set and change the brewing strength – all using your voice with Alexa or Google. And if you forget to drink all your coffee right away, simply warm it up using the voice controls.
The Wi-Fi is extremely reliable, the coffee maker is constructed from surprisingly quality materials, and synchronizing with Alexa or Google is a breeze. The smart coffee maker also looks extremely modern and will fit inside anyone's kitchen. The only downside is that it's not an espresso maker. It only has a 12-cup capacity and you must use coffee grounds. But the machine does come with a reusable coffee filter, which is nice for the environment.
Features
Works w/ Google + Alexa + Atomi App
Full Voice Controls
Manual Options
Reusable Filter Included
12-Cup Brew
We like
The Atomi Smart App Works w/ All Devices
Super Affordable
Stylish & Fun
Tweak Brewing to Fit Lifestyle
Simplistic & Delicious
We don't like
Only Brews 1 Pot
Not Compatible w/ Pods
Not Enough Settings
See It In Action
Hamilton Beach FlexBrew Connected Single Cup Coffee Maker
When looking at smart coffee makers, the FlexBrew from Hamilton Beach is a little bit different. No, it's not an espresso machine! It doesn't even really work with Amazon Alexa or Smart Home. What it does do is keep tabs on your coffee habits and ensure you never run out of coffee again for as long as you live.
By installing the Hamilton Beach app, this great smart coffee machine syncs seamlessly to your personal Amazon Dash Replenishment. This means the coffee maker is going to track how much coffee you drink through the app, and then automatically order you a refill so that it reaches your home before you run out of coffee pods or water filters.
You can pick your favorite single-serve pods from a massive variety of brands and tastes, and you can have your coffee maker order them for you. You will literally never need to go shopping for coffee ever again.
And it's not like you get cheap coffee with this either. Because the coffee maker is 100% compatible with K-Cups, you have an almost unlimited variety to choose from. You can even switch out flavors on your phone app so that you get a staggered order of different brands and flavors.
The only downside with this machine is that it does not use an app to activate anything using your voice. You still have to manually make your coffee, but it's still a pretty nifty machine, especially for those who live a busy lifestyle and don't have time to be constantly refilling their coffee supply or going out shopping.
The brew flavor is fantastic, the machine brews very quickly in just about 3 minutes, and it's very similar to any other pod coffee maker, only smarter!
Features
Quick Brew
Orders Coffee for You
Selectable Cup sizes
Hamilton Beach App
Single-Serve Pods w/ K-Cups
We like
Full Access to K-Cup pods
Takes Away Stress of Shopping
Easy to Use
Delicious Brew w/ Good Temperature
Brew Basket for Ground Coffee
We don't like
No Voice Activation
Minimum 8-oz Coffee
Not Programmable
Nespresso Expert Original Espresso Machine
This is an astonishingly good smart coffee maker. Nespresso always knows what they're doing, and they don't disappoint with their Expert Original Espresso Machine. It does make smart coffee, but it does it in a unique way. You can't use voice activation, and you can't use your Alexa application to operate the unit. But you can use Bluetooth.
The Bluetooth connectivity allows you to create personalized coffee, to easily reorder your Nespresso capsules, to help maintain the machine, and to offer consistency with all of your blends. It's an absolutely amazing feature that we would argue is even better than voice activation.
As for the machine itself, this is a premium espresso maker. You get four different serving sizes like you should on any espresso machine, and you can even make iced drinks by simply adding a few ice cubes. You get three different temperature settings and there is even a separate spout for hot water so that you can make americanos or tea.
You get 19 bars of high-performance pressure with this pump. This means that each espresso is made the exact same way it is at your favorite café. This is barista-quality smart coffee with Bluetooth capabilities, and it all comes in an extremely sleek and modern unit. Nespresso never disappoints with their amazing machines. This is some next-level coffee making!
Features
Bluetooth Connectivity
4 Cup Sizes w/ Espresso
Extreme Power w/ Temperature Control
Huge Water Tank
High-Tech & Futuristic
We like
Extremely Quiet
Customer Service is Great
Many Useful Options
Nespresso Pods are Superior
Excellent Bluetooth Controls
We don't like
Steep Price
Mechanically Complicated
Cleaning Sucks
Behmor Connected Customizable Temperature Control Coffee Maker
Everyone wants a smart coffee maker, and the Behmor Coffee Maker is one of the newest innovations around. This is a unique smart coffee maker that uses its own app to allow you full customization and control over the temperature when brewing. You an also control the pre-soak time and the altitude to get precision with each cup of coffee.
This machine works with Alexa so that you can always brew coffee using your voice. It even syncs with Amazon Dash Replenishment, allowing for quick reorders of your favorite coffee grounds. You will never run out of coffee again so long as you have a smart coffee maker like this. You can even use the app to save your favorite brew settings within the library. Depending on your mood, you can switch between your favorite brews.
The way the machine physically brews coffee is a little different. It has a pulsed water flow design that makes sure all the coffee grounds are completely saturated before brewing. It means that all the grounds are going to be soaked in extremely hot water before the coffee is brewed, allowing the flavor to bloom properly.
For those who like extremely hot coffee, this is a great unit. You can crank the temperature all the way up to 210 degrees Fahrenheit for mega coffee extraction. And because of the double-walled stainless carafe, your coffee will stay hot for hours after the brew has finished.
Features
Connects w/ Amazon Alexa
Create Brewing Profile
Temperature Control
Durable Stainless Carafe
Pulsed Water Flow
We like
App is Easy to Use
Voice Activation
Automatically Reorder Coffee
Excellent Flavor
Unique Brewing Method
We don't like
Brewing & Connectivity is Confusing
Machine Looks Weird
Goat Story Gina Smart Coffee Brewing Instrument
Here we have probably the most unique smart coffee maker on the list. It's not even really a machine. It's more of a coffee science experiment. And an expensive one at that! It makes a single-serve coffee drink without even using a motor.
That's right, unlike all the other coffee makers on this list, the Goat Story Gina Smart Coffee Brewing Instrument doesn't use any fancy technology other than their GINA app. In fact, there are two versions of this machine available. There is one version with integrated brewing technology, such as the precision scale and the sensors that are connected to the GINA app. The other version does not have any technology, but it still uses the same impressive brewing techniques.
Basically, this is smart brewing on a whole different level. You get to control the flow of your drip using a precision valve in combination with the app so that you make the best possible coffee ever. You get 3 different brewing styles in one unique device. You can do pour over coffee, immersion coffee, or cold drip coffee.
This brewing equipment comes complete with a ceramic funnel, extremely strong glass containers, a steel scale, and an extremely precise valve. This is an elegant solution to making all kinds of different types of coffee. If you are a real barista and love hybrid brewing, this is the unit for you. It's also great for hipsters.
Features
Hybrid Brewing
GINA App for Brew Control
Elegant Design
Precision Valve & Scale
Small & Easy to Store
We like
Stylish & Involved
Full Functionality in Neat Package
With or Without Electronics
Useful App
Full Control Over Taste & Quality
We don't like
Too Expensive
Glass Can Break
Takes Ages to Make Coffee
Smarter SMC01 iCoffee
The last smart coffee maker on our list is the Smarter iCoffee. It works pretty much the same as all the other coffee makers. You can connect it easily to work with Alexa or Google so that you can activate the coffee machine using your voice. You can also tweak all the settings from your smartphone.
But where this coffee machine really shines is with its burr grinder. Now you can grind your coffee beans and brew them inside the same smart machine. This should save lots of time, especially since you can control all the features of the coffee machine with your phone.
Another unique feature special to the iCoffee is that you can change the color. It comes with three interchangeable color panels so that you can always make sure the unit fits with the rest of the décor in your kitchen.
This machine makes great coffee, it looks stylish, the app is actually functional, and it gives you all the bonuses of a standard smart coffee maker with the added bonus of a burr grinder!
Features
Heavy-Duty Grinder
Large Glass Carafe
Interchangeable Color Panels
Smart App
Works w/ Alexa + Google
We like
Connectivity is Great
Customizable w/ Different Color Schemes
Control on Any Device
Tasty Brew
Lots of Cup Sizes
We don't like
Temperature Not Great
Horrible Reviews
Costs Too Much
Our Top Pick
Our number one pick is the Hamilton Beach Works with Alexa Smart Coffee Maker. It's reasonably priced, it has solid connectivity, it uses Alexa to make the best coffee, and it comes with a bunch of useful features that will make your life easier.
At the end of the day, all we want is easy and convenient coffee. And that's what this machine delivers, straight to your home. It's 24-hour programmable. It has mess-free pouring. And it works with all your Amazon Echo devices. This is a straight-up coffee brewer that can be controlled using your smartphone.
FEATURED PRODUCTS
Hamilton Beach Smart Coffee Maker
Works with Alexa
Carafe Only (12 Cups)
Ground Coffee Only
Brew Strength Control
(L) 8.0″ (W) 13.3″ (H) 13.9″ (W) 4.6lbs
Shop Amazon →
* Details updated less than an hour ago (by Amazon's Advertising API)
Atomi Smart WiFi Coffee Maker (2nd Gen)
Works with Alexa, Google , iOS & Android
Carafe Only (12 Cups)
Brew Strength Control
Ground Coffee Only
(L) 8.0″ (W) 8.5″ (H) 13.6″ (W) 7.0lbs
Shop Amazon →
* Details updated less than an hour ago (by Amazon's Advertising API)
Recommended Reading
Coffee Makers with a Difference
Today we are looking at the very best Amazon Alexa coffee makers that work with…
Learn More >
COMMENTS
The 7 Best Smart Coffee Makers Available Now
Today we are looking for the best wifi coffee maker. We are talking about smart…
Learn More >
COMMENTS
The 7 Best Smart Coffee Makers Available Now
Today we are looking for the best wifi coffee maker. We are talking about smart…
Learn More >
COMMENTS