The Best Grind and Brew Coffee Makers
By Evelyn J Stafford ~ Updated 31 August 2022
As an Amazon Associate I earn from qualifying purchases
Today we are finding out the best grind and brew coffee maker. We will be looking at the eight best grind coffee makers in the business, finding out which machine will make the best cup of coffee. These coffee makers can not only make coffee, they can grind beans and brew coffee. It's a two-in-one deal!
These coffee machines range in price, features, and abilities, but what they all have in common is that they turn ground coffee into the best blend possible. Some coffee makers have a burr grinder, some have strength settings, and some have grind control. However, none of the units have a blade grinder.
Let's take a look!
As amazing as these machines are, this range of coffee maker won't keep your coffee hot over a long period of time! Its times like these that only the best thermal carafe coffee maker will do. Click the link to find out more.
Overview of Our Top Picks
We have separated our two favorite coffee makers for those who don't have time to review them all. These two machines are the best of the best, delivering you a satisfying cup of coffee like you've never experienced before.
Breville Barista Express – Espresso Machine
The Breville Barista Express Espresso Machine is a top of the line grind coffee machine. It produces the best coffee using professional features, such as the integrated conical burr grinder, the precise espresso extraction, digital temperature controls, micro foam milk texturing, pro steam wand, and grind size dial.
When using the Breville, you always have complete control over the flavor of your coffee and the type of grind. The controls are simple, easy, and intuitive. Any newbie can make the best coffee using their favorite coffee beans and this great brewer. Handsfree operation allows you to grind directly into the special espresso filter for maximum flavor.
If you have the money to spend on one of the best makers in this category, the Breville Barista is for you. It's got more technology than most other coffee machines – it's basically a coffee android!
Cuisinart DGB 10-Cup Thermal Coffee Maker
Another great grind and brew coffee machine, the Cuisinart Grind and Brew makes a one-of-a-kind cup of coffee. This unit is affordable, it comes complete with standard features, and it turns the best coffee beans into liquid heaven.
This coffee machine features a grinding assembly and filter chamber to grind your coffee beans into the perfect dust for brewing. You can brew small amounts of coffee or entire carafes. By using the main control panel, you can easily tweak all the settings of this high-tech machine.
The Grind and Brew is fully programmable, it has an automatic shutoff, and a grind-off option so that you can use pre-ground coffee. It comes included with a charcoal water filter, a gold tone filter, a measuring scoop, and an instruction booklet. For such a cheap price, this is definitely a great budget unit.
The Best Grind and Brew Coffee Makers
Here we have the eight best grind and brew coffee machines available right now. If you're interested in coffee makers that grind and brew using your favorite coffee beans, this is a must-read list. Some of these coffee machines use a burr grinder, and they all make a sweet cup of coffee. But none of our examples use a blade grinder. A blade grinder is a pretty outdated coffee maker feature.
1. Breville Barista Express – Espresso Machine
Introducing our top grind and brew coffee maker, Breville's Barista. This is the epitome of great espresso. It comes included with dose-control grinding , meaning that the integrated conical burr grinder will grind whenever you tell it to, delivering the exact amount of fresh grinds into the specialized filter, giving you the taste and texture you want with any sort of roasted bean.
If you have ever wanted an espresso machine like the ones you see at coffee shops, this is it. And yes, it is expensive. But not quite as expensive as it could be. And besides, it is expensive for a reason. This thing literally has all the bells and whistles. It even comes included with a cleaning kit to properly maintain all its moving parts. As we said, this is a highly advanced espresso maker!
It uses digital temperature control to ensure the water that makes your coffee is always the correct temperature. This in turn ensures the very best extraction of the espresso. Basically, you get phenomenal taste with every last drop of espresso.
And when you want to have a latte, no problem. You can do micro foam milk texturing using the professional steam wand. It all works so that you can enhance the flavor of all your beverages. Plus, with the help of the steam wand, you can learn how to make your own latte art. This is a great way to impress your friends.
Finally, the espresso maker even comes in two different models. You can purchase the espresso machine in black sesame or in stainless steel. This allows you to personalize the look of your kitchen, matching your espresso maker to your other appliances.
Features
Dose Control Grinding
Precise Espresso Extraction
Digital Temperature Control
Pro Steam Wand
Grind Size Dial
We Like
All-in-One Machine/Does Everything
Included Cleaning Kit
Futuristic & Precise Machinery
We Don't Like
Price is a Little High
Can Be Slightly Complicated
See It In Action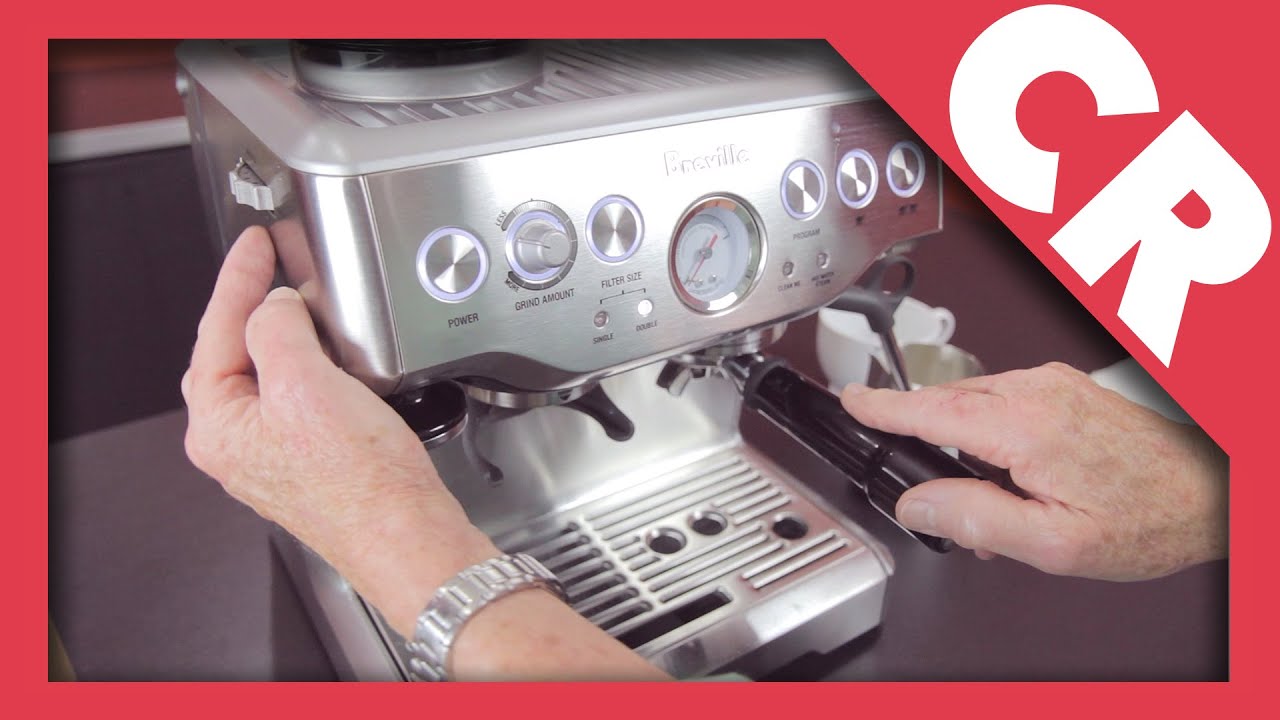 2. Cuisinart DGB 10-Cup Thermal Coffee Maker
What a great coffee maker! If you like to have the best coffee using your own coffee beans, this is the machine for you. It has a super strong grinder, it makes great coffee, and it's wildly affordable. And that is pretty good considering you have a grinder for making fresh coffee from roasted coffee beans integrated into the top of the unit.
If you're a fan of having the rich smell of freshly brewed coffee wafting through your house all the time, you cant go by this grind and brew coffee maker. It uses expert technology to properly grind your grounds and brew them into a rich and dark coffee that the whole family can enjoy.
You can set this machine to brew at any time within 24 hours, making it excellent for early-morning coffee. You can even program it so that a fresh pot of coffee is waiting when you get home from work. And if you are not the type of person who drinks an entire carafe of coffee, you can program the machine to only make a single cup. This is excellent for those who just want a quick shot of caffeine.
For your convenience, the coffee maker features a very large and simplistic control panel with all your brew settings easily visible. This is not one of those confusing machines that you need to fuss with all the time. It's just a straight-up coffee maker with an awesome grinder, great reusable filters, and all the standard brew features the make a coffee maker desirable.
Features
Grind and brew machine
Includes Charcoal & Gold Tone Filters
Fully Programmable 24/h
Brew Pause
Digital Clock
We Like
Excellent Automatic Brewing
1-4 Cup Settings
Simplistic Control Panel
We Don't Like
Looks Cheap
Not as Durable
See It In Action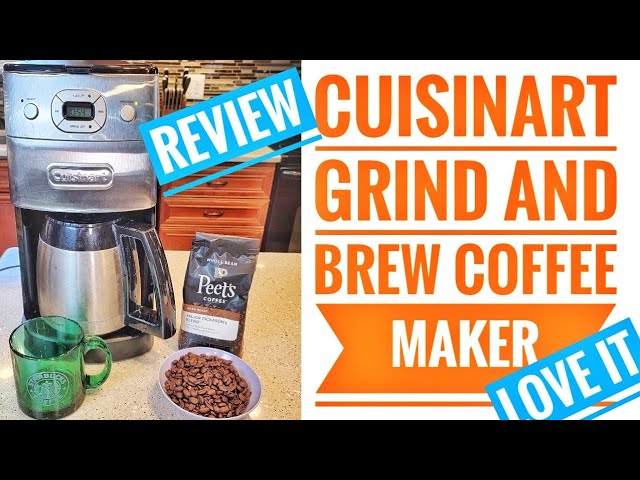 3. De'Longhi Magnifica Super Automatic Espresso & Coffee Machine
Here we have another easy to use grind and brew machine. The De'Longhi Magnifica is a wildly popular espresso + brew coffee machine that comes at a steep price. But that steep price fits this impressive system.
Stainless steel, a steel burr grinder, a dual thermoblock system, removable waste bin, removable drip tray, removable water reservoir, patented milk system, ground coffee bypass, and a coffee bean container – this is an entire coffee factory built into one smart brewer.
The internal grinder works great from returning whole bean coffee into delicious grounds. And if you don't have any coffee beans, you don't need to use the grinder. You can easily use pre-ground coffee to make your espresso or your cup of joe. But no matter what type of coffee you're making, you can do it instantaneously.
This machine is ready to use at all times. Simply choose your coffee on the control panel, push the button, and wait a few seconds for your steaming hot coffee to brew and be squirted into your cup. This baby makes the perfect espresso and the perfect brewed coffee, with a burr grinder that really does its job.
Plus, even though the price is a little steep on this coffee maker, it's not that bad. It's much more affordable than many other professional espresso machines on the market.
Features
Instant Coffee Brewing
Steel Burr Grinder
Removable Components
Espresso + Brew Coffee
Makes Specialty Coffees
We Like
Excellent Quality
Perfect Strength Settings
Heavy-Duty Grinder
We Don't Like
Can Get Messy if Not Cleaned
No Automatic Brewing
4. Cuisinart Grind & Brew Automatic Coffeemaker
The Cuisinart Grind & Brew Automatic Coffeemaker is a great budget item for anyone who doesn't want to spend a lot on a machine to brew their coffee. It still comes complete with a grinder to grind down beans, and it still makes scrumptious coffee.
But it's super affordable, not to mention extremely easy to use! It comes with a standard 12-cup coffee carafe. It features full programmability so that you can set your coffee to be made 24 hours in advance. It also has the brew pause feature and an automatic shutoff to save energy. The unit also comes included with a gold tone filter and a charcoal water filter, which works to help remove impurities from the water.
Because the grinder chamber is separate from the filter area, it's easy to clean everything up. The main pot can easily be washed in the sink, and the front of the machine can be quickly wiped down. The carafe is glass and features an ergonomic handle, a spill-proof pouring spout, and a knuckle guard for easy handling.
But the best part about this machine is that it will grind your raw beans before brewing your coffee. It grinds them right on the spot using its unique grinder to make you the best coffee.
Features
Full Programmability
Separate Grinder Chamber
Gold Tone Filter Included
Easy to Clean
Brew Pause Feature
We Like
Small & Tidy Coffee Maker
No Complex Options
Cleans Easy & Works Well
We Don't Like
Doesn't Make Espresso
The Grinder is Loud
5. Cuisinart Grind & Brew Thermal 12-Cup Automatic Coffeemaker
This is yet another fabulous grind and brew machine from Cuisinart, one of the best companies in town for developing the best in coffee maker technology. This model is a little more expensive than some of the others, but it's also a bit better in its design.
The bean hopper is located on the top of the machine, and it fits about 8 ounces of beans (or half a pound). The grinder is extremely high quality, and you can control the type of grind you get by choosing your preferred setting on the control panel. You have total control over the grind by adjusting the intensity and the volume. You also have a strength selector to keep your coffee tasting perfect.
As with any good coffee maker, this unit is fully programmable. It can't make espresso and it doesn't have a single-cup feature, but you can set your coffee to be brewed 24 hours in advance. It also has an automatic shut off to conserve power, it has a brew pause feature so that you can pause the brew and pour yourself a cup of hot coffee, and it comes with a quality carafe.
The pot can hold 12 cups of coffee, it has double insulation, and a very comfortable handle. The automatic burr grinder is integrated and works perfectly. The package comes included with a measuring scoop, an instruction booklet, a charcoal water filter, and a gold tone filter that is fully reusable. No more wasting paper filters!
Features
Powerful Burr Grinder
Double-Insulated Stainless Carafe
24/h Programmable
Brew-Pause + Grind Off
8-oz Bean Hopper
We Like
Impressive Control & Strength Selector
Simplistic & Discreet
Digital Display
We Don't Like
Cleaning is Difficult
Makes Lot of Noise
6. Breville Grind Control Coffee Maker
The Breville Grind Control Coffee Maker is a fantastic machine. If you are picky about your coffee and want full control and options for strengths, this is the unit for you. It also brews extremely hot coffee, which is pretty rare for a home machine. Plus, the thermal carafe will keep your coffee hot for at least three hours, while keeping it warm for about 6. And it won't even scorch the heat element.
You can brew 1 cup of coffee or 12 cups of coffee in the pot. You have full adjustability for your brewing. You can adjust the size of the grind to get a better flavor while also adjusting the strength to either have a super bold coffee or a regular coffee. It's totally up to you!
Unlike other brewers, this has a pretty quiet grinder. It's easy to use, you can fit a full half pound of beans in the hopper, and the coffee maker itself is extremely modern. The unit is clean, sleek, and gorgeous.
To top everything off, this machine is super easy to clean. You can remove most of the pieces and wash by hand or in the dishwasher. And you can wipe down the exterior of the machine in just a few seconds. When it comes to actually grinding the beans, it happens immediately before the brewing so that you get the best possible flavor and scent.
Features
8 Different Strengths
Pre-Ground Coffee + Grinder Mode
LCD Screen
Programmable Auto-Start
½ Pound Bean Capacity
We Like
Tons of Strength Settings
Massive Brewing Capacity
Removable Components/Easy Cleaning
We Don't Like
A Little Slow
Pricey Coffee Maker
7. Cuisinart Fully Automatic Burr Grind and Brew
Here we have another budget option from Cuisinart. This is one of their better-reviewed machines with over 6,000 reviews online, most of them raving about how great this coffee machine is. And we have to agree with them!
This unit comes a few different ways. You can get it in silver or black, with a 10-cup carafe or a 12-cup carafe, with a glass carafe or with a thermal carafe. It has tons of great options to choose from, allowing you to make your coffee the way you like it. The machine also looks stylish and new, with only a few select buttons for making your selections.
And yes, you get lots of selections. You have three different options for the strength of your coffee, either regular, bold, or extra bold. With the control settings, you can program to make between 4 and 12 cups of tasty coffee.
The grinder on this machine is a real pro. It's a burr style of grinder that uniformly grinds all your beans for the best taste in your coffee mug. It may be a little loud to people who are not used to listening to a burr grinder, but after a few sessions you won't even notice the sound of the grinder anymore.
The hopper fits a standard half pound of beans and seals nicely to keep them fresh in case you don't make any coffee for a few days. To sum everything up, this is one impressive coffee machine with a solid grinder, a great system for brewing, and useable features.
Features
Direct Flow Seamless Dispensing
Powerful Burr Grinder
Grind Control
4-12 Cups
Great Consistency Between Brews
We Like
The Large Digital Display
Big Carafe for Coffee
Options for Strength
We Don't Like
A Little Bulky
Grinder Can Be Loud
8. KRUPS Grind and Brew Auto-Start Maker with Built-In Burr Coffee Grinder
The final grind and brew machine on the list for today is from KRUPS, and it is a very inexpensive machine with some of the more basic coffee features. In fact, I would say this is on the lowest end of the spectrum for grind & brew makers. It only uses a 10-cup carafe, the quality is OK, and the longevity is questionable.
Still, you get lots of great features. You can control the strength of your brew, choosing either mild, medium, or strong. You can also prepare a small serving of only two cups if you're not in the mood for an entire pot. The burr grinder is useful, the included filter works great and is reusable, and the LCD screen is easy to read.
If nothing else, this is a great option for people who don't have a lot of money to spend. The design is simplistic with intuitive controls and easy programming. The cleaning doesn't take much effort. It has automatic start and will keep your coffee warm for several hours. You can even wash the glass coffee pot inside your dishwasher.
If you like really rich coffee, and you want a machine that can grind and brew – but you don't want to spend much money, definitely check this model out. It does work, but it's not built to last for years and years.
Features
10-Cup Carafe
Automatic Start + Keep Warm
Brew Pause
User-Friendly Design
Clear LCD Screen
We Like
Super Affordable
Quality LCD Screen
Friendly Design
We Don't Like
Doesn't Regulate Strength Well
Moderate Overall Quality
Our Choice
Our top pick is definitely the Breville Barista Express Espresso Machine. It has everything you could ever want in a grind and brew machine. It's a full coffee workshop right there on your kitchen counter. It can make delicious coffee, professional espresso, and even specialty drinks.
The burr grinder is top notch, while the micro foam milk texturing works to allow you barista-quality lattes. You can even learn how to do latte art in your cappuccinos and other drinks. Yes, it's costly, however, it also has a solid reputation. That is extremely rare for such an expensive piece of machinery. That's how you know it's good!
At the end of the day, we highly recommend investing the money in a quality espresso machine like this one. Enjoy your coffee the way it was meant to be enjoyed.
FEATURED PRODUCTS
Breville Barista Express
Single / Double Shot + Coffee Grinder
Semi-Automatic / 67oz Reservoir
Manual Milk Frother
(L) 12.5″ (W) 12.6″ (H) 13.1″ (W) 23.0lbs
Shop Amazon →
or
Shop Direct
* Details updated less than an hour ago (by Amazon's Advertising API)
Cuisinart Grind & Brew (Thermal)
1 – 10 Cups
Thermal Carafe
Grinds Whole Beans
(L) 8.1″ (W) 8.0″ (H) 15.0″ (W) 6.2lbs
* Details updated less than an hour ago (by Amazon's Advertising API)
Recommended Reading
The Best Espresso Machine with Grinder
Today we're looking for the best espresso machine with grinder, and we're not messing around!…
Learn More >
COMMENTS
10 Best Single Cup Coffee Maker with Grinder Options
If you love the idea of grinding your own coffee, you may be overwhelmed by…
Learn More >
COMMENTS
The Best Grind and Brew Coffee Makers
Today we are finding out the best grind and brew coffee maker. We will be…
Learn More >
COMMENTS