Keurig Supreme vs Supreme Plus
By Evelyn J Stafford ~ Updated 8 August 2022
As an Amazon Associate I earn from qualifying purchases
Keurig is a favorite among busy coffee lovers because of its ability to brew their favorite cup of coffee within minutes. Their coffee machines do all this while still maintaining the quality and aroma of the coffee. Here we take a closer look at their K-Supreme and K-Supreme Plus models to see how they compare.
If you've every wondered how the older K Elite model stacks up against the new and improved K Supreme model, we have you covered! For more information, stop by our Keurig elite vs supreme guide.
Overview
The company changed the game recently with the introduction of the new multi stream tech. This new technology enables their coffee makers to run multiple water streams through the coffee grounds. This saturates the coffee grounds more evenly producing better flavored coffee with the perfect aroma. The K-Supreme and K-Supreme Plus were the first models to incorporate the technology.
Below is a simple breakdown of both their similarities and differences.
Differences
The K- Supreme combines a slender machine with advanced functions! Not only does this machine offer delicious, strong brews thanks to the multistream technology, it also has a special brewing mode for iced coffee. It's a little machine with a big punch!
This stainless steel mecha is both ultra modern and super durable. It offers multi-stream technology and is customizable with options for cup size, brew strength, and temperature. It's even programmable from your phone.
Similarities
Maintenance alerts
Equipped with the new multi stream technology
Come equipped with the over ice and strong button feature
Come with a high altitude setting option
Easily understandable operating buttons
Back to back brewing option
Fast brewing time for both models
Feature Comparison
Here we take an in-depth look at the main features of these two great coffee machines.
Keurig Supreme
Multi stream technology – Here we see five needles that puncture the pod and spray water into the coffee grounds. This helps in better saturating the grounds ensuring you get a high quality, perfectly flavored cup of coffee with the best mixture of aroma.
Dual position reservoir – K-Supreme comes equipped with a 66 ounce water tank that is able to produce five 12 ounce mugs of coffee without needing a refill. The reservoir is also versatile in its positioning meaning it can be mounted on either the side or back of the coffee maker. This is helpful as one has a choice of positioning that best fits their kitchen set up.
Back to back brewing – the K-Supreme is able to produce cup after cup of coffee. The water heater does not need a long time to heat up the brew meaning it takes less time to make the next drink.
Travel mug friendly – The model has enough clearance to perfectly accommodate a 7" travel cup. This means that you don't have to first brew your coffee onto a mug before transferring it to your travel cup.
Customizable – It comes equipped with an iced coffee option so it's perfect for all you iced coffee lovers. It is also equipped with a strong option for those who need that extra buzz. This option reduces brewing time allowing the mixture to emerge stronger than a normal coffee setting.
Maintenance alerts – the machine has sensors for the water levels in the reservoir. It then alerts you when the tank needs refilling. It is also set to alert you after 250 brews to descale your coffee maker.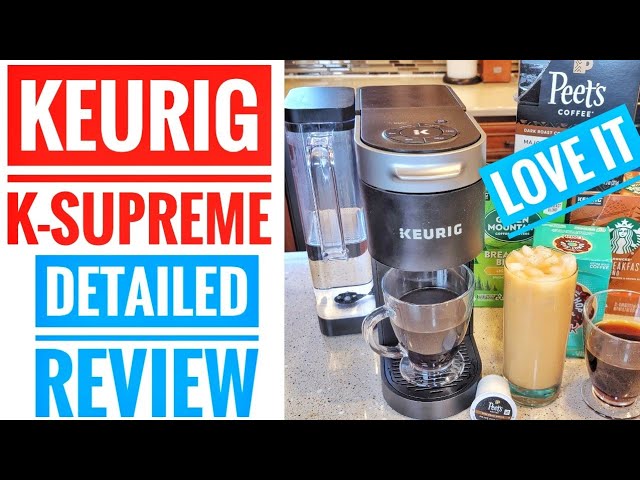 Product Specs:
Pros & Cons:
K-Cup Compatable
Brew Size 6-12oz
1 Temperature
46oz Reservoir
1 Year Warranty
My K-Cup Compatable
Regular / Strong brew
Over Ice
MultiStream
13.3' D x 8.3' W x 12.2' H
Pros:
The 5 water injectors make for a better tasting cup of Joe.
You can remove & move the reservoir to clean or fil it up.
You can remove the drip tray to fit a travel mug.
Cons:
The reusable k-cup (My K Cup) is sold separate.
We found no instructions provided on how to descale.
The handle on the reservoir juts out & cannot be changed.
Check Current Price →
Keurig Supreme Plus
Stainless steel metal wrap – This gives the coffee maker a modern feel to it. It is also perfect to clean and since it is stainless steel it is not prone to rust.
Multi stream technology- The Plus model uses not only one, but five water jets to saturate the coffee grounds in the pods ensuring a perfectly robust flavored coffee with the perfect combination of aroma.
Programmable – There is an app available that helps you connect your coffee maker to your phone. All you have to do is download the app, scan the code at the back of your machine and set your preferred brewing style. You then sit back and let the machine brew your perfect cup of coffee.
Customizable – You can save up to three coffee brewing preferences making it perfect for the family with people who have their own individual preference. There is also a temperature setting option that allows up to 3 different temperature preferences.
Multiple cup sizes – This model offers five cup size options. These include 4, 6, 8, 10 and 12 ounce cup choices. This lets you choose the amount of coffee you like without wasting or compromising flavor.
Removable reservoir – It comes equipped with a 78 ounce water tank that is able to produce up to nine 12 ounce glasses of coffee. The reservoir is positioned at the back of the machine and is easily detachable, easing refilling and cleaning.
Back to back brewing – As with the standard model, the Plus is also brilliant at making continuous coffees in a matter of seconds so you're never going to be waiting around for too long.
Iced coffee and strong brew feature – For those who like their coffee cold or a little bit stronger than the normal cup, this model offers all these features for you.
Maintenance alert- The coffee maker is programmed to sense when water levels are low in the reservoir and alert you by flashing a warning light on the display. It also reminds you to descale after 250 successfully brewed cups.
Display screen- This display is used to show the selected mode, cup size chosen and water level in the tank.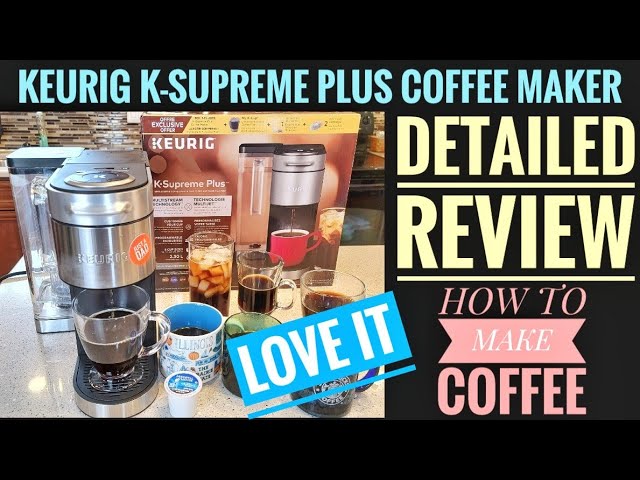 Product Specs:
Pros & Cons:
K-Cup Compatable
Brew Size 4-12oz
3 Temperatures
78oz Reservoir
1 Year Warranty
My K-Cup Compatable
3 Brew Strengths
Over Ice
MultiStream
15.1' D x 6.4' W x 12.2' H
Pros:
Makes stronger, better flavored coffee than previous models.
You can move the reservoir to the side of the machine.
You can save up to 3 user brew profiles.
Cons:
We found it takes over 1 minute to brew a full cup.
We found the splatter from brewing to be significant.
The coffee tasted somewhat week when using the 12oz setting.
Check Current Price →
Ease of Use
Both models are fairly easy to use and have similar features in that respect with some subtle differences between their use.
Keurig Supreme
Simple buttons – The control buttons located at the top of the device are perfectly labeled making them easy to understand. This makes the operation of the device a walk in the park. The buttons also have LED backlights enabling them to be easily visible when operating the machine in the dark.
Removable reservoir – This feature enables the tank to be easily refilled when empty. It also eases the cleaning of the tank after long term use. This ensures that the water used to make the coffee is not contaminated. The tank is also adjustable to either the back or side of the coffee maker making it perfect to fit any kitchen setting you have.
Maintenance alerts – The alerts we mentioned in the features section take the guesswork out of refilling the reservoir and when to descale the coffee maker.
Keurig Supreme plus
Simple buttons- The buttons here are very intuitive and you probably won't even need to check the manual to see how they work. As with the standard model, the LED lighting is a great additional feature.
Removable reservoir. As with the Keurig Supreme, this allows the tank to be easily refilled and allows easy cleaning. It is however important to note that the tank position is not adjustable like in the previous model.
Maintenance alerts – You also get maintenance alerts where so you don't need to worry about knowing when the last time was that you descaled your machine.
Temperature setting – The device offers three temperature settings to suit your preference which are all very simple to use.
Display screen – This is used to display all the details of the coffee being brewed at the current moment.
Brew Quality
Both models offer perfect brewing experience. They both incorporate the multi stream technology that ensures that the coffee grounds are perfectly brewed producing coffee with a perfect blend of flavor and aroma.
The three temperature settings available in the Plus model ensures you have control of your drinking temperature preference. The iced coffee feature is also highly praised by cold coffee enthusiasts saying it produces the best mixture for drinking over ice.
It is also important to note the strong brew feature in both models that allows you to enjoy your coffee a little bit more concentrated than your average cup. This is especially helpful when you need a little bit more caffeine to jump start your body.
Cleaning & Maintenance
Both models are fairly easy to clean and maintain. A notable feature is the water tank that can be easily detached from the machine and cleaned separately. The device is also set to remind you to descale after brewing 250 cups of coffee.
The descaling process itself is quite simple as it involves brewing water only until the descaling light goes off. By heating the water continuously it cleans the inside components removing coffee stains ensuring the machine works at its optimal state.
Overall Value
When it comes to value it all depends on how you like your coffee. If you like your coffee simple with very little customization, the Keurig Supreme is a perfect choice for you. It offers simple coffee settings that ensure you get the same quality of coffee every single time.
If however you live in a household with many coffee lovers with different coffee tastes be sure to buy the Keurig Supreme Plus. This model allows you to program the coffee maker to brew your unique brew using the phone app. It can also save up to three unique brewing styles in its memory that are available at the tap of a button.
Final Thoughts
The company went all out in the development of these two amazing coffee machines. They incorporate all the features and quality of a good coffee maker. If you want a coffee maker whose value goes hand in hand with its price, you can't go wrong with either of these models.
FEATURED PRODUCTS
Keurig Supreme
6, 8, 10, 12 oz Cup
No Strength Setting + Iced
Removable 66 oz Reservoir
(L) 14.8″ (W) 10.1″ (H) 14.4″ (W) 5.8lbs
Shop Amazon →
or
Shop Direct
* Details updated less than an hour ago (by Amazon's Advertising API)
Keurig Supreme Plus
4, 6, 8, 10, 12 oz Cup
3 Strength Settings + Iced
Removable 78 oz Reservoir
(L) 16.0″ (W) 10.6″ (H) 14.3″ (W) 1.0lbs
Shop Amazon →
or
Shop Direct
* Details updated less than an hour ago (by Amazon's Advertising API)
Recommended Reading
The Best Keurig for Camping and the RV
A lot of people like to camp in comfort and style. A key component of…
Learn More >
COMMENTS
The 5 Best Keurigs for Office Use Revealed
Great coffee can be the heart of a good work environment. Not only can it…
Learn More >
COMMENTS
The Best Keurig for Iced Coffee
Many people love iced coffee but not all coffee machines can make it. Keurig is…
Learn More >
COMMENTS