Keurig 1.0 vs 2.0
By Evelyn J Stafford ~ Updated 31 August 2022
As an Amazon Associate I earn from qualifying purchases
The Keurig machines have a long history of making coffee, from the first ever classic Keurig to the newer models that have incredibly advanced technology for making the most delicious brews. The Keurig 1.0 was the first version of Keurig models, while the 2.0 machines were a short-lived version that restricted access to K Cup pods.
When you want coffee makers, you want Keurig. The pods are easy to use, the technology is sound, and there are plenty of models of Keurig machines. Keurig coffee is the best in the business and their machines are the easiest to use.
Keurig 1.0 vs 2.0: Overview
Any discussion over Keurig 1.0 vs 2.0 begins with a simple explanation of what exactly these two models are. The first existing coffee makers were the Keurig 1.0 models, and they let you use any kind of K-Cup that you wanted, even K-Cups that were developed by a third party.
Keurig 2.0 initially came out with a new system for making coffee. They came equipped with a new process of pod scanning that locked out pods that came from unlicensed third parties. However, these machines were swiftly discontinued in 2019 after incredible consumer backlash.
Every current Keurig model is now back to the original system of allowing all K-Cup pods to be used. The 2.0 models are now the most advanced products in the marketplace, including the Keurig K-Class, K-Elite, and K-Duo.
What is Keurig 1.0?
Keurig 1.0 machines were the original coffee makers. They are older models but still work fabulously at making drinks from their pods, just like the powerful Keurig K55, our top rated Keurig coffee maker. Keurig 1.0 coffee makers come with a unique, more classic appearance than their 2.0 cousins.
Most 1.0 models don't have touchscreens, most are more bulky than newer models, and most of them are much more affordable than the 2.0 models.
Features
Keurig 1.0 coffee makers allow you to use all the pods you want. They have a full compatibility to use lots of different brands of K-Cup pods, even from different brands. Many Keurig 1.0 machines allow you to make your own filtered coffee, they produce hot water, they have removal drip trays, and they have user-friendly interfaces for easy coffee selection.
Other features of Keurig 1.0 machines are single serve coffees, having a huge K-Cup selection, brew strength options, and the ability to fill your travel mug easily.
Benefits
The benefits of using a Keurig 1.0 coffee machine is that you can purchase it for a more affordable price than a newer model, you can use any kind of brand of K-Cup for Keurig that you want, and the coffee flavor is on point.
What is Keurig 2.0?
Keurig 2.0 is the newest breed of coffee maker, delivering you swift and silky coffees within seconds. These new coffee machines come with all kinds of incredible new abilities, like the K Carafe for making a larger brew, unique K-Cup pods, carafe pods, and outstanding 2.0 Keurig coffee.
The Keurig 2.0 first banned the usage of any third-party K-Cup, but that is no longer the case. These are highly advanced units that make great Keurig coffee like you have never tasted before. They are more high-tech than the 1.0 units, the new ones let you use the same pods that are now available for 1.0 and 2.0, and the brew strength is arguably superior.
Features
The main features of a Keurig 2.0 coffee maker are new ways of brewing, like the K Mug servings and the K Carafe functionality with unique carafe pods. You can still use single serve K Cups, you can still dispense hot water with every Keurig 2.0, but the big feature bonus is having way more brew sizes, making Keurig 2.0 coffee machines better for large families and avid coffee drinkers.
Benefits
The benefits of using a Keurig 2.0 coffee machine are innumerable. You get better technology, you get more ways to brew with more options for your cup of coffee. There are more types of pods, more cup sizes, more K-Cup pods, and the delicious flavor of the 2.0 Keurig coffee revolution.
Our Recommended Models
The original Keurig model (1.0) that revolutionized coffee machines! The Keurig K-Classic brews a mug in under a minute and has a self-cleaning function. Overall it is easy to use and easy to keep clean.
The Keurig 2.0 kicks things up a notch with a touch screen, fully programmable options, and a huge 80-ounce water reservoir. You can also choose whether you want a single cup or to brew a whole pot.
K-Cup 1.0 vs 2.0
K-Cup Differences
The Keurig 2.0 has far more options for using a K-Cup than the 1.0. In the newer models of the Keurig 2.0 machines, there is the ability to use carafe pods. The 1.0 and 2.0 cannot both use the same standard K-Cups, though they each have access to stronger brew technology.
Also See: Best Keurig for office use
The biggest difference between the 1.0 and 2.0 is that the 1.0 can only use standard, original K-Cups, which are much smaller than the newer K-Cup for the Keurig 2.0. If you upgrade from your older unit to the new Keurig 2.0, you won't be able to transfer your unused pods.
The only difference is in the brand-new models of the Keurig 2.0, which have some backwards compatibility where you can use a new K-Cup with an older, 1.0 machine.
Pod Types: Reusable Pods & Compatibility
K Carafe Pods only with Keurig 2.0
New Keurig 2.0 Pods Compatible with Older Machines
Keurig 1.0 is Compatible with All Brands of Pods
Some Keurig 2.0 Models Not Compatible with Third-Party Pods
Keurig K55 (1.0) Coffee Maker
Features
This is definitely the original coffee powerhouse built by Keurig. It comes with incredible features that really revolutionized the way we drink coffee. It comes with a ton of different sizes for your drinks, a massive water reservoir that is 48 ounces, and a descaling feature that will clean your brewer all on its own, removing calcium deposits that would otherwise harm the flavor of your coffee.
The brew time is super short, under about a minute, and you have energy saving with a programmable automatic off. The coffee maker comes in black or red, it has a removable drip tray, and it is super cheap. While the company is trying to sell their new Keurig 2.0 models, you can now get the K-Classic add a ridiculously low price.
Ease of Use
Just like with all the machines that came before it, the K-Classic is very easy to use. First of all, it is small and easy to store, not taking up much room on your counter. And as for making coffee, it is as easy as pushing a button. All the buttons are easily identifiable on the top of the unit, and it is a breeze to change your settings.
The machine tells you when you need to add water, it lets you know when it is heating, and it has the three different cup sizes ready to be pushed for your convenience. Did I mention that your coffee is brewed in under one minute?
Brew Quality
The brew quality of the K-Classic is unmatched. While most Keurig machines make phenomenal coffee, it is no surprise that over 20,000 people agree online that the K-Classic has flawless coffee flavor. You can make strong brews, hot chocolates, and lots of other specialty drinks – and the quality is always perfect.
Because of the innovative descaling feature, your coffee will never be burdened by the gross aftertaste of calcium buildup on the interior of the coffee maker. Even if it is barely recognizable in the first place, it does make a difference and the flavor of your coffee will always be on point with this machine.
Cleaning & Maintenance
I must reference the descaling feature yet again since we are talking about cleaning. Yes, the machine basically cleans itself. There will be no more scale or calcium massing on the inside of your Keurig. Why? Because the K-Classic takes care of it for you!
The drip tray is removable, the unit is easy to wipe down, the K-Cup holder area takes no more than a few seconds to rinse, and the water reservoir can easily be scrubbed with another few seconds. This is a super easy machine to clean, much better than a normal filter coffee machine.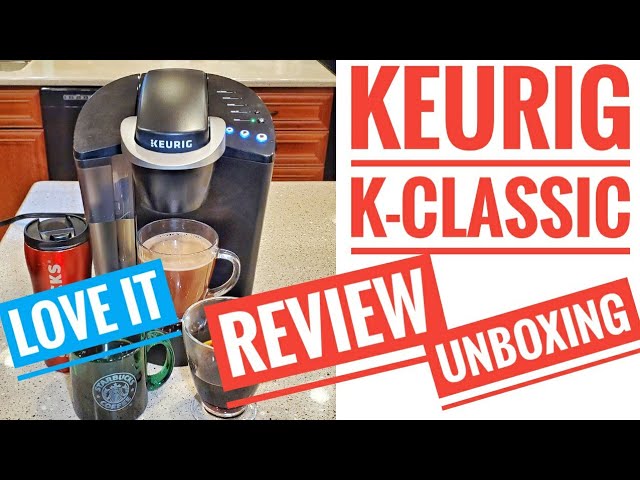 Product Specs:
Pros & Cons:
K-Cup Compatable
6-10oz Cup
No Strength Control
No Water Filter
1 Year Warranty
My K-Cup Compatable
1 Brew Strength
48oz Reservoir
Auto Off
13' D x 10' W x 13' H
Pros:
We found the Classic easy to use, coffee is hot & flavorful.
From off, we found it takes 2 min to brew a cup of coffee.
With the Classic you can brew chocolate, tea & coffee.
Cons:
While making coffee, we found it splatters over the counter.
This machine is the K Classic without the water filter.
K Cups cost double that of using ground coffee.
Check Current Price →
Keurig K575 (2.0) Coffee Maker
Features
With this great Keurig 2.0 coffee maker, you get a touch screen, a fully programmable brewer, a sleek platinum exterior, a single-serve brewing function, a massive 80oz water reservoir that allows you to brew a full 10 cups before needing to refill, and a massive amount of different brew sizes for your K-Cups.
Plus, the K575 Keurig 2.0 has the ability to use a full K Carafe with unique brew pods. Rather than only making a boring 12-ounce cup, you can now make a 30-ounce full pot of instant coffee in mere seconds.
You are also able to control the strength of your brewed beverages with the very useful Keurig touch screen. Additionally, you can actually choose what night light color you want and have your kitchen illuminated at night just the way you like it.
Ease of Use
The Keurig K575 is definitely the easiest Keurig yet. There is a distinct lack of buttons. Everything that you do is now able to be done on the screen, which makes using the coffee machine as intuitive as using your cell phone. All of your temperature settings, your strength control settings, your light settings, are all found on the screen and are very easy to change.
When it comes to actually brewing your drinks, it is as simple as placing the cup or travel mug, pushing the button on the screen, and then walking away. The brewer will fill a normal cup in about a minute, and a full carafe in slightly longer.
Brew Quality
As always, the quality is amazing. Because this is a new Keurig 2.0, you can expect futuristic levels of flavor. Forget going to your local cafe to get your morning beverage. You can now do it from home and still experience the great taste of your favorite local cafe. In fact, the Keurig 2.0 is probably going to put coffee chains out of business! It is just so easy to do this in your house without compromising a single bit of flavor.
Additionally, you can set flavors. There are settings in this Keurig 2.0 machine so that you can tweak the flavor of your drink so that it tastes exactly how you like it. You can make a stronger brew, you can make a bigger pot – it is all up to you.
Cleaning & Maintenance
The Keurig 575 2.0 is super easy to clean. The water reservoir is removable, the drip tray is removable, and all of the little areas are easy to get at with a cloth. It does not take more than five minutes to do a complete clean of your Keurig 575 2.0 so that your machine stays functional for longer.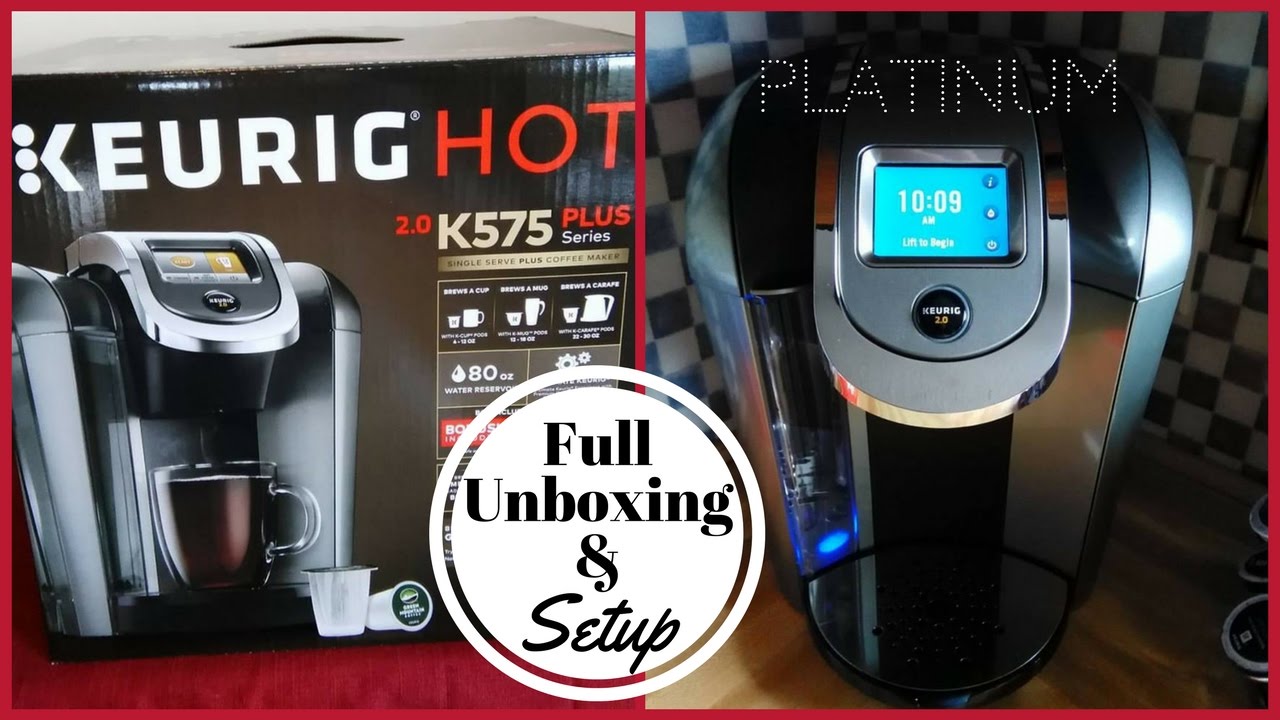 Product Specs:
Pros & Cons:
K-Cup Compatable
4-12oz Cup
Strength Control
Water Filter
1 Year Warranty
My K-Cup Compatable
22-30oz Carafe
80oz Reservoir
Auto Off
13' D x 10' W x 13' H
Pros:
We found the coffee to be very hot & flavorful.
The huge water reservoir makes for less fill ups.
Having a Carafe in this sized machine is a huge bonus.
Cons:
We found the machine takes 3min to heat up & is loud.
Keurig no longer make or sell the k-mug and k-carafe pods.
No aftermarket manufacturer pods permitted.
Check Current Price →
Our Pick
The best Keurig machine is definitely the Keurig 575. It comes included with the new 2.0 technology form.
Keurig, it has a large selection of pods, it makes the best beverages you have ever tasted from a home Keurig unit, you can control the strength of your drink, and you can do so much more.
The Keurig 575 is easy to maintain, it takes seconds to do cleaning, and it has far more options than any other Keurig before the 2.0 models. The unit itself looks amazing, it has thousands of positive reviews online, it is not as outrageously expensive as you might think, and it will make your whole family happy.
I highly recommend the 575 to anyone who wants the best hot beverages in their home on demand.
FEATURED PRODUCTS
Keurig K55
6, 8 or 10 oz Cup
No Water Filter
No Descale Reminder
(L) 13.3″ (W) 9.8″ (H) 13.0″ (W) 9.0lbs
Shop Amazon →
or
Shop Direct
* Details updated less than an hour ago (by Amazon's Advertising API)
Keurig K575
4 – 12oz Cup or Carafe
Reusable Water Filter
Descale Reminder
(L) 10.4″ (W) 13.6″ (H) 13.5″ (W) 12.0lbs
* Details updated less than an hour ago (by Amazon's Advertising API)
Recommended Reading
Keurig K Mini vs K Slim – What's The Difference?
If you are looking for a small coffee maker which can fit in your crammed…
Learn More >
COMMENTS
Keurig Elite vs Supreme – Who does it Better?
If you're calling your Keurig coffee machines "Elite" or "Supreme" then they better be good.…
Learn More >
COMMENTS
The Best Keurig for Camping and the RV
A lot of people like to camp in comfort and style. A key component of…
Learn More >
COMMENTS