The 5 Best Keurigs for Office Use Revealed
By Evelyn J Stafford ~ Updated 8 August 2022
As an Amazon Associate I earn from qualifying purchases
Great coffee can be the heart of a good work environment. Not only can it perk everyone up but there is a social element to grabbing a cup with a colleague. If you want high-quality coffee in a machine that's easy to use then you should get the best Keurig for the office.
If this list of Keurig coffee makers doesn't quite fit budget or you don't think the people in your office won't use it too often, you could always go for a cheaper model. For more information, see our guide to the best cheap k cup coffee maker.
Overview
With a touchscreen to choose size and strength, the Keurig Office Pro will deliver a custom beverage to everyone in the office – in less than one minute. On top of speed, it's a quiet machine, perfect for any office setting.
The Keurig Commercial offers offers a decient reservoir (90oz) perfect for any office space. You can choose exactly what temperature you want your coffee brewed at from 188°F to 198°F. There is also a handy energy-saving mode!
This machine is the best option for large offices as the two internal hot water tanks which guarantee hot coffee for everyone. It features automated capsule ejection, so Becky from Accounting won't forget to clean up after herself!
We've reviewed five Keurig office machines here and were hugely impressed with them all. While that's true, we wanted to let you know which models we thought stood out above the rest.
Our top pick would have to be the Keurig Office Pro. Most importantly, it makes great coffee so everyone in the office is going to love it. Its functionality is also second to none as it has a huge 90oz reservoir and can make brews in rapid time. It's the perfect office coffee maker.
While we loved the Office Pro, it's hard to separate it from the Keurig Commercial Single Cup Coffee Maker. Both are incredible machines. It has many of the same qualities but can make a larger brew of up to 12oz. As with the Office Pro, it has touchscreen functionality which makes it simple for anyone in the office to use.
While we highlighted two great machines there, the other three are brilliant too and maybe more suited to your office space. Read on as we'll go through all give in more detail so you can make the right call in choosing the best Keurig for the office.
Our Selections
1. Keurig Office Pro Commercial Coffee Maker
With the Keurig K155 brewing system, you and your co-workers will only spend a minute of your break preparing coffee. Hot chocolate, a cold drink, or a comforting cup of coffee will all be at the touch of a button. You can then sit down, relax and enjoy the great taste.
It's a fully programmable coffee maker and its brewing system has a touchscreen to select the temperature of your beverage as well as the size and strength. With this coffee maker, you will prepare the hottest coffee you have ever tasted without sacrificing flavor thanks to its functionality of automatic temperature regulation.
The Keurig K155 brewing system offers four cup sizes to suit the tastes of everyone in the office. This coffee maker features a removable drip tray for travel cups and a removable water reservoir for transport or storage.
This ticks all the boxes on what makes a great office coffee maker. Not only is it quick but it's fairly quiet too so it won't annoy anyone sitting near it. Added to its vast range of features is excellent build quality. This machine is going to last for several years, even with constant use.
For all these reasons, we think it's not only the best Keurig coffee maker for your office but the best coffee maker from any brand.
Highlights
Made of heavy-duty materials for long-term durability
Interactive touchscreen
Fully programmable
Large 90oz reservoir
Four brew sizes from 4-10oz
Rapid brew time
Adjustable brew temperature
Fairly quiet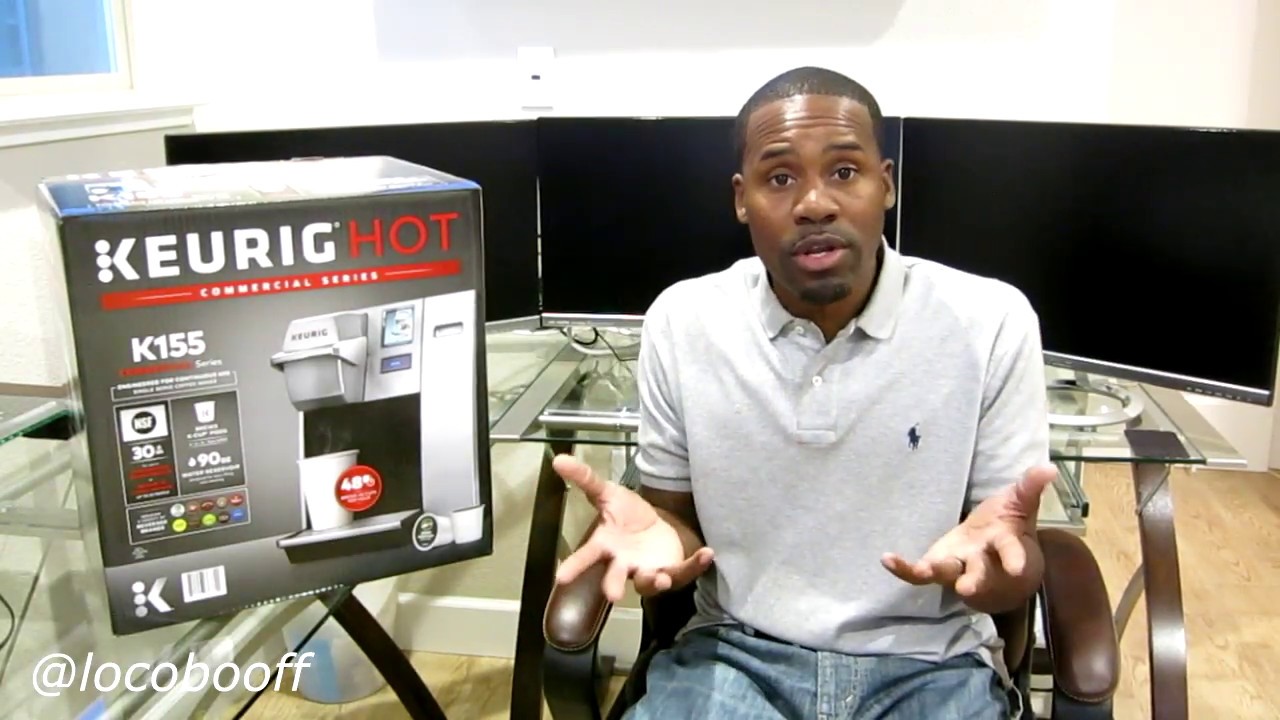 Product Specs:
Pros & Cons:
K-Cup Compatable
4-10oz Cup
No Strength Control
90oz Reservoir
1 Year Warranty
Non Keurig Pods
4 Cup Sizes
Water Line
Auto Off
13.8' D x 10.4' W x 14' H
Pros:
We found the Office Pro easy to use, coffee is hot & flavorful.
You can use Keurig and non-Keurig branded K Cups.
You can select a 4, 6, or 10oz cup from touch screen.
Cons:
We noticed you cannot change the default brew size.
We noticed a new plastic like smell about the machine.
K-Cups cost on average between $1 - $1.50 per cup.
Check Current Price →
2. Keurig Commercial Single Cup Coffee Maker
While the Keurig Office Pro may have been our top pick, this model wasn't far behind. As with the Office Pro, what we like here is the large90oz water reservoir. Although it is not compatible with the direct water pipe, its capacity makes up for this shortcoming.
Another outstanding feature is the option to set the coffee maker to turn on or off at specific times. This will not only save time but energy too. Everyone will have access to a fresh cup of coffee whenever they want.
On the touch screen of the Keurig Commercial One-Cup Coffee Maker, you can navigate to the ideal brewing temperature for your coffee. The up or down controls oscillate in 1°F increments from 188°F to 198°F. You can also adjust the brew size from a wide range of 4oz to 12oz.
Not only does it rapidly produce coffee but it does so with an immense quality of taste. That's the hallmark of Keurig machines as whichever one you buy, you know the results will be great. This is an impressive coffee maker which has all the functions you need.
Highlights
Can be used with multiple K-Cups
Five brew sizes from 4-12oz
Water reservoir holds up to 90oz
Full color touch screen
Temperature control
Programmable timer
Easy to clean
Energy-saving mode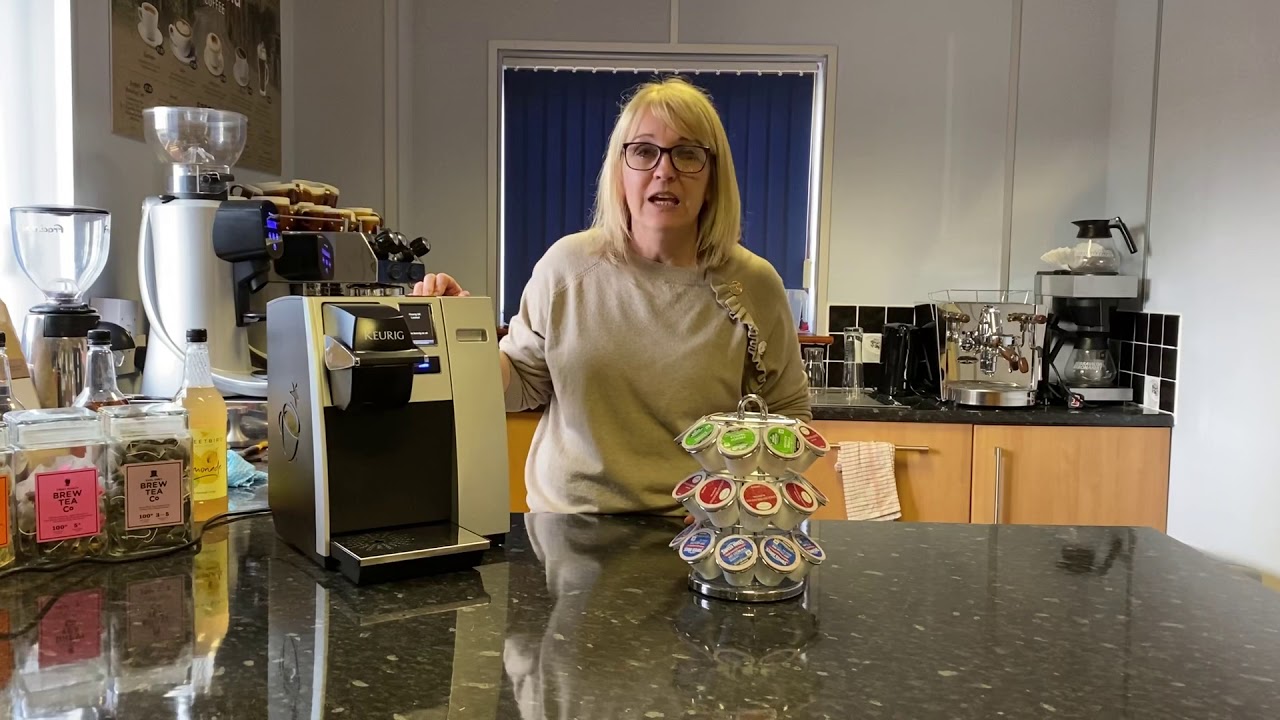 Product Specs:
Pros & Cons:
K-Cup Compatable
4-12oz Cup
Strength Control
90oz Reservoir
1 Year Warranty
Keurig Pods Only
5 Cup Sizes
Water Line
Auto Off
13.6' D x 10.5' W x 14' H
Pros:
We found the K150 to be faster and more robust than home models.
We noticed the Keurig's lever has a non-slip rubber grip.
Using the machine is near silent while brewing coffee.
Cons:
You can only use Keurig branded K Cups with the K150.
Like the K155, we noticed a strong plastic new smell.
The lid on the reservoir is not hinged, it must be removed.
Check Current Price →
3. Keurig K-3500 Commercial Capsule Coffee Maker
Is the break room is the busiest area in your office? Keurig K-3500 is the ideal coffee maker for continuous brewing and mass use. It's the best model on this list if you have a large office and only space for one machine.
It has two internal hot water tanks that guarantee its functionality for office use. The Keurig K-3500 is connected to a direct water line which means you never need to worry about refilling it. It does mean expert installation is required but it is well worth it when done.
This coffee maker has the feel of a home brew machine but on a commercial scale. It has some brilliant added features such as the automatic capsule ejection which discards used capsules, saving time during preparation and cleaning.
The color touch screen is simple to use and the rapid brew time means there won't ever be a long queue waiting for it. The high level of build quality guarantees its durability, makes maintenance simple, and means its energy efficient.
Highlights
Brews in just one minute
Strong brew system
Color touch screen in several languages
Low energy consumption
Simple to use and maintain
Five cup sizes
Dedicated hot water line
Programmable functionality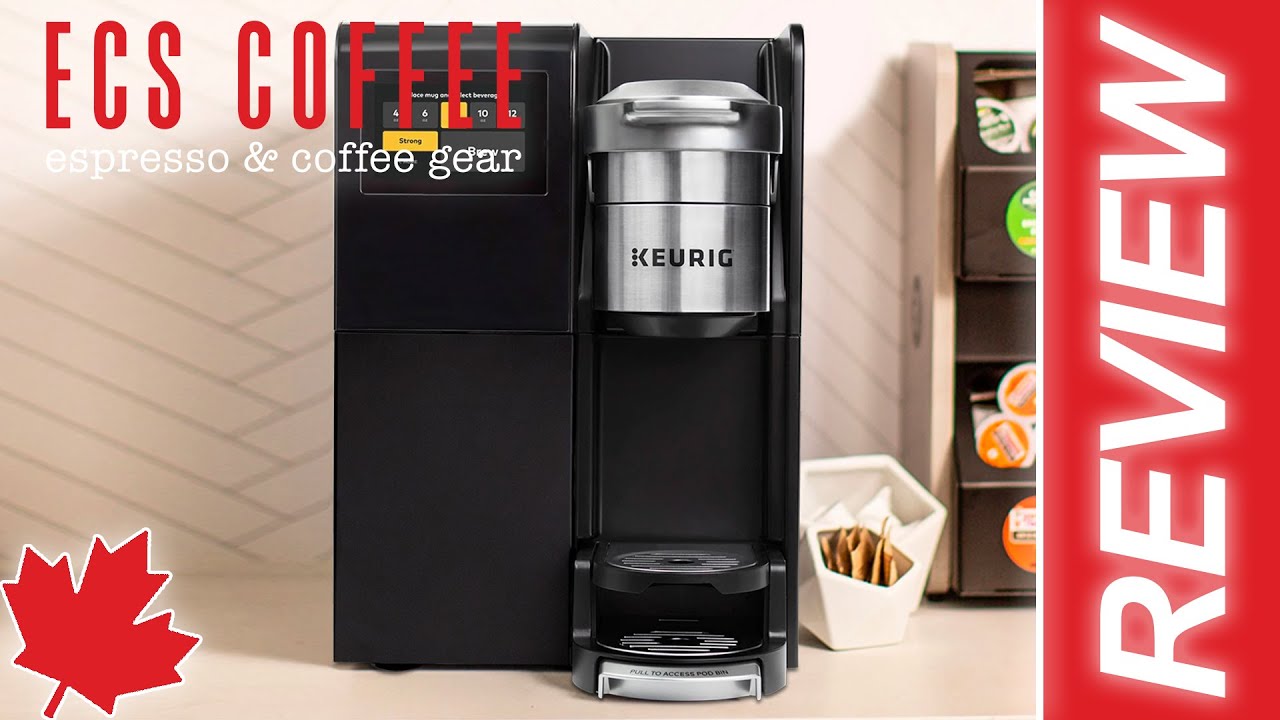 Product Specs:
Pros & Cons:
K-Cup Compatable
4-12oz Cup
Strength Control
No Reservoir
1 Year Warranty
Non Keurig Pods
5 Cup Sizes
Water Line
No Auto Off
18' D x 12' W x 17.4' H
Pros:
We found the machine works great, is very sleek looking.
Automated pod ejection makes for easier clean up.
We found that the water heats up extremely fast.
Cons:
No Auto On / Off means the machine is running 24x7.
When the water pump turns on to brew, it's quite loud.
You need to buy the water filter & attachment separately.
Check Current Price →
4. Keurig VUE Commercial Brewing System
Surprise your office colleagues by turning the break room into a gourmet coffee shop. The Keurig VUE prepares specialty latte and cappuccino drinks. It gives you the satisfying sensation of rich and tasty coffee but from a commercial machine.
The Keurig VUE commercial brewing system gives you total control to brew coffee stronger and hotter than most others and also more options than ever before. It has built-in RFID MyBrew technology for the perfect brew of any flavor.
If the break time in the office usually meant a simple black coffee, imagine how pleased your colleagues will be when they can brew their favorite cup of coffee to their liking. The strength selection option is designed to choose regular or strong brew, whichever you prefer.
An impressive feature here is the ability to pour 18oz in a continuous stream. That means you can use your own carafe and take it to a meeting room or group of desks. It's you can also get an adapter to make it compatible with both the K-Cup and coffee grounds.
The features don't stop there as it has a full color touchscreen, a brew over ice function and it's also programmable. It's a phenomenal coffee maker and would be a huge hit in any office.
Highlights
Eight brew sizes from 4-18oz
Large 80oz reservoir
Full color touchscreen
Temperature and strength control
K-Cup and coffee ground compatible
Brew over ice function
24-hour digital programmable clock
Auto On/Off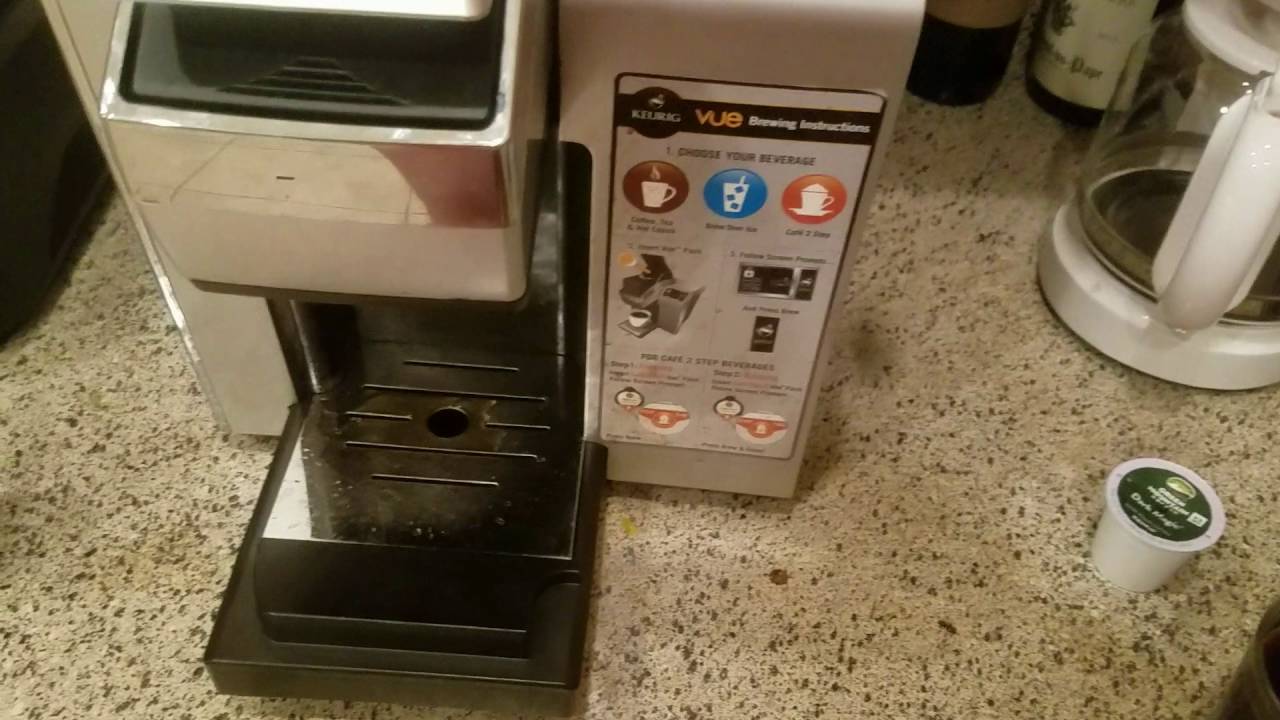 Product Specs:
Pros & Cons:
Not K-Cup Compatable
4-18oz Cup
Strength Control
80oz Reservoir
1 Year Warranty
VUE Pods Only
3 Cup Sizes
Water Line
Auto Off
17.6' D x 15.7' W x 19.2' H
Pros:
You can purchase an adapter to use normal K Cup pods.
The large water tank means you'll spend less time filling it up.
The Keurig VUE will make coffee, tea and hot chocolate.
Cons:
Sadly, you can only use VUE pods with this machine.
You cant pickup VUE pods off the shelf, only online.
Sadly, Keurig discontinued the VUE back in 2015.
Check Current Price →
5. Keurig K-Duo Coffee Maker
This beautiful black coffee maker with a modern design is versatile for small and medium-sized offices. It adapts to your needs for a personal brew, or a carafe of up to 12 cups. It makes it the best option for those looking for that dual functionality.
The water reservoir is 60oz which is great for up to 10 cups before it needs to be refilled but it does make this the smallest model here. If you have a large and busy office then you may need to look elsewhere, or get two of them!
The K-Duo is another where you can use either ground coffee or K-Cups which adds to its impressive versatility. Its programmable functionality allows you to always have that fresh cup ready and you can set it to perfectly align with a break.
Usability is very high here and there'll be no one in the office struggling to work out how to use it. The buttons are simple to use and include a strong brew option for those who want an extra kick. Once everyone has finished using it, the K-Duo will automatically shut off to save energy.
While it may be the smallest of the five we've reviewed, it will be the ideal coffee maker for those small to medium-sized offices.
Highlights
Can use either ground coffee or K-Cups
60oz water reservoir
Large glass carafe
Automatic shut-off function
Can accommodate travel mugs
Simple button controls
Strong brew option
Four cup sizes of 6-12oz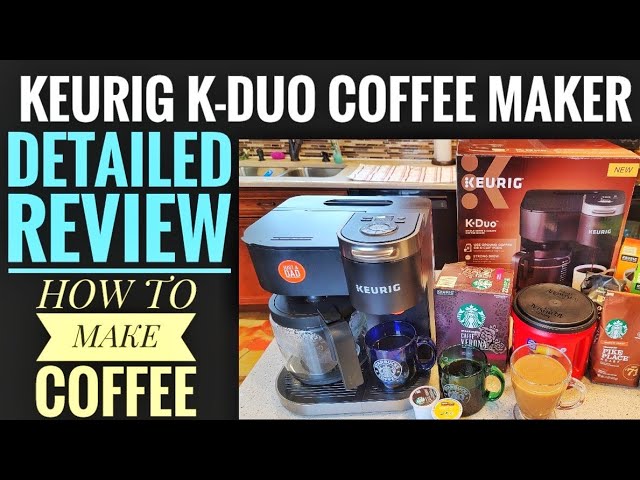 Product Specs:
Pros & Cons:
K-Cup Compatable
6-12oz Cup
Regular Brew
60oz Reservoir
1 Year Warranty
My K-Cup Compatable
6-12 Cups
No Over Ice
No MultiStream
12.8' D x 11' W x 13' H
Pros:
It's handy having one maker for single & pot coffee.
Comes with 12-cup regular glass carafe.
The warming plate keeps your coffee hot.
Cons:
We found switching between to My K-cups cumbersome.
Sadly, the My K Cup must be purchased separately.
Using single serve will leave splatters on your counter.
Check Current Price →
Final Thoughts
The coffee break can be a rewarding part of the say and a great business should have an equally great coffee maker. All of these models are equally brilliant but are very different in functionality. All you need to do now is work out which one is the best Keurig for office.
FEATURED PRODUCTS
Keurig K155
No Strength Control
Keurig & Branded Pods
Water Line / Reservoir
(L) 14.0″ (W) 10.4″ (H) 13.8″ (W) 6.0lbs
Shop Amazon →
or
Shop Direct
* Details updated less than an hour ago (by Amazon's Advertising API)
Keurig K150
Strength Control
Keurig Pods Only
Water Line / Reservoir
(L) 14.0″ (W) 10.5″ (H) 13.6″ (W) 18.0lbs
* Details updated less than an hour ago (by Amazon's Advertising API)
Keurig K-3500
Strength Control
Keurig & Branded Pods
Water Line / Reservoir
Shop Amazon →
or
Shop Direct
* Details updated less than an hour ago (by Amazon's Advertising API)
Recommended Reading
The Best Keurig for Iced Coffee
Many people love iced coffee but not all coffee machines can make it. Keurig is…
Learn More >
COMMENTS
Keurig Mini vs Mini Plus – Which Keurig Performs Best?
In the world of coffee, Keurig is king, and the Keurig Mini is the miniature…
Learn More >
COMMENTS
What is the Difference Between Keurig K Elite and K Elite-C?
Keurig K Elite Coffee Makers are some of the best coffee makers in the business.…
Learn More >
COMMENTS