Hamilton Beach Flexbrew vs Keurig Duo
By Evelyn J Stafford ~ Updated 31 August 2022
As an Amazon Associate I earn from qualifying purchases
If you are having a tough time deciding between the Keurig K Duo Single Serve & Carafe Coffee Maker and the Hamilton Beach FlexBrew Trio Coffee Maker, then this article will help guide you through the comparison process. This way, you can make the most informed decision about the coffee maker that you will likely be using every single day.
Overview
The Keurig K Duo and Hamilton Beach Flexbrew both feature a carafe and single-cup brewing option, making them versatile coffee makers. Each product is also compatible with K-Cups, reusable K-Cups, and your own coffee grounds. Despite sharing these capabilities, these appliances have many features that set them apart.
The K-Duo can brew individual cups or carafes that serve up to 12 cups. The digital timer shows exactly how long is left before your coffee is ready. It has options for 6-12 ounces and regular or strong brew.
The FlexBrew 2-Way Trio works with K-cups or ground coffee plus has options for single-serve cups or larger carafes. You can program brews up to 24-hours in advance, so your coffee is waiting for you when you need it.
First of all, their single cup options differ. The Keurig K Duo offers pre-programmed portions of 6, 8, 10, or 12 ounces. As long as you have enough water in the tank, the machine will utilize the amount that corresponds with the cup size you select. This system can save time because you do not have to refill the water tank every time you want a new cup.
The Hamilton Beach Flexbrew on the other hand, works a little differently. You only pour the amount of water that you want in your cup into the tank. It will use whatever amount is in the tank to brew your cup. This means you need to refill it each time you brew a new single cup. You can brew up to 10 oz. with a K-Cup, and up to 14 oz if you use your own coffee grounds in a reusable K-Cup.
As I mentioned, the machines utilize and store water differently. The K Duo has a singular large tank that it draws from, while the Hamilton Beach has two.
Another stand-out difference is the fact that the Hamilton Beach Flexbrew has dishwasher-safe components, while the K Duo does not. The added convenience and ease of not washing parts by hand is helpful.
A feature they do share though is an automatic off switch, so no matter which machine you choose, you won't have to worry all day about whether or not you turned your machine off.
The automatic off switch in the K Duo turns your brewer off five minutes after the last single cup brew and turns your heating plate off two hours after the last carafe brew.
The Hamilton Beach Flexbrew will power off everything two hours after your last brew.
It is likely that you will still need to see the full comparison before you make your choice. So if you want the full breakdown of features and their benefits, continue to the next section.
Feature Comparison
Hamilton Beach Flexbrew
With the Flexbrew, you're able to brew up to 10 ounces if you use a K-Cup, or up to 14 ounces with coffee grounds.

As mentioned previously, you pour in the amount of water that you want, rather than having the machine pull out a pre-programmed amount.

The carafe brews up to 12-cup portions.
There are two water tanks.

One is for your carafe and the other is for your cup.
Both water tanks feature a window so that you can see the water levels. This is great for making sure you do not overflow the tanks.
​​The carafe tank can hold up to 12 cups and the single-serve tank holds up to 16 oz., though you can only brew a 14 oz. cup

The machine is compatible with a travel mug of up to 8 inches in height.
The brew strengths are regular and bold.

If you prefer a strong brew then the bold option is a must.

There are built-in storage compartments for pieces of the appliance when they are not in use.

This is great for people with limited storage and/or counter space in their kitchen, and it is a helpful organizational tool, so you never lose any pieces.

It can be programmed to brew into the carafe up to 24 hours in advance.
Dimensions (inches): 13.7 H x 12.2 W x 11.4 D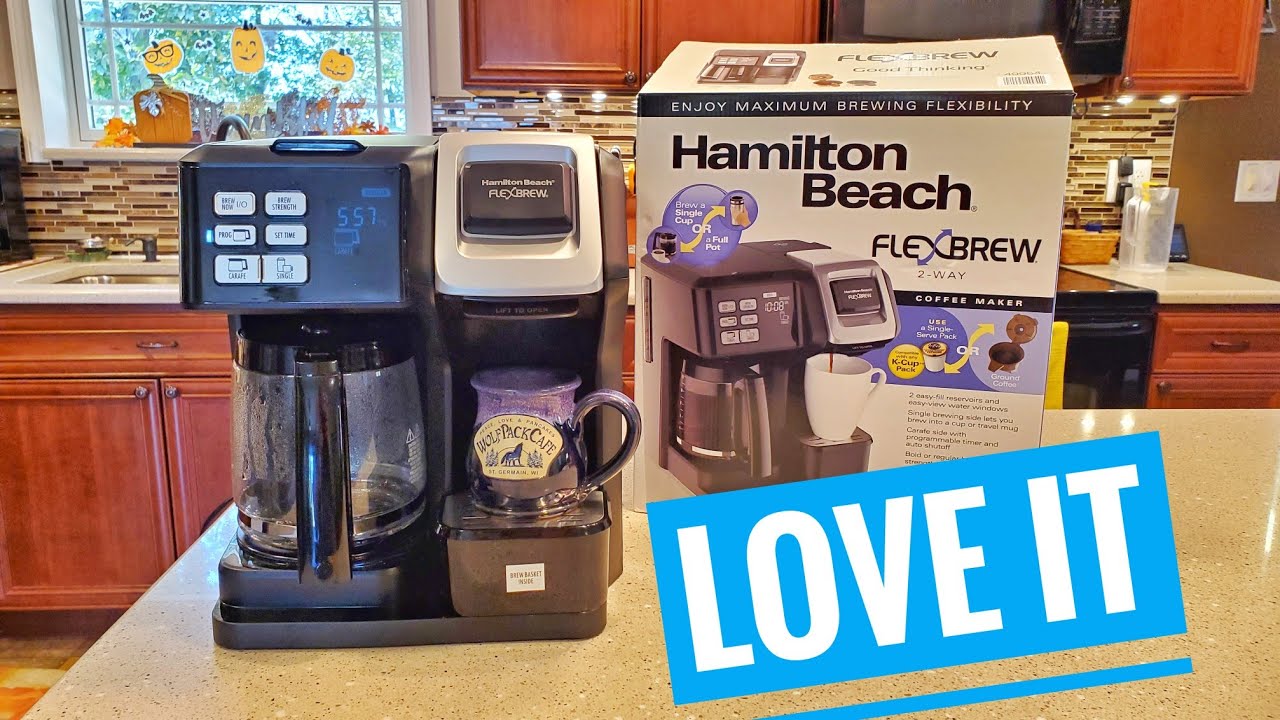 Product Specs:
Pros & Cons:
K Cup Compatable
Brew Size 10-14oz
Auto Replenishment
2 x Reservoirs
1 Year Warranty
Ground Coffee
4-12 cup Carafe
Fits Travel Mug
Fixed Reservoirs
11.4' D x 12.2' W x 13.7' H
Pros:
We found the FlexBrew very easy to use and clean.
We found it takes 1 minute per carafe cup brewed.
You can program the Flexbrew to wake & start brewing.
Cons:
The FlexBrew wont beep once the carafe is filled.
Each side has its own reservoir level to monitor.
The hot plate automatically shuts off after 2 hours.
Check Current Price →
Keurig K Duo
Single-cup size options are 6, 8, 10, or 12 oz.

If multiple people want to utilize the single-cup option you will save time because the machine will pull from the shared tank. This way, you do not have to constantly take the time to refill it.

Carafe size options are 6, 8, 10, or 12-cup servings.
There is one 60 oz. water tank.

This saves you from having to refill as often.

The machine is compatible with a travel mug of up to 7 inches in height.
The brew strengths are regular or strong.

This is the same feature as the Hamilton Beach Flexbrew, just using the word strong instead of bold.

There is a brew pausing option so that you can stop to fill your cup in the middle of a brew cycle.

This is beneficial if you are in a hurry

It features a digital timer that lets you know how much longer you have before the coffee is finished brewing.
It can be programmed to brew into the carafe up to 24 hours in advance.
Dimensions (inches): 12.92 H x 10.94 W x 12.76 D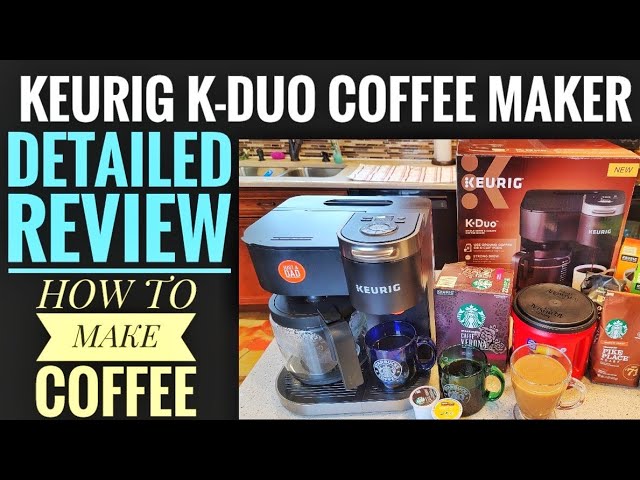 Product Specs:
Pros & Cons:
K-Cup Compatable
6-12oz Cup
Regular Brew
60oz Reservoir
1 Year Warranty
My K-Cup Compatable
6-12 Cups
No Over Ice
No MultiStream
12.8' D x 11' W x 13' H
Pros:
It's handy having one maker for single & pot coffee.
Comes with 12-cup regular glass carafe.
The warming plate keeps your coffee hot.
Cons:
We found switching between to My K-cups cumbersome.
Sadly, the My K Cup must be purchased separately.
Using single serve will leave splatters on your counter.
Check Current Price →
Ease of Use
Hamilton Beach Flexbrew
This is a very straightforward design, making it user-friendly.
The digital clock is easy to program as is the scheduled brew timer, and brewing the coffee itself is simple.
To brew a cup just press the single-serve button, lift the lid, then place your single-use K-Cup or reusable K-Cup into position before closing the lid. Next, add water to the single cup water reservoir and set the cup under the dispenser. Finally, press the Brew Strength button to make it either regular or bold, then hit Brew Now.
To brew a carafe the process is very similar but using the carafe button and carafe water reservoir. Make sure to put a paper coffee filter into the brew basket and for each cup you want to make, put one tablespoon of grounds into the filter.
Keurig K Duo
A quick start guide is included to get you set up at home with the Keurig K Duo. The K Duo functions very similarly to the Hamilton Beach Flexbrew.
What can be slightly frustrating though, is if you purchase the machine without knowing that you need to buy the reusable K-Cup to fit this model separately. You will also have to buy single-use paper coffee filters unless you want to purchase the Keurig Gold Tone Mesh Filter to use for the carafe.
The fact that none of the parts of this machine are dishwasher friendly and are not all included, does make it slightly less user-friendly.
Brew Quality
Hamilton Beach Flexbrew
I have found this product to provide great consistency in flavor. When I bought a specific brand of coffee grounds, then bought that same brand in K-Cup form, the Hamilton Beach Flexbrew brewed them so that they tasted just the same.
You can expect consistency in flavor and quality whether you choose the single cup or the carafe option.
Keurig K Duo
Since all four of the cup size options are pre-programmed, it makes it easier to not under or over pour the amount of water into the tank when in a hurry, as you might with the Hamilton Beach Flexbrew. Therefore this product also produces consistent cups of coffee with those same standard measurements that you can count on without having to measure for yourself.
The carafe option also produces really aromatic and delicious high-quality coffee.
Cleaning & Maintenance
Hamilton Beach Flexbrew
I believe that the ease of cleaning is one of the main benefits of choosing this machine.
If you find that your coffee is not being fully dispensed when it's brewing, your needle may be clogged. It is a simple fix to unclog it though.
All you have to do is unplug the machine to be safe and then turn the needle holder counterclockwise to remove it, then use a paperclip to clear out any grounds from the holes in the needle.
Next, flush the needle holder with water. Then put it back and lock it into place by turning clockwise. Finally, brew two to three times with just cold water to make sure the coffee grounds have all been removed.
To prevent future clogs you should always allow the machine to turn off automatically after every cycle. Also, make sure to remove your coffee grounds or pod once the machine has cooled so they don't dry up inside and make a mess.
If you want to descale your machine pour ¾ of a cup of white vinegar and ¾ of a cup of water into the reservoir then press brew now, without adding any coffee. Once it has begun to brew and you see the solution pouring out, press the brew button again to stop it. Now unplug the appliance.
Wait 30 minutes, then resume the brewing cycle. Once it has finished, run two to three cycles with cold water to flush all of the solution out.
The best part of all is that the removable parts including the carafe, drip tray, and K-cup brewing pieces are dishwasher friendly, making them the easiest to clean!
Keurig K Duo
Keurig recommends buying their descaling liquid and using a one-to-one ratio of it and water to descale the machine.
To descale your machine you will first pour the solution you made into the water tank. Then brew a 12 oz. cup with no coffee grounds or pod. Afterward, empty the contents out. Then do the same with 12 cups in the carafe.
Let the machine rest and cool for 30 minutes without powering it off. Then come back and rinse out the carafe and reservoir. Finally, brew three times with water for the cup and the carafe settings.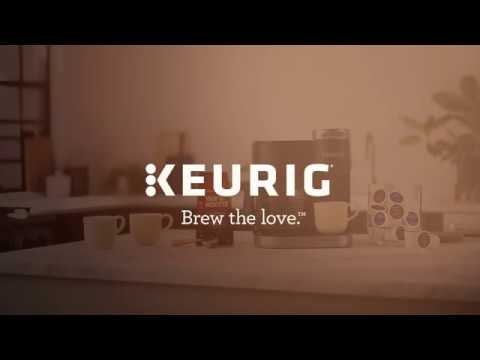 Overall Value
The K Duo's pre-set single-cup options can be a real time saver since the machine pulls from the single large tank. You won't have to keep pouring water in every time you, your family, or other guests want to try a K-Cup serving. I find this factor to be a huge plus for the K Duo.
However, the Hamilton Beach offers amazing value for its lower price point. Like the K Duo, it is compatible with K-Cups, reusable K-Cups, and normal coffee grounds, making it incredibly versatile. That, coupled with the adjustable brew strength, gives you so many ways to enjoy your coffee.
One of its best features, and what sets it apart from the K Duo, is that it has dishwasher-safe components. The convenience there is unmatched. For the price and all of the features it comes with, Hamilton Beach Flexbrew is a solid choice.
Final Thoughts
These two coffee makers brew high-quality coffee. If you plan on making multiple single cups in a short period of time, go with the K Duo. If you are on a budget and love when your appliances have dishwasher-safe components, go with the Hamilton Beach Flexbrew. Either way, you will end up with a premium coffee maker designed to be flexible to meet your various needs.
FEATURED PRODUCTS
Keurig Duo
K-Cup or Ground Coffee
Single Serve & Carafe (12 Cups)
Removable Water Reservoir
Shop Amazon →
or
Shop Direct
* Details updated less than an hour ago (by Amazon's Advertising API)
Hamilton Beach FlexBrew Dual
K-Cup or Ground Coffee
Single Serve & Carafe (12 Cups)
Fixed Water Reservoir
(L) 11.4″ (W) 12.2″ (H) 13.7″ (W) 6.4lbs
Shop Amazon →
or
Shop Direct
* Details updated less than an hour ago (by Amazon's Advertising API)
Recommended Reading
Keurig vs Ninja – The Latest Side by Side
Keurig vs Ninja – the battle between these two coffee Giants and their premium coffee…
Learn More >
COMMENTS
Nespresso Vertuo vs Original
Today we are taking a look at all the best Nespresso machines, including the Vertuo…
Learn More >
COMMENTS
Hamilton Beach Flexbrew vs Keurig Duo
If you are having a tough time deciding between the Keurig K Duo Single Serve…
Learn More >
COMMENTS