What is the Difference Between Keurig K Elite and K Elite-C?
By Evelyn J Stafford ~ Updated 8 August 2022
Keurig K Elite Coffee Makers are some of the best coffee makers in the business. And while the standard Keurig K Elite is fantastic, there are actually many different versions, like the K Elite C and K Elite K. So, what is the difference between all these elite K machines?
It mostly comes down to what comes included in the package. Keep in mind that if you want a fresh cup of java or delicious iced coffee, with the ability to use K Cup pods and to make a variety of different beverages, from a 12 oz cappuccino to a 12 oz normal brew, these are the best Keurig's for the job.
Keurig K Elite and K Elite-C: Overview
True to its name, the K-Elite has some of the most advanced features of all the Keurig machines. You can control the brew temperature, coffee strength, mug size, and even whether you want hot or iced coffee!
True to its name, the K-Elite C has some of the most advanced features of all the Keurig machines. You can control the brew temperature, coffee strength, mug size, and even whether you want hot or iced coffee!
If you do not have time to read the entire article, here is a very quick overview. All you really need to know about the Keurig K Elite and K Elite C is that the "C" version comes with additional K Cup pods. It is really that simple.
Both Keurig K Elite machines offer amazing 12 oz single-serve beverages, both are worthy of being your next amazing coffee maker, and both are some seriously elite machines. The only difference is that the Keurig K Elite C comes with more pods for you to try. It also comes included with the My K Cup reusable coffee filter and a water filter kit.
Unsure about the K Elite? It's true that Keurig have a coffee maker suited most situations. Discover which is the best Keurig to buy tailored to your personal or family's needs in our Keurig mega guide!
The Keurig K Elite
#1 – Features
Keurig always makes the best coffee makers, there is no doubt about it, and the Keurig K Elite is the master version of their extensive K solutions. You can brew a single serve cup of coffee in under a minute, you don't have to refill the water reservoir often because it is a large 75 oz container, and you have five different options for servings, up to 12 oz.
With the Keurig K Elite, there is a strong brew setting to increase the taste and give you a bold flavor of Keurig coffee, the coffee maker itself comes with a variety pack of K Cup pods, a water filter handle, and one filter. You can make delicious iced coffee, you can enjoy infinite beverages, and you can do it all conveniently with one great coffee maker.
#2 – Ease of Use
It is easier than ever to make the best beverages with your Keurig K Elite machine and special K Cup pods. You can brew as quick as 60 seconds, all of the buttons are displayed simply enough on the face of the machine. It is incredibly easy to select your size, to set the time for the built-in clock, to choose a strong flavor or just hot water, and to make iced coffee.
In fact, all you need to do to make a scrumptious chilled K Cup beverage is hit the iced button, add some of your own ice to the cup, and watch the K Elite brew your chosen drink. Plus, you get hot water on demand. That is great for making oatmeal, tea, and for people who just like to drink hot water.
#3 – Brew Quality
I could go on about the brew quality of the K Elite until the cows come home. Keurig is notorious for making the best-tasting caffeinated beverages in the world with the pods, and their fame comes well earned. The K Elite makes absolutely phenomenal coffee.
Plus, if you like your morning brew extremely strong, there is a button for that. You will definitely taste the difference once you switch to the K Elite.
#4 – Cleaning & Maintenance
Cleaning your Keurig K Elite coffee maker is extremely simple. Because the K Elite is so small and compact, and fits so nicely on your counter, it is not a hassle to stop and wipe down the coffee maker every now and again.
The brushed finish of the Keurig K Elite is almost impervious to stains or scratches, while the internal components basically maintain themselves. So long as you rinse the K Elite's water tank every so often, the machine will stay in usable condition.
Great Iced Coffee
Easy to Maintain
Different Cup Sizes
Useful Water Filter
Variety of K Cups
No Additional Accessories
Brew Strength Could be Stronger
Hard to Use with Travel Mugs
Machine Itself is Slightly Heavy
See It In Action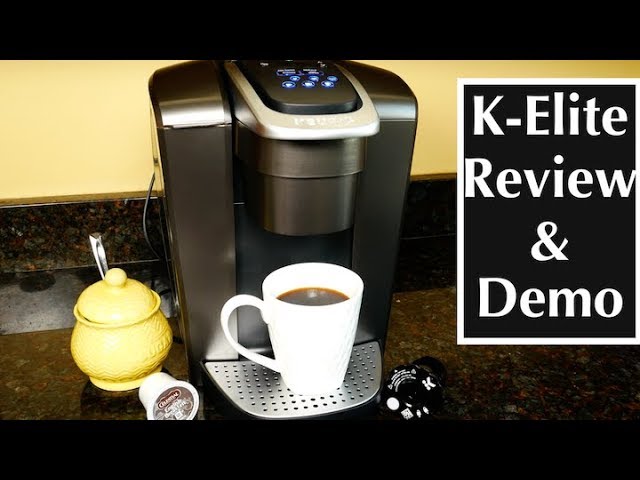 The Keurig K Elite C
#1 – Features
The Keurig K Elite C is definitely the coffee maker of choice. While this is indeed the same K Elite as the original Keurig K Elite, the C comes with more accessories and a better selection of pods. And what is the K Elite machine without pods?
The K Elite makes awesome single serve powers, the water filter works amazingly, its iced coffee is unmatched in any other machine, it offers more cup sizes, it has a maximum serving option of 12 oz, and the giant 75 oz water tank barely needs to be filled. Everything about this K maker is fantastic.
#2 – Ease of Use
What a difference it makes to use the K Elite C. It is extremely simple to pop one of the delicious K pods into the machine and then watch your beverage be brewed right before your very eyes. There is no better system for making quality beverages than the K Elite C, it is simply too easy.
Everything here is one-push activate, meaning you push a single button and then walk away and your drink is made almost instantly. You will never need to wait more than a full minute for your beverage to be poured into your cup.
#3 – Brew Quality
The K Elite has some of the best brew quality ever. You get the exact same brew quality using the K Elite that you do with machines that are far more expensive. If you want your hot beverage to taste exactly the same as it does in your local café, you only need a K Elite brewing unit.
This baby can make strong brew, light brew, and everything in between because you have infinite access to all of the great K pods.
#4 – Cleaning & Maintenance
Naturally, it is very simple to clean this unit. Even if you use a single K Cup every hour to continuously make drinks, you can still easily clean and maintain the machine and it will continue working at optimal levels.
With a quick rinse and a gentle wash of the exterior, the machine is totally clean. This is not rocket science and it is not a complicated lab experiment. Simply wash the water tank, scrub down the unit, and move on.
Comes w/ Many K Cup Choices
Large Selection of Cup Sizes
Stores Out of the Way
Brew Quality is Unmatched
Only Does Single Serve
Small Space Under the Spout
Noisy When Heating Up
More Expensive than Basic Model
See It In Action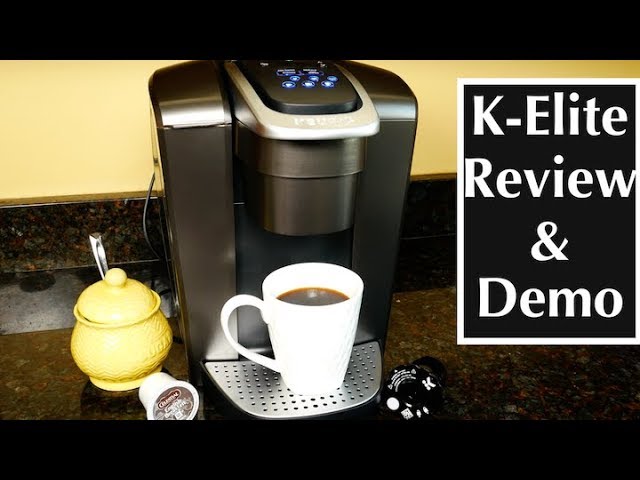 Keurig K Elite and K Elite-C: Our Pick
Our pick for the best K Elite machine would have to be the K Elite C. Let me tell you why. Both machines are identical. They each come with a large 75 oz water reservoir, each allows you to use the fabulous K Cup pods, and each makes the best coffee.
However, the K Elite C comes to you with additional pods that you can use to enjoy lots of different beverages. It may not seem like much, but the K Elite C gives you more options to start experimenting with different kinds of coffee immediately.
FEATURED PRODUCTS
Keurig K Elite
4, 6, 8, 10, 12 oz Cup
Strong Brew + Iced
Removable 75 oz Reservoir
(L) 13.1″ (W) 9.9″ (H) 12.7″ (W) 6.6lbs
* Details updated less than an hour ago (by Amazon's Advertising API)
Keurig K Elite C
Single Serve (4 – 12oz)
Strong Brew + Iced
Additional K Cup Pods
(L) 14.1″ (W) 16.2″ (H) 14.4″ (W) 8.0lbs
* Details updated less than an hour ago (by Amazon's Advertising API)
Recommended Reading
Keurig 1.0 vs 2.0
The Keurig machines have a long history of making coffee, from the first ever classic…
Learn More >
COMMENTS
Keurig K Mini vs K Slim – What's The Difference?
If you are looking for a small coffee maker which can fit in your crammed…
Learn More >
COMMENTS
Keurig Elite vs Supreme – Who does it Better?
If you're calling your Keurig coffee machines "Elite" or "Supreme" then they better be good.…
Learn More >
COMMENTS