Keurig K150 vs K155 – What's Best for your Office?
By Evelyn J Stafford ~ Updated 17 May 2022
As an Amazon Associate I earn from qualifying purchases
If you are deciding between purchasing the Keurig K150 or K155 for your office or business, you may be wondering what differentiates the two. At first glance, they seem very similar, but in reality, they have many differences.
We've outlined them in this article so that you can decide which is the better fit for your particular needs.
Not only are the K150 and K155 exceptional machines capable of producing exceptional coffee without having to be refilled (if you install the water line), they are also the best Keurig for office use.
Overview
Both models were designed to brew K-Cups efficiently in a professional setting. They are both durable with a modern sleek design that will look good in your office or business.
Keurig Office Pro Commercial
With a touchscreen to choose size and strength, the Keurig Office Pro will deliver a custom beverage to everyone in the office – in less than one minute. On top of speed, it's a quiet machine, perfect for any office setting.
No Strength Control
Keurig & Branded Pods
Water Line or Reservoir
(L) 14.0″ (W) 10.4″ (H) 13.8″ (W) 6.0lbs
Check Current Price →
more

Shop Direct
* Details updated less than an hour ago (by Amazon's Advertising API)
Keurig Commercial Single Cup
The Keurig Commercial offers offers a decient reservoir (90oz) perfect for any office space. You can choose exactly what temperature you want your coffee brewed at from 188°F to 198°F. There is also a handy energy-saving mode!
Strength Control
Keurig Pods Only
Water Line or Reservoir
(L) 14.0″ (W) 10.5″ (H) 13.6″ (W) 18.0lbs
The K155, however, is much smaller and lighter, weighing only 6 lbs. It is, therefore, much easier to transport. The K150 on the other hand, is much heavier at 18 lbs., and is therefore more difficult to transport. Since it is larger, it is the more expensive of the two models.
The larger K150 also has direct water line capability if you are interested in installing that. The K155 is not compatible with this installation.
The other main difference between the two is that the K150 features a 12 oz. cup brewing option while the K155 maxes out at 10 oz. cups.
Here is a side-by-side comparison of their features in their entirety.
Feature Comparison
Keurig K150
Brew sizes are 4, 6, 8, 10, and 12 oz. cups
Strength Control
90 oz water reservoir
Color touchscreen LCD with Brew button
Auto On/Off
Set your language preference to English, Spanish or French
NSF certified for use in foodservice
Includes professional installation when purchased from Keurig

A technician will install and set up brewer and attach it to the water line if you choose this option
Routine maintenance is also available

Quiet Brew Technology
NSF certified for use in foodservice
14 x 10.5 x 13.6 inches
Weight: 18lbs
Compatible with K-Cup pods from Keurig only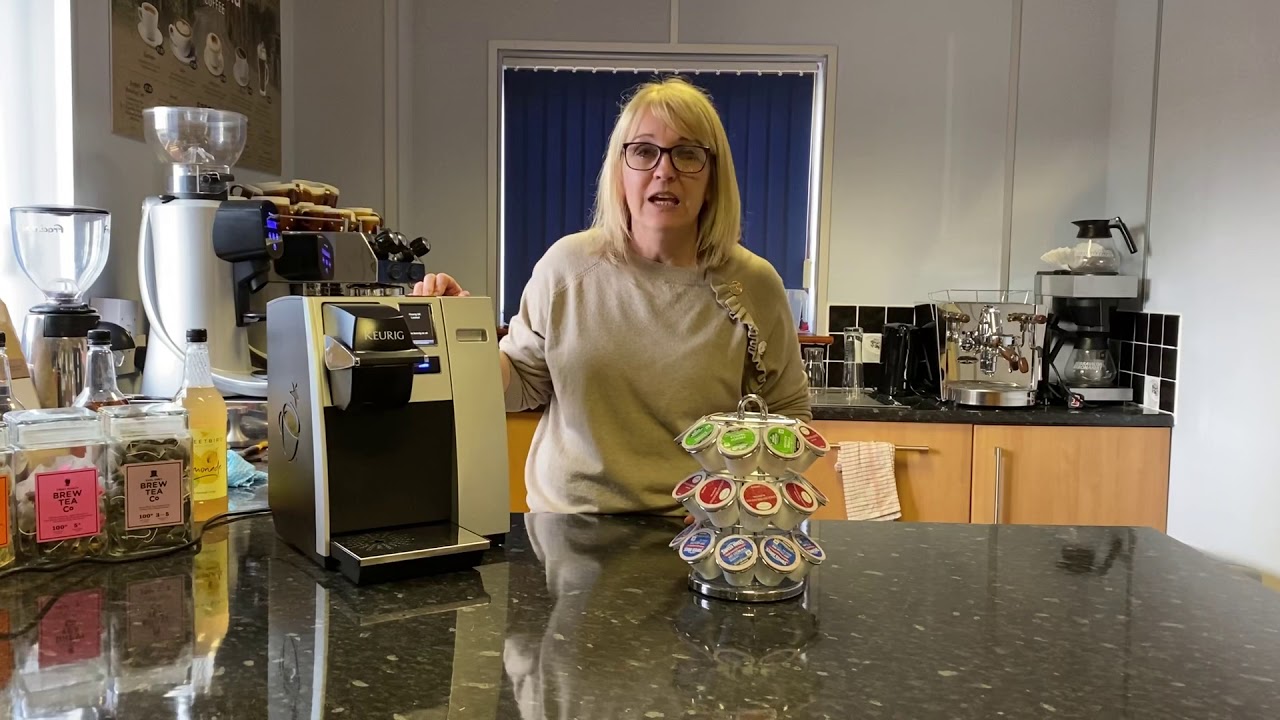 Product Specs:
Pros & Cons:
K-Cup Compatable
4-12oz Cup
Strength Control
90oz Reservoir
1 Year Warranty
Keurig Pods Only
5 Cup Sizes
Water Line
Auto Off
13.6' D x 10.5' W x 14' H
Pros:
We found the K150 to be faster and more robust than home models.
We noticed the Keurig's lever has a non-slip rubber grip.
Using the machine is near silent while brewing coffee.
Cons:
You can only use Keurig branded K Cups with the K150.
Like the K155, we noticed a strong plastic new smell.
The lid on the reservoir is not hinged, it must be removed.
Check Current Price →
more

See it at 1st In Coffee →
See it at Newegg →
See it at Walmart →
Keurig K155
Brew sizes are 4, 6, 8, and 10 oz. cups
No strength control
90 oz water reservoir
Color touchscreen LCD with Brew button
Auto On/Off
Set your language preference to English, Spanish or French
NSF certified for use in foodservice
It is water filter compatible but you will have to buy it separately
Quiet Brew Technology
Guaranteed to brew your coffee or tea in under a minute
Dimensions: 14 x 10.38 x 13.8 inches
Weight: 6 lbs
Compatible with K-Cup pods from Keurig and other brands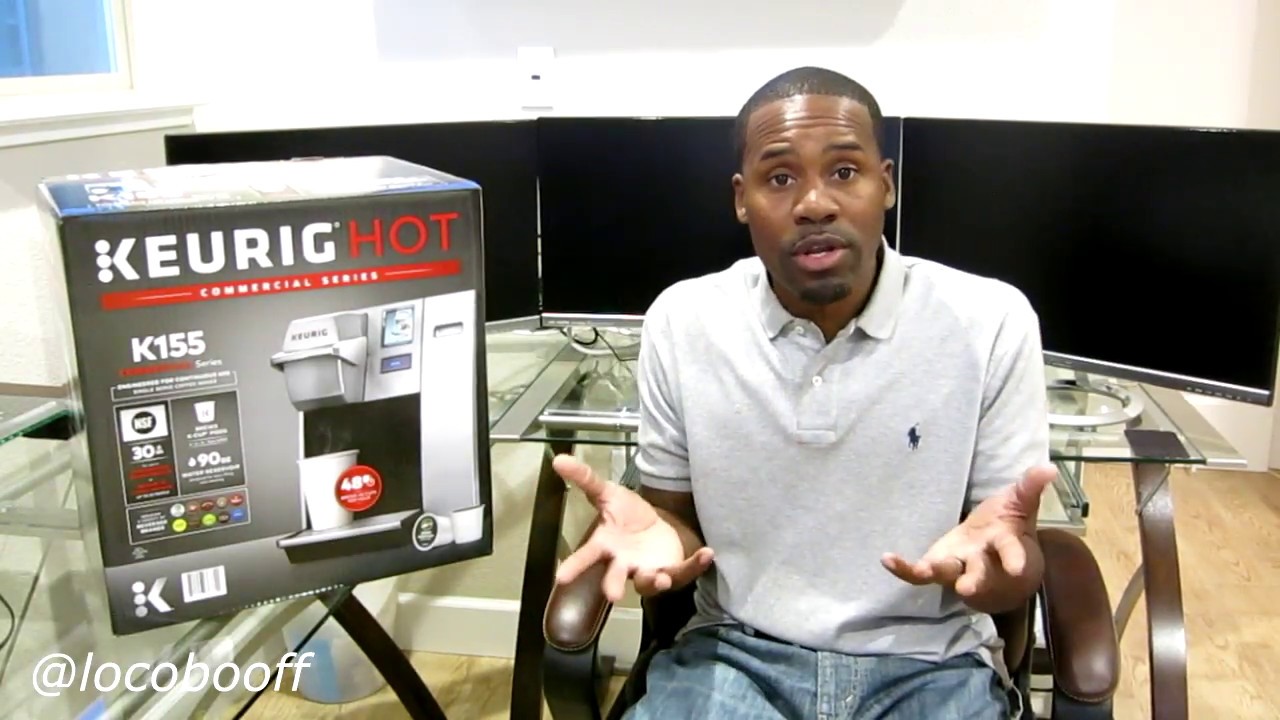 Product Specs:
Pros & Cons:
K-Cup Compatable
4-10oz Cup
No Strength Control
90oz Reservoir
1 Year Warranty
Non Keurig Pods
4 Cup Sizes
Water Line
Auto Off
13.8' D x 10.4' W x 14' H
Pros:
We found the Office Pro easy to use, coffee is hot & flavorful.
You can use Keurig and non-Keurig branded K Cups.
You can select a 4, 6, or 10oz cup from touch screen.
Cons:
We noticed you cannot change the default brew size.
We noticed a new plastic like smell about the machine.
K-Cups cost on average between $1 - $1.50 per cup.
Check Current Price →
more

See it at 1st In Coffee →
See it at Newegg →
See it at Walmart →
Ease of Use
Keurig K150
With the Keurig K150's touchscreen, it is easy to program your machine. It is easy to set the clock, change the brew temperature, and even disable the auto on/off if you don't want the machine turning off every two hours after its last use.
Keurig K155
This also shares the convenience of the touch screen. It is even easier to use though if you are planning to be transporting it often since it is so much lighter.
It is also easier to drain the tank without having a direct water line involved.
Brew Quality
You can expect quality coffee from Keurig machines, and these two models are no exception. You get delicious aromatic coffee, quickly and conveniently, so you can stay focused at work.
Since you can use other K-Cup brands with the K155 the choices are plentiful. You can choose exactly what you like from whatever brand, whether it be dark, medium, light, flavored, or decaf roasts, or even teas and hot cocoas.
The temperature control on both machines can really improve your brew quality because you can choose the highest setting if you know you will be traveling with the coffee. There is nothing worse than lukewarm coffee so this feature helps preserve the quality of your coffee for longer.
Cleaning & Maintenance
Keurig K150
If you want to store or transport this model you will need to make sure all of the water is emptied from the machine.
To do so, first turn off the machine and let everything cool for 30 minutes.
Then put a large container beneath the coffee maker. Use a flat head screwdriver to unscrew the small knob so that you can remove the back panel that houses the water pumps. Gently pull the hot water tube out and pinch the hose to remove its plug. Let it pour into the container you placed beneath it.
Recap the tube when no more water comes out and connect it back to the brewer. Follow the same process with the cold water tube.
Screw the panel back on and you are now ready to transport or store the machine.
For routine cleanings run a cleaning brew cycle with the 10 oz. cup option six times to clear out the insides.
To keep your K155 functioning at its highest level though, make sure you also descale it every few months, six months at the most.
To begin descaling you will first want to drain all water from the reservoir so that you can pour a bottle of Keurig Descaling Solution inside. You could instead use 90 ounces of white vinegar if that is more convenient for you. Now fill the descaling solution bottle up with water and empty it into the reservoir.
Put a ceramic mug on the drip tray, turn on the machine and press brew without a K-Pod.
Continue to brew into the cup then dump the contents out until the reservoir is empty. Then let the machine sit for around 30 minutes without turning it off.
After you've waited, you can rinse out any remaining solution by filling the reservoir with new fresh water and brewing multiple cups until the water is void of solution.
Keurig K155
If you want to drain and store this then simply empty the water reservoir by removing it and dumping it out first.
To clean the machine's external parts use soap, water, a gentle cloth or paper towel to wipe it down. Do the same with the drip tray after removing it.
To clean the K-Cup holder and needle lift the handle and remove the K-Cup holder. You can do this by simultaneously pushing from the bottom and grabbing it from the top.
Now you can clean the coffee funnel and the needle.
First, separate the funnel from the holder then wash each piece with soap and water or you can place them on the top shelf of your dishwater if you have a low-temperature cycle option.
Now clean the needle by pushing a paper clip or something of similar dimensions through the hole in the needle and move it around. Rinse the needle off with water to make sure residue is removed.
Clean the water tank by using soap, warm water and a sponge. Rinse it out and dry it enough to resemble it without getting water everywhere.
After you have finished make sure you have reassembled all of the other parts and then you are ready to make a nice clean cup of coffee.
If you want to descale this model do it the same way you would the K150.
Overall Value
Purchasing the Keurig K150 is the way to go if you are buying this for your workplace or business and have a large volume of employees. If you opt for the direct water line installation no one will have to worry about the distraction of constantly refilling the water reservoir.
The Quiet Brew Technology is also great for the workplace so no one will have to worry about distracting anyone with constant bothersome brewing sounds.
If you want the extra 12 oz. option to prevent people from making double servings and thereby wasting time, then the K150 is for you.
Since this is a heavy-duty machine it is built to last longer so it may be the better choice in terms of durability.
If you are looking for a more budget-friendly option, and the above features are not necessary to you, then the K155 will work just fine. It has great value for the price.
The quick brew time of this machine makes it a really efficient option.
Since the K155 is compatible with other K-Cup brands, you have more freedom in your choices and therefore more customization. This is great in an office setting where you have large numbers of people all with their own preferences.
If you will need to transport the machine often then this definitely is the one you want to go with since it won't be hooked up to a water line and is only 6 lbs.
If you are still on the fence about whether or not you want a commercial brewer, the K155 is a good way to ease into it.
Final Thoughts
If money is a big factor in your decision making process then go with K155. It is similar to the K150 in so many ways, but is a lighter, more compact transportable version. If you need direct water line compatibility and are looking for something very sturdy that will remain in one place, then the K150 is the better option for you and your office or business.
FEATURED PRODUCTS
Keurig K155
No Strength Control
Keurig & Branded Pods
Water Line / Reservoir
(L) 14.0″ (W) 10.4″ (H) 13.8″ (W) 6.0lbs
Shop Amazon →
or
Shop Direct
* Details updated less than an hour ago (by Amazon's Advertising API)
Keurig K150
Strength Control
Keurig Pods Only
Water Line / Reservoir
(L) 14.0″ (W) 10.5″ (H) 13.6″ (W) 18.0lbs
* Details updated less than an hour ago (by Amazon's Advertising API)
Recommended Reading
Aeropress vs Aeropress Go
The Aeropress is an essential tool for coffee lovers who are always on the go.…
Learn More >
COMMENTS
Keurig vs Ninja – The Latest Side by Side
Keurig vs Ninja – the battle between these two coffee Giants and their premium coffee…
Learn More >
COMMENTS
Nespresso vs Keurig
In the world of mass-marketed coffee machines, there are no bigger giants than Nespresso and…
Learn More >
COMMENTS