Keurig K45 vs K55
By Evelyn J Stafford ~ Updated 17 May 2022
Today we're looking at two of the best coffee makers in the business. It's the Keurig K45 vs K55. These are two of the original Keurig coffee makers. That means they are able to use any sort of K-Cup. These were designed before the Keurig 2.0 system came into action, where Keurig tried to restrict the types of K-Cups used in your coffee maker.
But a lot of people aren't sure which unit to purchase. Both the K45 and K55 are excellent coffee makers with fabulous features, so it makes sense why there is so much confusion. But don't worry, today we're going to check out each machine, talk about their different points, and figure out which Keurig is better for your home.
If you've been considering one of these popular models for the home office or small business, there are equally affordable models designed just for this purpose. To see them in action, swing by our Keurig k150 vs k155 comparison.
Overview: Keurig K45 vs K55
Let's talk Keurig coffee makers! The K45 and K55 are exceptional units. In fact, we believe that these are the best-designed Keurig machines that have ever come around. They're simple, easy to use, they make a delicious cup of coffee, and you can use any K-Cup that you want.
Keurig K-Classic K45
The original Keurig Classic that is no longer being made, but older machines are still going strong! With a 48-ounce water tank, easy control buttons, and multiple cup sizes, this machine is straight to the point but delivers a quality coffee.
6, 8 or 10 oz Cup
Water Filter
Descale Reminder
(L) 14.9″ (W) 12.3″ (H) 14.2″ (W) 1.0lbs
Keurig K-Classic K55
The original Keurig model (1.0) that revolutionized coffee machines! The Keurig K-Classic brews a mug in under a minute and has a self-cleaning function. Overall it is easy to use and easy to keep clean.
6, 8 or 10 oz Cup
No Water Filter
No Descale Reminder
(L) 13.3″ (W) 9.8″ (H) 13.0″ (W) 9.0lbs
But they are a bit older. If you were to vs the Keurig K55 and K45 against newer models, you would find that these two older machines lack a few features. But that doesn't mean they aren't great quality! They still have a huge water reservoir, they still make delicious coffee, and they are still relevant even in today's market.
What can you expect from the Keurig K45 and Keurig K55? Well, you can expect yummy single-serve coffee, a removable drip tray, a useful water reservoir, a sleek design, an easy user interface, simplistic button action, and a coffee maker that will last you for years to come.
While there are a few differences between the Keurig K45 and the Keurig K55 – which we will discuss shortly, there are mainly similarities. The K45 is truly the original Keurig coffee maker, while the Keurig K55 is a slightly more advanced upgrade without any huge or impressive features. But both models are a great choice for adding a coffee maker station to your kitchen! Who doesn't love a great cup of coffee at the push of a button?
The Difference Between Keurig K45 and K55
To give you a simple breakdown of the K45 and K55, they are the same machine. The K55 is simply the upgraded version of the original Keurig K45 coffee maker. The K55 does not offer any new features, any new capabilities, or any new revolutionary ways of making coffee. These are for all intents and purposes, the exact same coffee maker.
But there is one major difference. The Keurig K55 is significantly improved in its functions. What happened was that Keurig went back with their K45 model, fixed all the bugs and all the things that weren't working the way they wanted, and they released the new machine as the Keurig K55.
What this means is that you get the same cup of coffee, the same exact features, the same look, the same style, but an upgraded performance. The K55 is superior only in the fact that it works better and will probably last longer.
Additionally, the K45 only comes in black, while the K55 comes in black or red. And besides that, you might have a hard time finding a K45 because it has been discontinued. They don't make these models anymore, so if you do find one it has probably been used. The Keurig K55 has not been discontinued by the manufacturer, meaning it's still available for purchase just like any other coffee machine.
Keurig K55
This is arguably the best machine ever designed by Keurig. It's simply amazing. It's packed with all that you need for a rewarding coffee experience at an affordable price. It's one of the older models, but that doesn't make it any less of an amazing coffee maker that belongs in the center of your kitchen counter for years to come!
Features: You get to choose your size of coffee, you get a large 48-oz water reservoir, and you have multiple colors to choose from! Instant coffee, desirable flavor, automatic shutoff, simplistic design, auto-descaling mode, and full access to all Keurig K-Cups.
Ease of Use: This is one of the easiest coffee machines in the world to operate. It has just a few buttons on the front, including a power button and three choices for the size of your brew. Simply select from the clearly labeled options and enjoy your coffee a few seconds later!
Brew Quality: The quality of the brew with this machine is phenomenal. They really learned their lessons from the previous model and upgraded everything to give you a smoother and more refined coffee taste with every cup. No more coffee that tastes like water!
Cleaning & Maintenance: The machine is also super easy to clean with a rag and a bit of water. And it comes with a special descaling feature which is critical to help remove the deposits of calcium that build up overtime inside of your coffee maker. By using the descaling feature, you can clean the machine in just a few minutes without much work.
And if you want to be conscious of the environment, this is one of the coffee makers that is compatible with the My K-Cup Reusable Coffee Filters.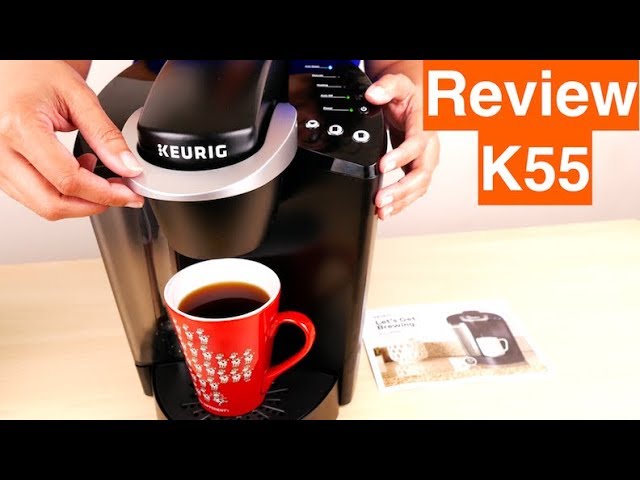 Product Specs:
Pros & Cons:
K-Cup Compatable
6-10oz Cup
No Strength Control
No Water Filter
1 Year Warranty
My K-Cup Compatable
1 Brew Strength
48oz Reservoir
Auto Off
13' D x 10' W x 13' H
Pros:
We found the Classic easy to use, coffee is hot & flavorful.
From off, we found it takes 2 min to brew a cup of coffee.
With the Classic you can brew chocolate, tea & coffee.
Cons:
While making coffee, we found it splatters over the counter.
This machine is the K Classic without the water filter.
K Cups cost double that of using ground coffee.
Check Current Price →
more

See it at 1st In Coffee →
See it at Newegg →
See it at Walmart →
Keurig K45 (Discontinued)
Yes, the K45 is indeed discontinued. But this was the original Keurig Classic and it still works even today. You probably won't be able to find a new one anywhere for a reasonable price, but if you can, definitely don't hesitate. Even after all this time and all these upgrades, the K45 still stands up as an amazing machine.
Features: You get a large 48oz water tank, a removable drip tray, multiple brew sizes, easy control with the simple buttons, the availability to use all the K-Cups on the market, and your coffee can brew in less than a minute! This thing is endless when it comes to features. There are indicator lights, the design is sleek and compact, and it's a very reliable unit.
Ease of Use: The K45 is super easy to use. Simply pop the pod of your choice into the basket, close the lid, hit the brew button, and you're off to the races! There is literally nothing more to it. For an in-house coffee system, it doesn't get any easier than this. Even a baby could do it!
Brew Quality: The quality of the coffee here is OK. Remember this was one of the original machines designed and distributed by Keurig, so the flavor isn't quite perfected yet. When it comes to K45 vs K55, the latter is definitely the winner for brew quality.
Cleaning & Maintenance: Cleaning and maintenance has never been easier. The unit comes included with the charcoal filter and a water filter handle, which seriously help when it's time to clean up. The water reservoir is removable and can be washed by hand in just a few seconds. The removable drip tray is also easy to clean.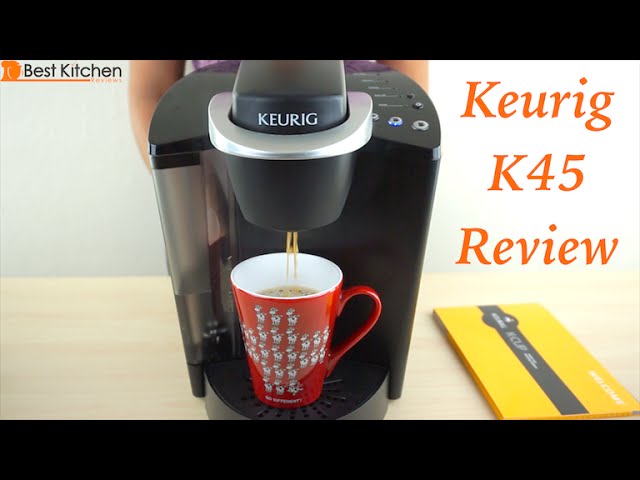 Product Specs:
Pros & Cons:
K-Cup Compatable
6-10oz Cup
No Strength Control
Water Filter
1 Year Warranty
My K-Cup Compatable
1 Brew Strength
48oz Reservoir
Auto Off
15' D x 12.2' W x 14.1' H
Pros:
We found the Classic easy to use, coffee is hot & flavorful.
You can use Keurig & other brand pods in this machine.
We found the reservoir accessible + low water indicator.
Cons:
Brewing with a K Cup at 10oz come out very weak.
We found it 2min+ time for the machine to warm up.
This machine will take up a lot of space on a small counter.
Check Current Price →
more

See it at 1st In Coffee →
See it at Newegg →
See it at Walmart →
Final Verdict: Keurig K45 vs K55
There can only be one winner in the K45 vs K55 fight – and it's definitely the Keurig K55. This machine is newer than the K45, which is now discontinued, and it was specifically designed to fix all the problems of the previous model. It's simply a better machine.
Of course, you can always purchase the K45. It's not a bad brewer. It still works, it can use all your favorite K-Cups, and it's pretty affordable. But if you have to make the choice between the two machines, you should definitely go with the newer model. It doesn't make any sense to purchase an outdated and discontinued item when the better version is widely available at a very low price.
FAQ
1. Is Keurig K55 Discontinued?
The K55 is certainly not discontinued. It is still widely available all across the globe. It's even more popular now than it was when it was first developed. The K55 offers a large selection of amazing features for every coffee lover. Because it's an old model, this unit is actually super affordable. It's still a great coffee maker to purchase today.
2. Is There a Difference Between Keurig K50 and 55?
Yes. The 55 is slightly larger than the 50. This is because it contains more advanced technology than the K50, which is the older model. The K55 also brews coffee significantly faster. It even warms the water quicker. According to many people, the K55 also produces coffee that tastes smoother and tastier. This is because the K55 has a charcoal water filter. The K50 does not.
The K50 is available in more colors, but the K55 is overall a better quality of machine. It was designed to be superior to the K50 in every way, and most of the differences are small, upgraded features that you might not even notice.
3. Which Keurig Model is Best?
When it comes to the K45 vs K55, the K55 is the better machine. In fact, when it comes to the K55 vs every other coffee maker from Keurig, the K55 is still the best. This unit is widely considered to be the #1 coffee maker available from this company. It's simple, it works, and it can use all the K-Cups out there.
FEATURED PRODUCTS
Keurig K45
6, 8 or 10 oz Cup
Water Filter
Descale Reminder
(L) 14.9″ (W) 12.3″ (H) 14.2″ (W) 1.0lbs
* Details updated less than an hour ago (by Amazon's Advertising API)
Keurig K55
6, 8 or 10 oz Cup
No Water Filter
No Descale Reminder
(L) 13.3″ (W) 9.8″ (H) 13.0″ (W) 9.0lbs
Shop Amazon →
or
Shop Direct
* Details updated less than an hour ago (by Amazon's Advertising API)
Recommended Reading
Keurig K Mini vs K Slim – What's The Difference?
If you are looking for a small coffee maker which can fit in your crammed…
Learn More >
COMMENTS
Keurig Elite vs Supreme – Who does it Better?
If you're calling your Keurig coffee machines "Elite" or "Supreme" then they better be good.…
Learn More >
COMMENTS
Keurig Duo vs Keurig Duo Plus – The Differences Explored
As a coffee lover, you may already have a coffee machine in your home. If…
Learn More >
COMMENTS