Wacaco Minipresso vs Nanopresso – What the Better Choice?
By Evelyn J Stafford ~ Updated 8 August 2022
As an Amazon Associate I earn from qualifying purchases
If you are a coffee lover who needs your coffee on the go, the Nanopresso or the Minipresso from Wacaco will be very tempting. You can savor all types of ground coffee using these incredible miniature espresso devices.
They are small, lightweight, and easy to carry while still having impressive power. Neither of them requires electrical power and look quite similar, so which one is the best?
Here we'll examine the differences between these brilliant coffee makers and see which one will be right for you. Let's take a look!
Both Wacaco's Minipresso and Nanopresso are amount two of the smallest portable coffee makers you can get. If small and a quality brew is at the top of list, you might find Breville's latest two offerings of interest. For a detailed comparison between their latest offerings, see our Bambino vs Bambino Plus review.
Overview
Wacaco has a great reputation for making portable espresso machines. They are reliable, long-lasting, and produce amazing coffee each time. They can do the same work as a larger espresso machine but they save you time and money while giving you coffee on the go.
While the two of them share many similarities, there are some significant differences. The Nanopresso is the more expensive of the two as it can generate more pressure while still being slightly smaller and lighter than the Minipresso.
Here we will look further into some of the similarities and differences between the two coffee makers.
Differences
A popular hand-pressed coffee maker that turns boiling water and coffee grounds into the perfect espresso using a high preasure, effortless hand pump. This model holds up to 2.7 ounces and is perfect for those on the go.
The Minipresso is hand-pressed and as easy as pumping a bike tire! It turns brews espresso from ground coffee easily without any power. It can hold up to 2.3 ounces of boiling water and will make a ristretto, lungo, or any other type of espresso.
Similarities
Hand pumped machines, thus they do not require any source of power
They are easy to pump, not requiring more effort than pumping a bicycle tire
Small and compact, which is great for work or travel
Both require grounded coffee powder and boiling water to make coffee
Similar style and design
Feature Comparison
These two models have very similar features, with only a few accessories and sizes being the difference. Here we will look at their features in a little more detail.
Nanopresso
Size – It is very short and small in size. It is economical and allows you to carry it with you in your hand or pocket if required. The size allows you to hold it easily and also pump with one hand.
Weight – The Nanopresso is only 0.74lbs, so you can easily take it with you on your travels. It is also made of strong and sturdy material, so you don't need to worry about breaking it.
Ease of use – This model is incredibly easy to use and compared to older models, it requires 15% less effort to pump. Once you start pumping the machine, it eases the strain from you and keeps the pressure high but with minimal force required.
Water storage – The water tank of a Nanopresso can hold up to 2.70oz of water. Because boiling water is added into the device to make the coffee, there is a chance of it burning your hand. To protect against this, the water tank and cup are both covered with a heatsink pattern so that it absorbs the heat rapidly.
Design – It has a unique design which means that when the device needs to be cleaned up, all the parts can be separated and deeply cleaned properly. The biggest issue during washing is getting to the small corners, but every component of the portafilter can be separated.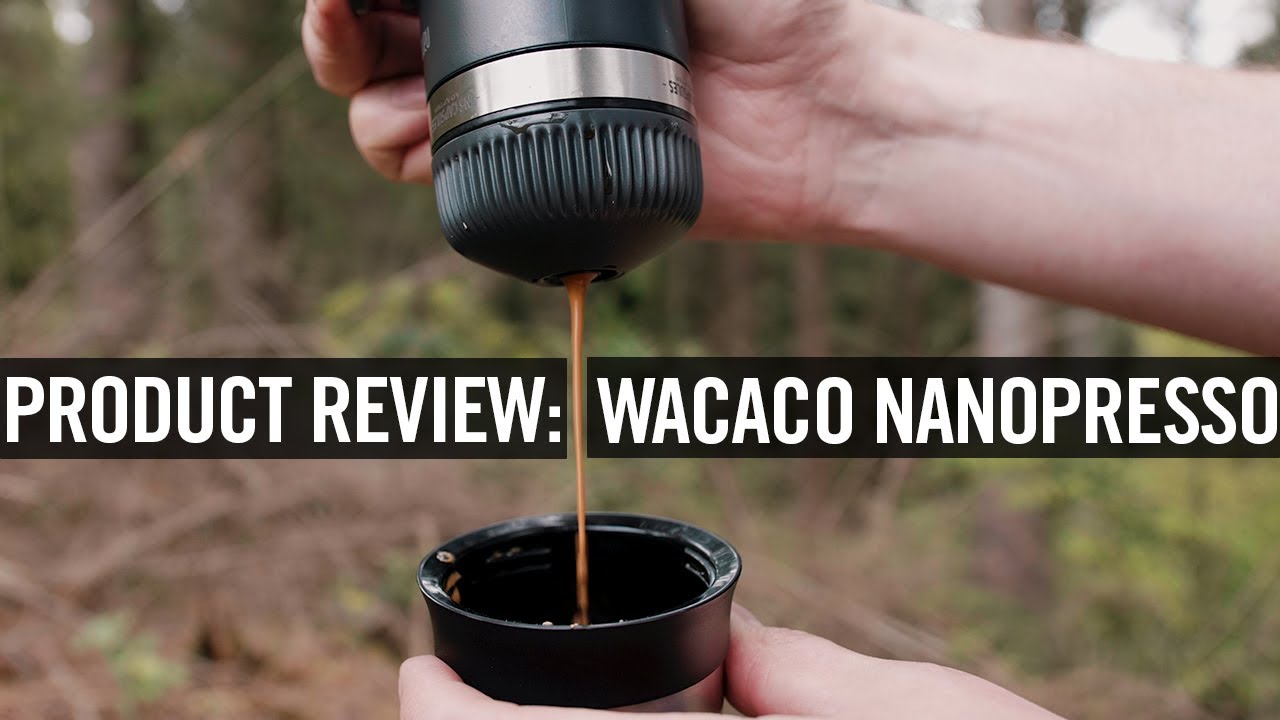 Product Specs:
Pros & Cons:
Ground Coffee
Hand Pump Extraction
2.7oz Reservoir
1 Year Warranty
Nespresso Pods
18 Bar Pressure
Travel Friendly
6.2' D x 2.8' W x 2.5' H
Pros:
We found it takes 3-5 mins to extract espresso.
We found the espresso quality on par with a machine.
The Wacaco is compact, feels durable and portable.
Cons:
We found it takes time to dismantle and clean the Wacaco.
You can only make a single shot of espresso with the machine.
Don't tamp the grind to compact or the top cap can get stuck.
Check Current Price →
Minipresso
Size – It is larger in length than the Nanopresso but is more compact and smaller in width. It makes it easy to hold in one hand so that the pump can be easily used to make the coffee.
Weight – Whether you are traveling to wok or heading to a campsite, the most important feature of these devices is the weight. This is a little heavier than the Nanopresso but still lighter than many other rivals. It does not take any space in your luggage and is light to carry.
Ease of use – The Minipresso is very versatile and easy to use. It has an innovative design allowing it to be the best travel companion without any fuss.
Water storage – It can store less water than a Nanopresso but can still hold 2.35oz. After pushing a few times, the water is injected into the coffee adaptor and optimal extraction pressure is achieved, giving you rich and bold espresso.
Design – It is designed to handle different water capacities to give you different coffee brews of your choice. You can make a ristretto, lungo, or whichever type of espresso strikes your fancy.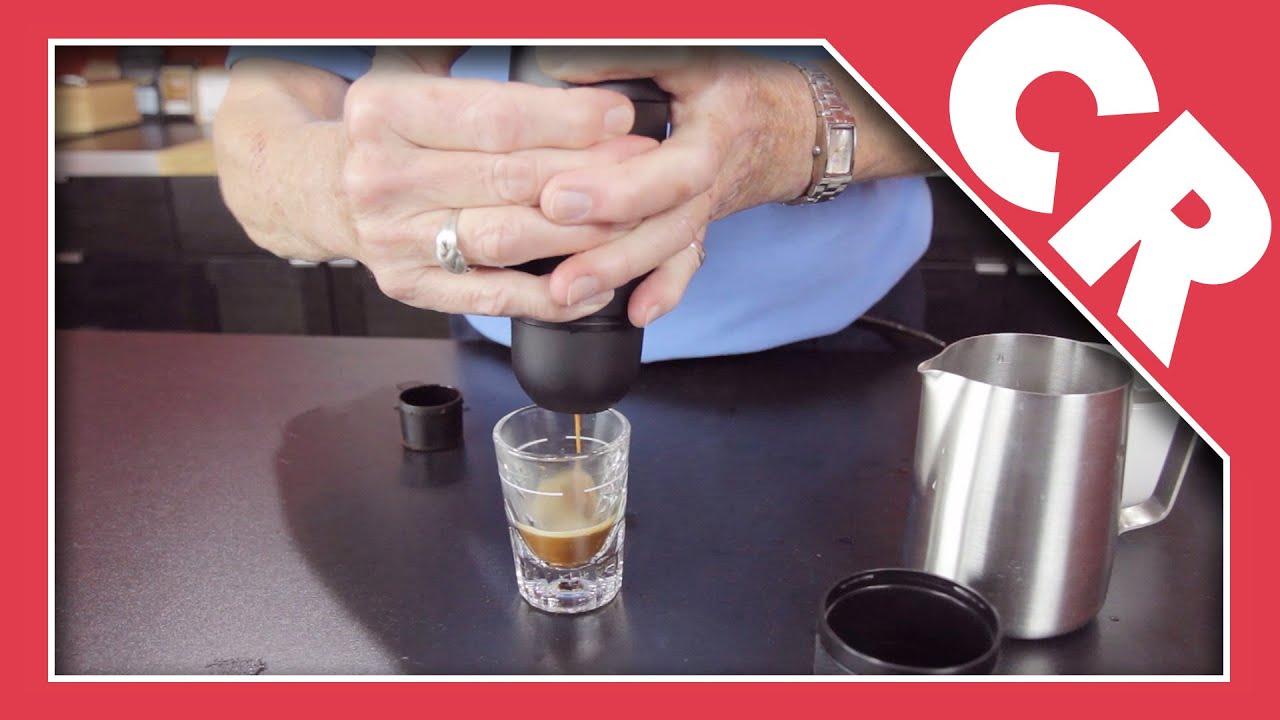 Product Specs:
Pros & Cons:
Ground Coffee
Hand Pump Extraction
2.3oz Reservoir
1 Year Warranty
K-Cup / Nespresso
8 Bar Pressure
Travel Friendly
6.9' D x 2.8' W x 2.4' H
Pros:
We found that the Minipresso makes flavourful coffee.
We found the unit easy to use with nespresso pods.
Its solid, well-made & doesn't require a power source.
Cons:
We found after extraction; coffee isn't quite hot enough.
Empty the pods out over a sink or trash can, it can leak.
Over time, it's harder to secure the water tank to the unit.
Check Current Price →
Ease of Use
Both of these models are very easy to use. You just put in the coffee and boiling water and work the piston to brew delicious coffee. Here we will analyze their features and how they are used.
Nanopresso
Small parts – The Nanopresso is easy to use and manage. It comes with one single filter basket which can have 8 grams of ground coffee, the container, and a button to push the expresso to start working.
Easy extraction – It has one of the best extraction methods on the market. You will need to work hard on the grinding, but once you get the hang of it, it is easy and quick for a delicious cup of coffee.
Pressurized head – The Nanopresso has a pressured head which helps to improve the extraction process and helps with consistency, so you have the same tasting coffee on each try. Even if a less finely ground coffee is used, the head helps to brew it without needing to learn the subtleties of espresso brewing. It can also be used as an authentic espresso machine, even if the auto pressure is turned off.
Power used – The Nanopresso uses 15% less power to push the pumping knob than all other models. The pressure required is 261 psi, which is equivalent to a force equal to 13 kg. For ease of use, it is recommended that the Nanopresso be held with two hands.
Stable extraction – Once you have built the pressure by applying the necessary force, it remains stable during the entire extraction process.
Minipresso
Innovative design – The Minipresso uses a semi-automatic piston. With each push of the piston, small quantities of water are injected into the coffee adapter. After you have pushed a few times, the extraction pressure will reach an optimal point and you will no longer need to push, your rich and bold espresso will be extracted.
You can unlock the piston from its position and press it to control the amount of coffee that you want to be extracted. You can just as easily have a small or big cup of coffee or a big mug, depending upon your requirements.
Pumping force reduced – You only need the pumping force about the same as filling the tires of a bike. It is very easy and fast. The compression force required can vary between 6 to 12 kg, much less than the Nanopresso.
Using both hands – It is recommended that both hands be used during the extraction process so that less energy and strain are taken.
Brew Quality
Both the Nanopresso and the Minipresso produce great coffee. The pressure that the Nanopresso reaches is greater than the Minipresso, thus producing more coffee compared to the Minipresso.
The Nanopresso can brew only one type of coffee, while the Minipresso can be used to brew multiple coffee blends.
Despite them both being such small coffee makers, the quality of your brew is remarkable. This makes them perfect for those outdoor activities when you want to reward yourself with a tasty cup of coffee.
Cleaning & Maintenance
The Nanopresso is easier to clean, with all parts getting separated and cleaned separately before being put back together. It is recommended to wash the parts under running water. All parts need to be thoroughly rinsed with soap and then pat dried with a cloth.
The Minipresso can also be cleaned quite easily but it cannot be washed in a dishwasher. It is recommended that the cups and all parts of the coffee adapter compartments be washed under running water, after each use. A dry cloth should only be used to dry the water tank.
Overall Value
Both the Nanopresso and Minipresso are great to carry with you for travel to brew a delicious espresso on the go. The Nanopresso is relatively shorter, weighs less, and has greater water capacity and pressure.
The Minipresso on the other hand also does the same job but with smaller components, so it is easier to manage and clean. It is also cheaper than the Nanopresso but the Minipresso is still great value for money. Whichever one you get, you'll be very happy with your purchase.
Final Thoughts
Both the Nanopresso and the Minipresso are amazing and give delicious coffee. You can choose the model you want depending on your budget and the features you prefer. They are both incredibly well-engineered so you won't go wrong whichever one you choose.
FEATURED PRODUCTS
Wacaco Nanopresso
18 Bar Pressure
Ground Coffee or Capsules
1 Model Available
(L) 6.1″ (W) 2.8″ (H) 2.4″ (W) 0.7lbs
Shop Amazon →
or
Shop Direct
* Details updated less than an hour ago (by Amazon's Advertising API)
Wacaco Minipresso (NS)
8 Bar Pressure
Nespresso Pods Only
2 Models Available (ns/gr)
(L) 6.9″ (W) 2.8″ (H) 2.4″ (W) 0.8lbs
Shop Amazon →
or
Shop Direct
* Details updated less than an hour ago (by Amazon's Advertising API)
Recommended Reading
Bambino vs Bambino Plus – Are the Extras Worth It?
If you are looking for an espresso machine to make café-quality espresso drinks from home,…
Learn More >
COMMENTS
Best Cheap K Cup Coffee Maker
If you love to have your dose of caffeine before you start your morning routine,…
Learn More >
COMMENTS
10 Best Single Serve Coffee Maker Without Pods
If you are living by yourself, using a single serve coffee maker without pods is…
Learn More >
COMMENTS