Nespresso vs Keurig
By Evelyn J Stafford ~ Updated 30 June 2022
As an Amazon Associate I earn from qualifying purchases
In the world of mass-marketed coffee machines, there are no bigger giants than Nespresso and Keurig. These two coffee titans work very hard so that you can make delicious coffee from the comfort of your home. But who does it better?
To find out, we need to dig through the flagship models of Nespresso and Keurig, take a look into how much attention to detail they really put into their machines, read through hundreds of user reviews, and compare Keurig's K-Cup to the Nespresso capsule.
Only with comprehensive knowledge of Nespresso and Keurig can we determine once and for all who has the best premium coffee machine.
Don't Feel Like Reading? Our quick answer – go with the Nespresso. Nespresso offers one touch operation, is self-cleaning and offers a more deeper richer flavour through its recyclable capsules.
Overview: Nespresso Vertuo vs Keurig K-Cafe
If you don't have time to read our whole report, check out this short overview of Nespresso vs Keurig.
The Nespresso Vertuo offers a truly delectable cup of coffee. It works with Nespresso Pods using centrifusion extraction technology to deliver an incomparable flavor profile. It's ready to brew in only 15 seconds. Speedy and delicious!
For the diehard Starbucks lover who needs a full café at home – we give you the Keurig K-Cafe. You can brew cappuccinos or lattés, plus froth warm or cold milk for a variety of perfectly creamy beverages.
For this review, we are focusing in on the Nespresso Vertuo and Keurig K-Cafe Coffee makers. The selections make this review the closest apples to apples approach possible. I'm sure you are aware, both companies produce a wide range of coffee makers!
The Nespresso costs more money then the Keurig. The Nespresso capsules cost more money than the Keurig K-Cups. The Nespresso coffee maker is a luxury product that makes high-quality coffee beverages with real coffeehouse flavors, real barista-style froth, and uncompromising flavor.
If you want to save money, buy the Keurig. If you are a coffee fanatic and want premium service and premium hot drinks, buy the Nespresso. If you want your coffee maker in red, also buy the Nespresso. However, if you want to brew ground coffee, buy the Keurig. The Nespresso can only use its own capsules.
The difference in price between the Nespresso and the Keurig is about $100 (at the time of this article), while the Nespresso capsules are about double the price of the K-Cups. Before you commit to either machine, it may be worth reading this article more in depth to understand why the prices are so different. It will pay off in the long run to make an educated decision before you buy.
Nespresso vs Keurig: What's the Difference?
The main difference between Nespresso and Keurig is the target audience. Keurig builds their machines to be used by everyone, especially casual coffee drinkers. The Keurig gives you a lot of options for drinks: coffee flavours, hot chocolates, lattes, and so on. There is always something to enjoy with the Keurig.
However, the Nespresso is designed for people who take their coffee seriously. You get legitimate Italian coffee flavours with the Nespresso and strong, rich espressos that casual coffee drinkers won't enjoy because they taste too bitter.
Not to mention, the Nespresso is a luxury product. It cleans itself (Keurig doesn't), it comes in a sturdy and durable housing (Keurig is a bit flimsy), and your first purchase even comes with 12 different coffee flavours to try (Keurig gives you zero).
This is not to say that the Keurig is a poorly made coffee maker; it's not. The Keurig K-Cafe makes delicious coffee, the frother really works, and you can even brew ground coffee by using the permanent filter. The Keurig K-Cafe is a good machine for making coffee, it's just not as good as the Nespresso. And the price reflects that, both of the machines and the coffee pods/capsules.
If you want a deeper dive into the world of Nespresso, we have compared their two flagship models in this Nespresso Evoluo vs Vertuo guide.
Nespresso Vertuo Coffee & Espresso Machine
Features
The Nespresso Vertuo Coffee & Espresso Machine is the flagship model from Nespresso, and it's easy to see why. This is an all-inclusive coffee machine. This is luxury coffee at home, certifiable coffeehouse flavour in your own kitchen.
The Nespresso is easy to use, it looks more expensive than it actually is, and it produces phenomenal beverages with Nespresso's unique capsules, which happen to be recyclable. And this is just the beginning.
The Nespresso is as easy as pushing a single button. There's nothing to it. The water takes roughly 15 seconds to heat, then a few more seconds to distribute coffee into your cup. You barely have time to turn from the machine before your coffee is done. The machine offers five cup sizes from 1.35 ounces to 14 ounces. You can even adjust the cup support to three different positions, meaning oversized coffee mugs can be filled no problem.
The Nespresso comes with their special Aeroccino, which is a device that heats milk to be used with your cappuccino or latte, providing real barista-quality taste. The Aeroccino also works to distribute coffeehouse style froth for your espresso and coffee. To put it plainly, this machine has it all.
Ease of Use
The Nespresso Vertuo could not be easier to use. It works with a single button, has minimal noise and vibration, produces froth on its own, and uses a special system of hermetically sealed capsules to brew your favorite coffee.
Each Nespresso capsule comes with a unique barcode, allowing the machine to brew uniquely for maximum flavor. You don't need to do anything, it's all automatic. Your only job with the Nespresso coffee maker is choosing what delicious coffee you want to drink.
Another aspect of ease that you get when buying a Nespresso machine is their excellent customer service. Unlike many companies, the Nespresso customer service actually picks up the phone and talks you through any problems. This makes operating your machine even simpler because you have someone to call if something goes wrong.
Brew Quality
The brew quality of the Nespresso coffee maker is where the machine really shines. You simply are not going to get better quality coffee with a different machine. It's not going to happen. This may be because Nespresso is owned by the coffee giant, Nescafe. Nescafe has been distributing all kinds of coffee all over the world from many, many. They have the experience to back them up.
The quality of Nespresso coffee comes from there premium capsules. These capsules are hermetically sealed to keep all the flavour inside the capsule until it's time to brew. Then, once brewing starts, there's a special centrifusion extraction technology that works to spin the capsule at over 7,000 RPM, blending water and ground coffee into an authentic coffee beverage. The taste cannot be compared.
Even more, the Nespresso machine uses a system of blend recognition to recognize each different capsule inserted into the machine using a barcode. This means that every coffee is brewed uniquely. When included with the Aeroccino frothing tool, the Nespresso has unbeatable brew quality.
Cleaning & Maintenance
Cleaning and maintenance are an absolute breeze with the Nespresso Vertuo. Why is that? Well, because it cleans itself. That's right, the Nespresso has a self cleaning cycle. That means it takes hot water and cleans its own parts. Of course, you can clean the water reservoir, but it's not that necessary.
Maintenance is simple because the capsules used in the Nespresso are high quality and don't cause any leakage or mess. Just pop them out and pop them in, no more grungy brown stains on the inside of the capsule area.
Also, the machine is super compact. You can put it anywhere on your kitchen counter and there's no mess to deal with. The Nespresso is a very low-maintenance piece of machinery.
Product Specs:
Pros & Cons:
5-8oz Coffee Cup
Nespresso Pods Only
15sec Heat Up Time
40oz Reservoir
1 Year Warranty
1-2 Espresso Shots
Centrifusion Extraction
9min Auto Off
Reservoir Removable
11.9' D x 11.9' W x 8.3' H
Pros:
We found the Vertuo makes a hot, flavourful rich coffee.
We found the machine is ready to brew in 15 sec.
You have waste storage for 10 used capsules.
Cons:
The Vertuo has a large water tank, but no hot water option.
You can only buy pods online - not available in store.
At $1-2 per pod, using more than 1 per day is expensive.
Check Current Price →
more

See it at 1st In Coffee →
See it at Newegg →
See it at Walmart →
Keurig K-Cafe Coffee Maker
Features
The Keurig K-Café Coffee Maker is Keurig's top of the line model. This is their star coffee brewer. And it's easy to see why. At a very reasonable price, you can have delicious, premium coffee at home, all day, any time, with a single push of a button.
The big bonus with this Keurig is that it comes with a very handy frother, which you can use to make creamy good cappuccinos and lattes. With a giant 60-ounce reservoir for water, you are able to brew 6 full cups of coffee before needing to refill. This means less time tinkering and more time drinking coffee.
As a single serve coffee maker, you can brew anywhere from a 2-ounce shot for lattes and cappuccinos to a full 12 ounce coffee. For those who enjoy strong coffee, there is a strong brew setting for coffee with a deeper kick.
Ease of Use
Even though the Keurig comes with a lot of features, it is still easy to use. All you need to operate the frother is some milk and your finger to push the button. It really is that easy. All of your options are plainly labeled on the machine, so there's no confusion while operating. And when it comes to choosing what kind of coffee you want, the massive catalog of available K-Cups means the sky is the limit.
The Keurig even has enough space for you to directly fill a 7-inch travel mug. That means no messing around pouring coffee from your cup into your travel mug, inadvertently spilling all over your nice shoes.
Brew Quality
The brew quality of this machine is exactly what you would expect from a Keurig. You get all the classic flavors you know and love, including the brand name coffees, hot chocolates, and even teas. With the addition of the frother, cappuccinos, lattes, and macchiatos have never been creamier when using a Keurig.
The Keurig K-Café boasts a special strong brew setting, which steps up the brew quality even another notch. This machine is excellent for anyone who loves espressos, rich dark coffees, light blonde coffees, or frothy iced beverages of all kinds.
Finally, thanks to the permanent filter, you can brew your own favorite coffee grinds. This means that the quality of brew is totally up to you every time you use the machine.
Cleaning & Maintenance
Cleaning is simplistic with the Keurig. Components, such as the water reservoir, easily detach from the main unit and can be washed safely in the dishwasher. You don't even need to use your own hands! Simply disassemble, load into the dishwasher, give the machine a brief rub with a cloth, and you are good to go.
Because you are using K-Cups, maintenance is minimal. Just pop in the K-Cup, pop out the K-Cup. The drip tray on the bottom will catch any small spills and can be washed quickly in the dishwasher.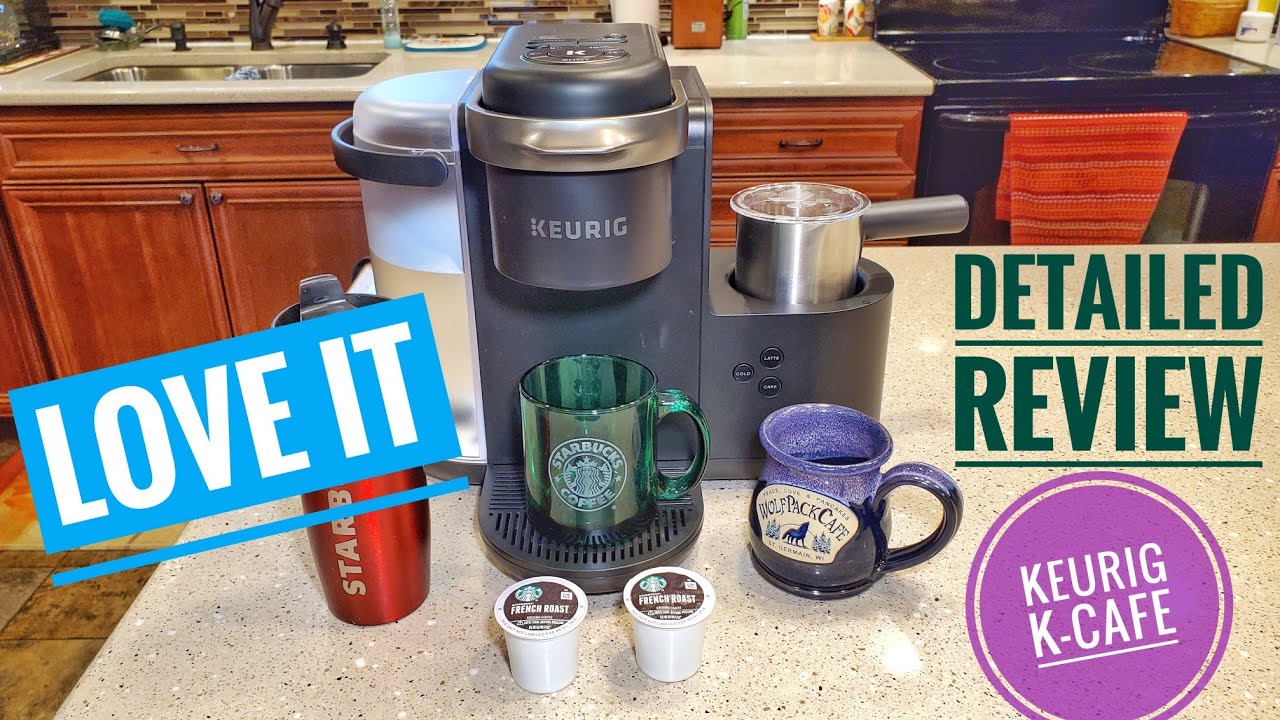 Product Specs:
Pros & Cons:
K-Cup Compatable
Brew Size 2-12oz
Latte, Capp & Coffee
60oz Reservoir
1 Year Warranty
My K-Cup Compatable
Regular / Strong Brew
No Over Ice
No MultiStream
11.7' D x 15.3' W x 12.5' H
Pros:
The carry handle on the reservoir is a great touch.
We found the temperature very hot & consistent.
The K-Cafe frother froths cold + hot milk very well.
Cons:
We found the machine takes a long time to heat up (2 min).
We noticed when extracting the shot, there is no crema.
At times, the frother can get stuck & not spin properly.
Check Current Price →
more

See it at 1st In Coffee →
See it at Newegg →
See it at Walmart →
Keurig K-Cup vs Nespresso Capsule
Cost Per Cup
Cost is a huge dictator when buying anything, especially something you will continue to buy for a long time, like coffee. In the discussion of Nespresso vs Keurig, we have to consider the costs associated with buying coffee. As it turns out, a single K-Cup costs about $0.50. A Nespresso capsule costs about $1.00 (at the time of this article). That is a big difference. Double, to be exact. And in the long run, yes, it adds up.
The thing to remember is the quality. Just read the thousands of reviews online and you will see firsthand testimonials of Nespresso's unyielding quality, their capsules always deliver full flavours.
Another thing to keep in mind is that the Nespresso capsules are recyclable (although you have to deposit them at a special Nespresso site, which is basically impossible if you don't live in a major city) and Keurig's K-Cups need to be physically disassembled to separate organic, plastic, and aluminum, which most people don't do.
Caffeine Content
To get a baseline, a normal cup of coffee from your local coffee shop has about 120 milligrams of caffeine. This is for an 8-ounce cup. So, how much caffeine is in each cup of your Nespresso or Keurig coffee?
Each K-Cup has between 100 and 140 milligrams of caffeine. In comparison, a Vertuo Capsule for Nespresso's machine has about 165 milligrams of caffeine. Yes, it's a stronger coffee. The espresso capsule only has 110 milligrams of caffeine, though it comes in a tiny cup less than 2 ounces.
Keep in mind that when using a Nespresso, different blends will have different caffeine contents, ranging anywhere from 70 milligrams to 180 milligrams. Keurig's are mostly the same.
Our Pick: Nespresso vs Keurig
The decision of who wins Nespresso vs Keurig, at least for us, is simple. The Nespresso is a better coffee machine. It really isn't up for debate. Thousands upon thousands of satisfied customers agree: the Nespresso Vertuo is the best coffee machine they have ever owned.
If you truly love coffee, and the difference between a bland, watery coffee and a rich, aromatic coffee means something to you, then the Nespresso is going to make you happy. Yes, you have to use capsules. And yes, the capsules are more expensive than the K-Cups. But you are trading quantity for quality. To us, the trade is worth it.
FEATURED PRODUCTS
Nespresso Vertuo
5 Brew Sizes / 5 Brew Types
Single Serve Only
Nespresso Pods Only
(L) 19.3″ (W) 11.0″ (H) 15.3″ (W) 9.8lbs
Shop Amazon →
or
Shop Direct
* Details updated less than an hour ago (by Amazon's Advertising API)
Keurig K-Cafe
4 Brew Sizes / 4 Brew Types
Single Serve Only
K-Cup Pods Only
Shop Amazon →
or
Shop Direct
* Details updated less than an hour ago (by Amazon's Advertising API)
Recommended Reading
Starbucks Verismo vs Keurig – Who Performs Best?
Today we're looking at two of the best personal coffee makers you can buy. It's…
Learn More >
COMMENTS
Nespresso Vertuo vs Original
Today we are taking a look at all the best Nespresso machines, including the Vertuo…
Learn More >
COMMENTS
Nespresso Evoluo vs Vertuo
Today we're looking at the entire Nespresso VertuoLine of coffee makers. These are definitely the…
Learn More >
COMMENTS