Nespresso Vertuo vs Original
By Evelyn J Stafford ~ Updated 30 June 2022
As an Amazon Associate I earn from qualifying purchases
Today we are taking a look at all the best Nespresso machines, including the Vertuo Lines and the Original Lines. We're talking espresso, coffee, ease of use, flavor, third party machines, and everything in between. This is a comprehensive look at Nespresso Vertuo vs Original, and we are going to find out which coffee machine is best for you.
Both lines make fabulous coffee, both lines are reasonably priced, and both lines have heaps of useful features. But they use totally different Nespresso pods. The Vertuo Line machines are much newer, they are typically more expensive, and they are more versatile for an espresso machine. To understand which is designed to satisfy you, we really need to tear apart both lines and see the features of each.
Just keep in mind the original machines come from the Original Line, and they use coffee capsules dedicated to making great espresso. They also usually come with a great milk frother to really boost the flavor.
Overview: Nespresso Vertuo vs Original
Here we are going to break down the Nespresso original and the new and improved Vertuoline Nespresso. We will find out what the strengths of each machine are and how each coffee machine can bring joy and tastiness to your kitchen!
In just one touch and 25 seconds, the water reaches the ideal temperature to make up to 9 coffees without having to refill the 0.7 L tank. You can adjust the cup size with two programmable Espresso and Lungo buttons.
The Nespresso Vertuo offers a truly delectable cup of coffee. It works with Nespresso Pods using centrifusion extraction technology to deliver an incomparable flavor profile. It's ready to brew in only 15 seconds. Speedy and delicious!
Original Line
The Nespresso Original Line coffee makers are fantastic for espresso lovers. If you're thirsting for a double espresso and you want to use the classic Nespresso capsules, these are the best models for you. If you love a dedicated espresso, a frothy cappuccino, or a delectable latte, you probably want the Nespresso Original coffee maker.
With the Original, you get more choices when it comes to coffee options, the coffee makers in this line are a lot cheaper, the Nespresso capsules are much more affordable, and you get a true espresso experience that you can't find anywhere else.
The espresso quality is so great because the beans that you're going to use are of a higher quality. Combined with higher temperatures and better extraction, you get a perfectly produced espresso dripping right into your cup. When it comes to making an espresso at home, any enthusiast knows it's all about pressure and heat, and that's what the Original Line delivers.
Vertuo Line
Nespresso Vertuoline coffee makers work in a slightly different way. They can still make all your favorite beverages, just like with any coffee machine. They can do espresso, double espresso, drip coffee, single serve, and much more. But they are more tailored to use Vertuoline capsules for making americanos and filter coffee.
If you're the kind of person who likes big cups of coffee with the rich flavor of a traditional americano, you might want to go with one of the Nespresso Vertuoline coffee makers. Yes, you'll spend a bit more money, but you'll get what you're after. These machines are quite a bit more expensive, and the Vertuoline capsules are only available right now through Nespresso.
The other big difference is that if you don't want to deal with an annoying milk frother, anything from the Nespresso Vertuoline is better. They are designed to use cold milk rather than make you fuss with an automatic milk frother. Like we already said, this is the machine you want for a café-quality tall coffee. The temperatures are lower, allowing you to drink your espresso or coffee immediately, and you will typically use a thicker cream.
Also see: Kirkland K-Cups Review
Machine Differences: Nespresso Vertuo vs Original
There are a few serious differences between the Nespresso Vertuoline and the Nespresso Original Line. But don't forget they are all still awesome coffee makers, and they are all Nespresso machines. They use different coffee capsules, they use a different extraction method, they use a different system for frothing, and they use different temperatures.
But there is also the price to consider. Original machines are quite a bit more affordable, and the original capsules are also cheaper. Nespresso pods can add up after a while when you're using the Vertuoline capsules. However, we should note that while Original Nespresso machines are cheaper overall, there are some outrageously expensive models – while the Nespresso Vertuo Line doesn't really offer any mega luxury models.
The pros of using a Nespresso Original include having more choice and cheaper available options, more brands of coffee and more flavors, and compostable third-party capsules. However, you can't get a very tall drink when using an Original espresso maker.
The pros of using a Nespresso Vertuo Line include longer coffees, bigger espressos, a unique barcode system, temperature adjustments, and settings for brewing time. However, you have to suffer higher prices and Nespresso branded capsules – no third-party vendors!
Extraction methods
When talking extraction methods, the original Nespresso machines use a patented extraction system to deliver incredible pressure. This results in a perfectly smooth and delicious espresso in just a few seconds. It uses the typical system that you would find in any professional espresso maker, even in most famous cafés.
On the other hand, the Vertuo machines use a style of extraction known as centrifusion technology. This is wildly different brewing technology than what's used in almost any other espresso machine. The centrifusion works to spin the Nespresso Vertuoline capsules at incredibly high speeds to create a very thick crema that goes on top of your coffee. A typical espresso will have a few millimeters of golden crema on top, but the Vertuo gives you an extremely thick centimeter of foam.
At the end of the day, neither method is really better than the other. It just depends on your personal preference.
Temperature and Crema
The temperature you get with the Nespresso Vertuo is not really comparable to that of the Original. The Original brewers are designed specifically for making espresso, and so they deliver super hot water to make your espresso, just like in a café. The crema is also much thinner, which most people prefer.
The temperature with the Nespresso Vertuo can be a bit tepid. This has a lot to do with what we mentioned previously about the crema. With such a thick layering of crema over your coffee, the temperature can leave something to be desired when using a Vertuo Line machine. It doesn't help that the Vertuo machines use cold milk for frothing.
Bar Code System
One of the only benefits the Nespresso Vertuo has over the Original Line is its complex barcode system. Each capsule comes with a special bar code, and when you place the capsule into the machine it gets registered so that your coffee is brewed to be the perfect size, temperature, and strength.
There are around 23 varieties of flavors, along with some special editions, and each of them uses the barcode system. This means that no matter what mug you place under the spout, the machine will always know how much to fill it and what the strength is supposed to be. The only bummer is that you can't use any third-party options because they obviously won't be imprinted with the proper bar codes.
Of course, the Original Line do not utilize the barcode system.
Frothing
Frothing is another aspect where the Original Line really works better than the competition. First, because the Original machines actually come with an automatic frother integrated into the system. Some can even be purchased with or without the special Aeroccino frothing accessory. This allows you to make a specially tailored coffee exactly how you want it.
But this is not an option that comes with the Vertuo machines. They don't come with frothers, and they are actually designed to use cold milk. There is even a special drink known as the 'Reverso Coffee,' designed by Nespresso to be brewed by their Vertuo machines. The Reverso involves putting milk in your Cup first and then allowing your coffee or espresso to brew over it. And while this might sound OK, it's really not that great. It leaves your coffee extremely cold.
Top Original Line Selections
Nespresso Inissia Original
This is one of the premium espresso machines that you can buy right now. It comes in at a modest price, it's barista grade, it's super fast, and it's versatile. This machine offers impeccable coffee beverages of the single-serve variety. You can make an espresso that will make your mouth water in just a few seconds, all thanks to the awesome automatic operation and patented extraction method that delivers an incredible 19 bars of pressure to make you a legitimate espresso.
This is arguably the perfect coffee machine for any espresso enthusiast. Its design is great, it looks amazing in your kitchen, and it works very quickly. With a single touch, you get perfect temperature in about 25 seconds It can even make nine single-serve brews without needing to refill the giant 24-oz water tank.
For an automatic coffee maker, it simply doesn't get better than this. It's even a smart machine that allows you to adjust your beverage size with two of the programmable buttons. The folding drip tray allows you to make a normal espresso or a double espresso. The entire machine is easy to clean, it's energy efficient, and you can even make your favorite iced beverages by simply brewing over ice. There is no better way to spend a cold winter evening or a hot summer afternoon. This machine really does it all.
Features
Some of the main features include the compact design, the ergonomic handle, and the machine's ability to fit very nicely with any interior design. You won't even notice this great little machine sitting on your kitchen counter.
Then we have the high-pressure pump, the energy saving mode that will automatically switch the machine off after 9 minutes of inactivity. You can fit extra-large cups thanks to the foldable drip tray. You get full machine assistance from Nespresso, and you get all their famous capsules, including the 16 unique capsules that come with every machine to give you a jump on the flavors.
Product Specs:
Pros & Cons:
5oz Coffee Cup
Third-Party Pods
25sec Heat Up Time
24oz Reservoir
1 Year Warranty
1 Espresso Shot
Pressure Extraction
9min Auto Off
Reservoir Removable
4.7' D x 12.6' W x 9.1' H
Pros:
We found the Nespresso Inissia very easy to use and clean.
We found the temperature perfect and coffee flavorful.
One of the smallest tested, the Inissia is a real space saver.
Cons:
The Inissia Original only produces a single shot of espresso.
We found the Inissia original a little loud when it brews.
If you use more than one pod per day, it can get expensive.
Check Current Price →
Nespresso CitiZ Original
Here we have another fantastic Nespresso original. This baby is significantly more expensive than the last model, but it comes with some significant upgrades. First of all, you can get the machine in either black or white, and you can get it so that it comes included with the unique Aeroccino attachment for making the perfect froth with all your Nespresso espressos.
As with other machines from the Nespresso Original Line, this puppy performs like a beast. It has a 19-bar pump system that gives you barista-quality coffee in a single serving every single time you push the button. Your espresso is going to be perfectly extracted to give you that delicate flavor you love so
much, and it's all thanks to the wide selection of Nespresso original coffee capsules.
This machine is going to save you time in the morning. It uses a very simplistic interface, allowing you to make your coffee in just seconds by pushing a single button. Once the button is pushed, the system will heat the water to the perfect temperature in a mere 25 seconds. And don't even worry about turning it off. The automatic energy saving mode will switch the machine off before it hits 10 minutes of inactivity. However, you can extend this to 30 minutes.
Where versatility is involved, you get 2 cup sizes. You can either have an espresso, which is 1.35 ounces, or you can make yourself a tall drink that is 5 ounces. It's not an extra-large gas station coffee, but you will be pleasantly surprised by the flavor. For your single-serve coffee needs, this is the machine of a lifetime.
It also comes with a larger water tank than before, allowing you to make roughly a dozen espressos before you need to refill the tank.
Features
The main features of this system include the high-pressure pump, the heat control, the quick heating system, the two automatic buttons for different cup sizes, backlit lights so that you can make coffee in complete darkness, and full access to all the Nespresso capsules. You even get a welcome set of 14 different Nespresso capsules so that you can find your favorite without needing to purchase a whole bunch of different packages.
The water tank is removable, the design is compact, and by choosing one of the two colors you will guarantee the espresso machine fits beautifully in your kitchen.
We like
Premium yet Affordable
High Pressure (19 Bar)
Two Coffee Sizes
Compact Design
Two Color Choices
We don't like
Fewer Welcome Capsules
More Expensive w/o Major Improvements
Recycling Program Not Great
See It In Action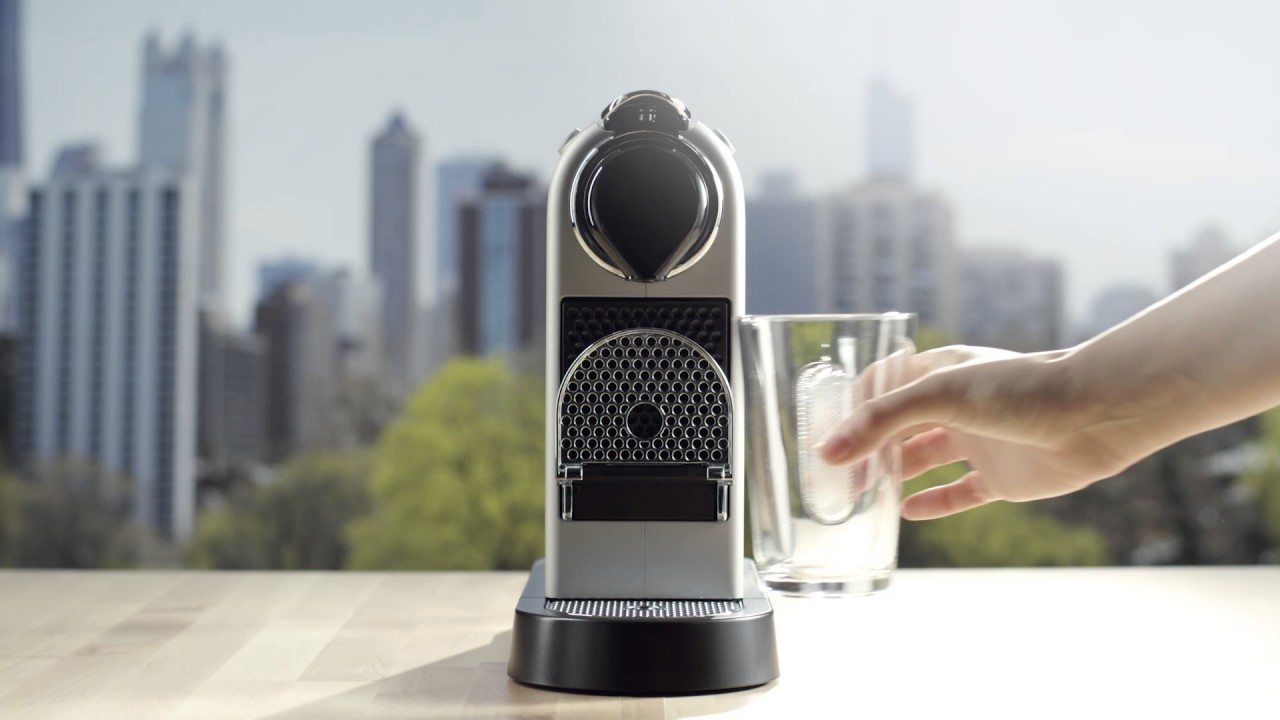 Top Vertuo Line Selections
Nespresso Venturo Plus with Aeroccino
Welcome to the best coffee machine in the Vertuo Line from Nespresso. This monster of a machine includes the ultimate Aeroccino attachment for all your frothing needs. This machine represents a huge advancement in espresso creation.
First, the machine is a one-touch system. You make the best freshly brewed coffee with just one button. And not only can you make espressos, but this machine allows you to make a full brewed coffee just like you would get out of a standard coffee maker.
Not only can you make a single-serve beverage, but you can make 5 different sizes. It all depends on what you want to drink. Everything from a small espresso to a slightly larger double espresso, then to a giant 14-oz coffee mug. This machine does it all.
But where the Vertuo really advances is with its technology. It uses a special extraction technology developed specifically by Nespresso for this line of coffee makers. This technology is known as centrifusion, and it works by spinning the Nespresso capsule at up to 7,000 rotations per minute. This blends the ground coffee with hot water to produce the ideal crema, giving you a thick layer of foam over your coffee that is going to make you drool.
Features
There are almost too many features to list here. This is a one-touch brewing system, it has a removable water tank, it automatically ejects and stores capsules for easy use, and the machine opens and closes automatically. This is the coffee machine of the future!
It has even been optimized to take up the least amount of countertop space while still having an extremely large 40-oz water tank. Plus, you can adjust the water tank to make the machine fit nicer on your counter.
Other features include five brew sizes, the 8-oz Aeroccino milk frother, ultimate coffee quality, and a barcode system so that you always brew exactly the right coffee for the occasion.
Product Specs:
Pros & Cons:
5-8oz Coffee Cup
Nespresso Pods Only
25sec Heat Up Time
40oz Reservoir
1 Year Warranty
1-2 Espresso Shots
Centrifusion Extraction
9min Auto Off
Reservoir Removable
16.2' D x 5.6' W x 12.8' H
Pros:
We found the VertuoPlus brews fast, flavourful coffee.
We found that the VertuoPlus produces amazing crema.
The VertuoPlus comes with a handy milk frother.
Cons:
The VertuoPlus has a big tank, but no hot water option.
You can only buy pods online - not available in store.
At $1-2 per pod, using more than 1 per day is expensive.
Check Current Price →
Nespresso Vertuo Coffee & Espresso Machine
This is another great Nespresso on the Vertuo Line. It can be included with the Aeroccino attachment and a bundle of coffee so that you can find the perfect flavor for you. It also comes in a variety of colors, including black, graphite metal, and red.
This is similar to the last machine we talked about, only a little more improved. It has a larger water tank that can fit 54 ounces and a used capsule container that can fit 17 used Nespresso capsules. And unlike the last machine, this one heats up quick. It can heat in around 15 seconds, meaning you won't have to wait long for your favorite coffee or espresso.
This machine comes included with an energy saving mode, it makes delicious single-serve beverages in a variety of sizes, from a small standard espresso to a large 14-oz morning coffee. It uses the same centrifusion technology as the previous machine, which means you're going to get a generous dose of crema overtop your coffee for an extra burst of flavor.
If you have been looking for a professional barista espresso maker that works quickly, doesn't require a lot of maintenance, and works with a single touch, this is going to be right up your alley.
Features
Some of the features include the removable water tank, the automatic capsule ejection, the retro design, and the barcode system that automatically brews the proper coffee size by using a pre-determined temperature, pressure, and brewing time. You can choose from different colors, it comes included with a welcome set of 12 various Nespresso pods, and the water heats up in only 15 seconds.
Product Specs:
Pros & Cons:
5-8oz Coffee Cup
Nespresso Pods Only
15sec Heat Up Time
40oz Reservoir
1 Year Warranty
1-2 Espresso Shots
Centrifusion Extraction
9min Auto Off
Reservoir Removable
11.9' D x 11.9' W x 8.3' H
Pros:
We found the Vertuo makes a hot, flavourful rich coffee.
We found the machine is ready to brew in 15 sec.
You have waste storage for 10 used capsules.
Cons:
At this price, it would have been nice to have a milk frother.
You can only buy pods online - not avaliable in store.
At $1-2 per pod, using more than 1 per day is expensive.
Check Current Price →
Pod Differences: Vertuo vs Original
Vertuo Line
When it comes to Nespresso Vertuoline vs Original Line coffee capsules, there is a pretty significant difference. It costs around $0.90 to $1.25 (at the time of this article) for a Nespresso pod Vertuoline. And you can't trade these with the ones from the original models.
In general, Nespresso pods are awesome – but the Nespresso pods for Vertuoline are limited. You can't use third-party options. They are also pretty pricy. That said, they are designed to give you a more intense flavor in a larger serving, so that's okay.
Original Line
The original definitely has the advantage when it comes to pods. The flavor is more intense and there are way more to choose from. But they all are made to satisfy only two brew sizes, either an espresso that is 1.35 ounces or a 5-oz long espresso.
That said, you can use all the third-party options and there are no limitations when it comes to beverages and brands. They are also much cheaper than the Vertuo Line pods. The Original pods only cost between $0.75 and $0.85 (at the time of this article).
Our Pick: Vertuo vs Original
Let's make the end short and sweet. When it comes to Nespresso Vertuo vs Nespresso Original, the original units are simply better. They make a more flavorful drink, they have more accessible pods, they are more affordable, and they are really the masters of the espresso.
Vertuo machines are still awesome. If you're an americano kind of person, you definitely want the Vertuo – they can make larger beverages. But if you're looking for the best espresso to make at home, the original series of machines are the way to go.
FEATURED PRODUCTS
Nespresso Inissia Original
2 Cup Sizes / 24oz Reservoir
One-touch Brew / Removable Reservoir
11 Used Capsule Capacity
(L) 4.7″ (W) 12.6″ (H) 9.1″ (W) 5.3lbs
Shop Amazon →
or
Shop Direct
* Details updated less than an hour ago (by Amazon's Advertising API)
Nespresso Citiz Original
5 Cup Sizes / 34oz Reservoir
One-touch Brew / Removable Reservoir
11 Used Capsule Capacity
(L) 15.9″ (W) 7.4″ (H) 13.0″ (W) 7.5lbs
Shop Amazon →
or
Shop Direct
* Details updated less than an hour ago (by Amazon's Advertising API)
Nespresso VertuoPlus
5 Cup Sizes / 60oz Reservoir
One-touch Brew / Removable Reservoir
10 Used Capsule Capacity
(L) 5.6″ (W) 16.2″ (H) 12.8″ (W) 9.7lbs
* Details updated less than an hour ago (by Amazon's Advertising API)
Nespresso Vertuo
5 Cup Sizes / 40oz Reservoir
One-touch Brew / Removable Reservoir
10 Used Capsule Capacity
(L) 11.9″ (W) 11.9″ (H) 8.3″ (W) 13.9lbs
Shop Amazon →
or
Shop Direct
* Details updated less than an hour ago (by Amazon's Advertising API)
Recommended Reading
Hamilton Beach Flexbrew vs Keurig Duo
If you are having a tough time deciding between the Keurig K Duo Single Serve…
Learn More >
COMMENTS
Keurig vs Ninja – The Latest Side by Side
Keurig vs Ninja – the battle between these two coffee Giants and their premium coffee…
Learn More >
COMMENTS
Nespresso Vertuo vs Original
Today we are taking a look at all the best Nespresso machines, including the Vertuo…
Learn More >
COMMENTS