Keurig vs Ninja – The Latest Side by Side
By Evelyn J Stafford ~ Updated 31 August 2022
As an Amazon Associate I earn from qualifying purchases
Keurig vs Ninja – the battle between these two coffee Giants and their premium coffee makers is nothing new. Keurig and Ninja both produce the world's most popular home coffee machines, turning millions of people into their own personal baristas. Today we see who's best.
From Keurig we have the K-Café, which is one of their higher end coffee makers. From Ninja we have the Specialty Coffee Maker, Keurig's direct competition. Both of these machines are going to make delicious and full-flavored lattes, coffees, and even cappuccinos. Both are more expensive than the slim, single-serving models. That said, both are worth the price. But what should you buy, Keurig or Ninja?
Don't Feel Like Reading? Our quick answer – go with the Ninja. Around the same price bracket, the Ninja offers more useful features and can brew up to a full Carafe.
Overview of Keurig vs Ninja
Trying to establish which is better, the Keurig or the Ninja, is like trying to figure out who has the best burgers in town. All the options are great, but one of them is definitely superior. The Keurig and Ninja both make coffee, they both have frothers, and they both produce mouth-watering coffee. But the Ninja does it better.
The Ninja features classic, rich, over ice and specialty brew types with 6 different brew sizes. Fill the water tank less often with the removable 40 oz reservoir. This Ninja has a little something for everyone!
For the diehard Starbucks lover who needs a full café at home – we give you the Keurig K-Cafe. You can brew cappuccinos or lattés, plus froth warm or cold milk for a variety of perfectly creamy beverages.
How does the Ninja do it better? Well, a few things. First, the Ninja lets you make a full pot of coffee. No messing around with any single serving bologna, especially on tough mornings when you want to have a cup of coffee, another cup of coffee, and then fill your travel mug and go to work.
And another thing. The Ninja has a clock. This may seem like a silly feature, but many of us grew up getting our time from the coffee maker in the kitchen. It just feels natural. Besides, with the Ninja you can pre-program your coffee to be ready in the morning. That, at least to us, is worth all the money in the world!
As a final note, in a society where being environmentally friendly is becoming more and more critical, less is more. Not having to use pods to get the coffee with your Ninja Specialty is a huge deal. We thank Ninja for this.
Keurig K-Café
1. Features
Just like any other coffee maker from Keurig, the K-Café allows you to use any K-Cup pod available online or at your local supermarket. And while this gives you seemingly infinite possibilities – coffee, tea, hot chocolate – this particular Keurig is especially great at making milky drinks, like a full-flavored cappuccino.
This is thanks to the Keurig's advanced frothing capabilities. All you need is a Keurig K-Cup pod and some fresh milk to create the creamiest latte ever, and in your own home. The frother is not only safe to use in the dishwasher, but it even features a setting to be used with cold milk.
Like Ninja and Nespresso, Keurig is tall enough for you to effortlessly fill up a travel mug.
You can also brew ground coffee by using the special Keurig universal coffee filter, which is sold separately. The button controls are easy to use. The water reservoir is an impressive 60 ounces, which lets you brew 6 full cups of Joe before you need a refill of water. The reservoir is also removable for easy cleaning.
Unlike other Keurig models, the coffee maker heats the water and then brews the coffee in one quick process. No more waiting for the water to heat, wasting time in the morning.
2. Ease of Use
Keurig is notorious for having very simplistic coffee machines. The Keurig K-Café is no different. There are three simple buttons on the side, plus a few more buttons on the top, with a very easy-to-read circular selector to choose between single shot, or between 6 and 12 ounces.
For frothing, it is as easy as putting milk in the frother, either fresh cow's milk, skim milk, soy milk, or almond milk, and then pushing a single button on the Keurig machine. Seconds later and you have tantalizing frothed milk to add to any beverage.
3. Brew Quality
The brew quality of the Keurig K-Café is excellent for any coffee drinker to enjoy an early steaming mug of java. Because this model of Keurig uses the normal K-Cups, you get the same level of superior taste that Keurig is known for the world over.
The brew quality is enhanced by the frother because it replicates barista-style lattes and cappuccinos. Also, there is now the "shot" mode. You can make a 2-ounce coffee shot that mimics the aroma and strength of a classical espresso.
4. Cleaning & Maintenance
Cleaning is exceptionally easy with the Keurig K-Café. The smart design allows components to come off and be cleaned by hand, while the frother can be cleaned inside your dishwasher.
There is almost no maintenance because you will always use the simple K-Cups. If you use ground coffee, all you need to do is clean the Keurig universal filter. You will never need to buy paper filters.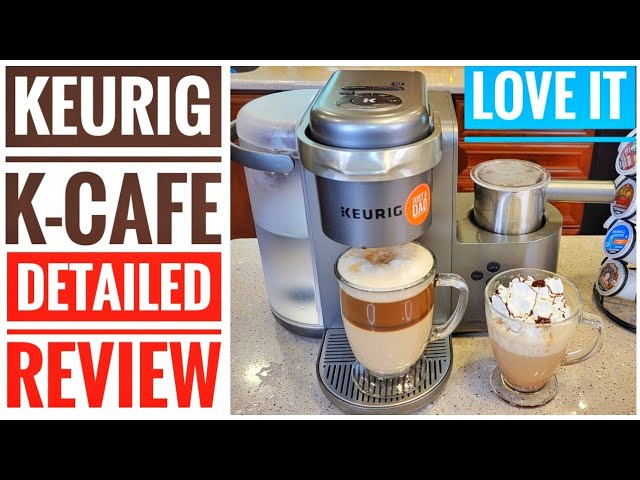 Product Specs:
Pros & Cons:
K-Cup Compatable
Brew Size 2-12oz
Latte, Capp & Coffee
60oz Reservoir
1 Year Warranty
My K-Cup Compatable
Regular / Strong Brew
No Over Ice
No MultiStream
11.7' D x 15.3' W x 12.5' H
Pros:
The carry handle on the reservoir is a great touch.
We found the temperature very hot & consistent.
The K-Cafe frother froths cold + hot milk very well.
Cons:
We found the machine takes a long time to heat up (2 min).
We noticed when extracting the shot, there is no crema.
At times, the frother can get stuck & not spin properly.
Check Current Price →
Ninja Specialty Fold-Away Frother
1. Features
Ninja is always striving to make the best coffee maker money can buy, and their new fold-away frother coffee maker is the epitome of this. You get 6 useful brew sizes, ranging from a single espresso to an entire travel mug, all the way to an entire carafe full of rich coffee. Ninja thought of everything.
The Ninja Specialty does exactly what the name suggests; it lets you make specialty coffees, anything from a macchiato to a cappuccino. The high-quality frother adds to the flavor and creamy taste of these specialty beverages. The frother can handle hot milk or cold milk and can even be folded out of the way.
The best thing about the Ninja Specialty is its dedication to being environmentally friendly. This means the filter is permanent and there is no need for pods. Ninja allows you to use your own favorite coffee grounds rather than polluting the Earth by filling your garbage with pods. It also comes with a glass carafe that can hold 50 ounces.
The Ninja, unlike the Keurig, has a programmable brew. This means your coffee is ready and waiting when you crawl out of bed in the morning (or afternoon).
2. Ease of Use
The Ninja is one of the easiest coffee makers you can use. It has a series of buttons accompanied by pictures on the front, making selection very easy. The big parts fold away so that you don't have to deal with them. Plus, it has a clock. You can program your coffee to brew at any time.
3. Brew Quality
One thing people are always raving about is the surprising quality of coffee they get when using the Ninja Specialty. Many people prefer to use the Ninja than to buy their coffee from a coffee shop. The taste is that good. You get rich coffee in dark or light roast and refreshing ice beverages with soft foam.
Additionally, the Ninja Specialty Coffee Maker can emulate the exact consistency of cream used in most cafés using the folding frother. They can even emulate the espresso flavor for hardcore coffee drinkers. These features are similar to the Keurig K-Café.
4. Cleaning and Maintenance
Cleaning has never been easier than with the Ninja Specialty. This is because so many parts fold away. The frother is easy to unfold and clean, then put back into place. The water reservoir is removable for easy washing, and the glass carafe is much nicer to maintain than the metal coffee pots of the past.
You will have a hard time finding any scathing reviews about the Ninja Specialty or its maintenance. It's simply a good system and that's that. You don't need to use paper filters, you don't have to mess around with coffee pods, and because of its smart design there is minimal maintenance required.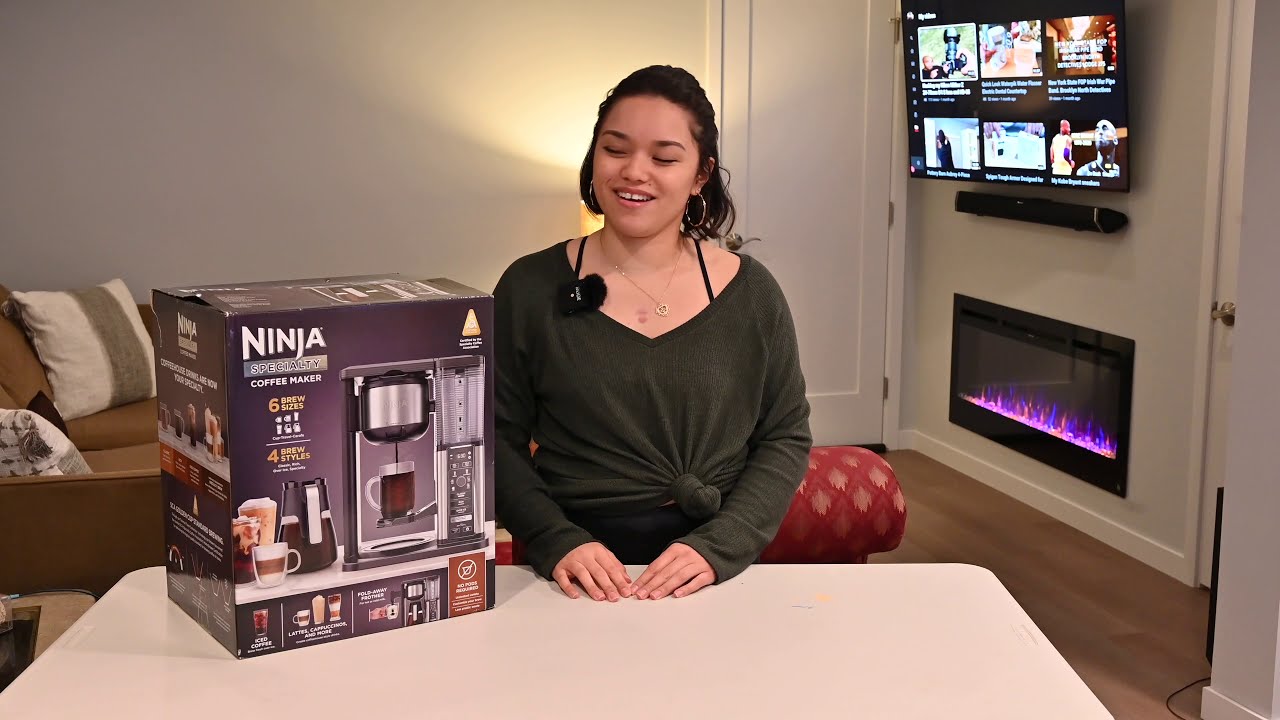 Product Specs:
Pros & Cons:
Ground Coffee
6 x Brew Sizes
No Travel Mug
40 oz Reservoir
1 Year Warranty
No Coffee Pods
Classic, Rich, Iced, Specialty
Reusable Filter
Removable Reservoir
12' D x 8.8' W x 15' H
Pros:
You can expect a grate cup of coffee using average market beans.
The delayed brew feature allows you to wake up to hot coffee.
The Ninja has an attractive design and is easy to use and clean.
Cons:
The Ninja struggles to extract the fully body richness of top-quality beans.
The Stainless-Steel Carafe model's base has no heating element.
The unique design of the carafe makes it difficult to clean.
Check Current Price →
Our Coffee Maker Conclusion
In our opinion, the Ninja wins this battle every single day of the week. Keurig vs Ninja is a no brainer. The craziest thing to us is the price. The Ninja costs significantly less than the Keurig even though it comes with more features.
The Ninja allows you to wake up with your coffee already brewed, to have your coffee in a full pot, and to make delicious iced specialty beverages with a hideaway frother. The Ninja is smarter for the environment, it's easier to clean, and it has fewer customer complaints of short circuiting their breaker. For us, we love the Ninja Specialty Coffee Maker.
FEATURED PRODUCTS
Ninja Specialty Fold-Away Frother
6 Brew Sizes / 4 Brew Types
Single Serve or Carafe
No Pods Required
(L) 12.0″ (W) 8.8″ (H) 15.0″ (W) 9.2lbs
Shop Amazon →
or
Shop Direct
* Details updated less than an hour ago (by Amazon's Advertising API)
Keurig K-Cafe
4 Brew Sizes / 4 Brew Types
Single Serve Only
K-Cup Pods Only
Shop Amazon →
or
Shop Direct
* Details updated less than an hour ago (by Amazon's Advertising API)
Recommended Reading
Nespresso Vertuo vs Original
Today we are taking a look at all the best Nespresso machines, including the Vertuo…
Learn More >
COMMENTS
Hamilton Beach Flexbrew vs Keurig Duo
If you are having a tough time deciding between the Keurig K Duo Single Serve…
Learn More >
COMMENTS
Keurig vs Ninja – The Latest Side by Side
Keurig vs Ninja – the battle between these two coffee Giants and their premium coffee…
Learn More >
COMMENTS