10 Best Single Serve Coffee Maker Without Pods
By Evelyn J Stafford ~ Updated 8 August 2022
As an Amazon Associate I earn from qualifying purchases
If you are living by yourself, using a single-serve coffee maker without pods is inarguably a cheaper and much wiser option. A single serve machine can easily facilitate making a cup of coffee for one person without supervision. If you are looking for the best single serve coffee maker without pods, we have put together a list of this years best options.
If you are pressed for space and need a coffee machine + easy access method, we have you covered in our guide to the best under cabinet coffee makers.
How We Review Single Serve Coffee Maker Without Pods
We start our search by compiling a list of products that meet your criteria – single serve coffee makers without pods in this case. We single out the very best performers of the category by overall performance and value; then rank them in order.
We then search every corner of the internet for relevant facts and customer feedback for the products that made the cut. We then compile the data and form your detailed review.
In each review, you will find:
We score our top-rated products out of 10 in terms of their features, ease of use, durability, brew quality and overall value for money so you get a good idea of what to expect at a glance.
Where possible, we provide a video to get you a hands on demonstration.
We provide the important product statistics in one handy place.
We form a list of pros and cons for you to consider from reading customer feedback. We pick out the most common threads and list them as pros and cons so you can see what works and doesn't with each product.
OUR TOP 3 SELECTIONS FOR 2022
The Scoop features a decent 14 oz water reservoir that brews a regular or bold tasting coffee directly into a travel mug or regular cup, designed for people on the go. The machine only takes pre ground coffee.
The Ninja features classic, rich, over ice and specialty brew types with 6 different brew sizes. Fill the water tank less often with the removable 40 oz reservoir. This Ninja has a little something for everyone!
Accepting both pre ground coffee and coffee pods, Black & Decekr's one touch single serve coffee maker features a 16 oz fixed water reservoir. A testament to quality, B&D offer a 2-year limited warranty.
Not every coffee maker can deliver what it promises. That is why it becomes necessary to scrutinize every feature and ensure that you select only the best coffee maker in the market. That is where we can help. We have studied and compiled a list of the 10 best machines according to their features, size, capacity, taste, and other attributes.
We found the clear standout among all the machines is the Hamilton Beach Scoop Coffee maker. It can brew faster, hotter, and much tastier coffee, making it an instantaneous pick for coffee lovers. With a fast-brewing speed of just 90 seconds for an 8-ounce cup, the machine produces a super smooth coffee with absolute versatility.
Another brilliant machine that captured our attention is the Ninja Specialty Coffee maker. It not only comes with a stunning and exquisite exterior, but the production of lush coffee is sure to melt your tongue. You can save hundreds of dollars every year without the need for pods, and thanks to its multiple brew sizes and types, you can easily make barista-style quality coffee every day at home.
Our tests show these top performers to be the best. However, there are other brilliant machines that may be more suited to your needs including Black & Decker's smaller single serve. Let's take a detailed look at the 10 best single serve coffee makers without pods.
Our Ratings & Detailed Reviews
In this section, our team of testers go into further detail, demonstrating why they'd be a good fit for your life style.
1. Hamilton Beach Scoop Single Serve Coffee Maker
features
7
ease of use
8.5
durability
8
brew quality
8
value for money
9
The one solution for all your needs of a quick and automatic drip single-serve coffeemaker is the Hamilton Beach Scoop. All you need to do is scoop your coffee, position it into the machine and wait for it to brew. It brews 8 oz. cup in around 90 seconds and 14 oz. in 2.5 minutes. A stainless-steel scoop can act as a doser and filter basket, and the adjustable stand can handle both regular-sized cups and taller travel mugs.
While it offers universal options, the coffee maker also does not employ any extra equipment or sophisticated buttons so is manageable even for amateurs. You can have any coffee you enjoy with any coffee-to-water ratio and at the grind that you want. An incorporated "Bold" setting enables you to have premium ground coffee like the ones in Starbucks and Dunkin Donuts. If you are in the mood for a much simpler coffee, a "Regular" setting for automatic drip exists.
The stainless-steel material is highly durable, and the cleaning is very effective with its simple assembly. It also comes with a wide drip tray at the bottom that keeps your surroundings clean with its spill-resistant drain in case of excess coffee. Lastly, a computerized feature turns off your machine after brewing. For a brewer without pods, the single-serve brewer delivering coffee in just two minutes is remarkable.
Highlights:
Brews 8 oz. and 14 oz. coffee quickly when compared to others
Easy to use and clean
Adjustable tray with a spill-resistant feature
Steel mesh scoop that doubles as a filter
Multiple settings for different coffee strengths
Durable stainless steel
Automatic shut-down feature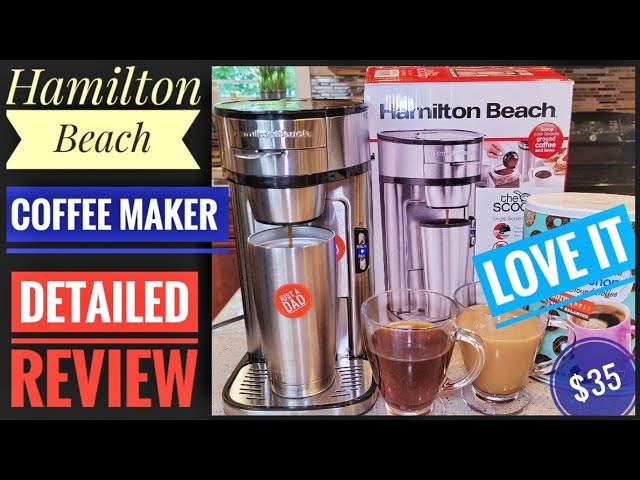 Product Specs:
Pros & Cons:
Ground Coffee
2 x Brew Sizes
Fits a Travel Mug
14 oz Reservoir
1 Year Warranty
No Coffee Pods
Bold / Regular
Reusable Filter
Fixed Reservoir
8.4' D x 6.7' W x 8.7' H
Pros:
The Hamilton Beach Scoop is very quiet when brewing coffee.
Basket, filter, and drip tray are removable and easy to clean.
The coffee maker takes up as much room as a 2-liter soda bottle.
Cons:
Temperature will reach 186 degrees - not 195 – 205 degrees.
More options for height adjustment would have been better.
Some sediment will find its way to the bottom of your cup.
Check Current Price →
2. Ninja Specialty 10-Cup Coffee Maker
features
9
ease of use
7
durability
8
brew quality
9
value for money
7
While the Ninja is not particularly cheap, the satisfaction and service it provides for years make it worth it. It can be the perfect investment in the long run as it saves your everyday expenditure on barista-quality drinks.
The Ninja Specialty coffee maker has a classy finish to it and does not take much space in your kitchen. The body comes in stainless steel, with a plastic cover in some areas, giving it a transparent look. This multifunctional coffee maker provides you with many options like hot or iced lattes, macchiatos, cappuccinos, and your other favorites. You can brew six different sizes, from a single cup to a full carafe, with unlimited variety according to your desires. It proves its significance with a plethora of brewing modes: plain, specialty, rich, iced, and cafe forte. The addition of a "Delay Brew" option allows you to brew your coffee at a specific time.
The Ninja includes a 50 oz. glass carafe with a plastic handle and brew-through lid. There is also a gold-tone permanent filter, ergonomic scoop, detachable water reservoir, fold-away frother that transforms milk into a silky froth, and a guide including a recipe manual. Some of the notable features include temperature, a pre-wetting cycle to moisten the coffee grounds, and a "Drip Stop" button that switches your coffee maker off after two hours of inactivity.
Highlights:
Built-in fold away frother
Can brew coffee in any amount
An abundance of brewing sizes and types
Simple to use controls
Pod-free and permanent filter
Removable water container for effortless cleaning
Fits with most kitchen decors
Recipe manual to try out new delicious flavors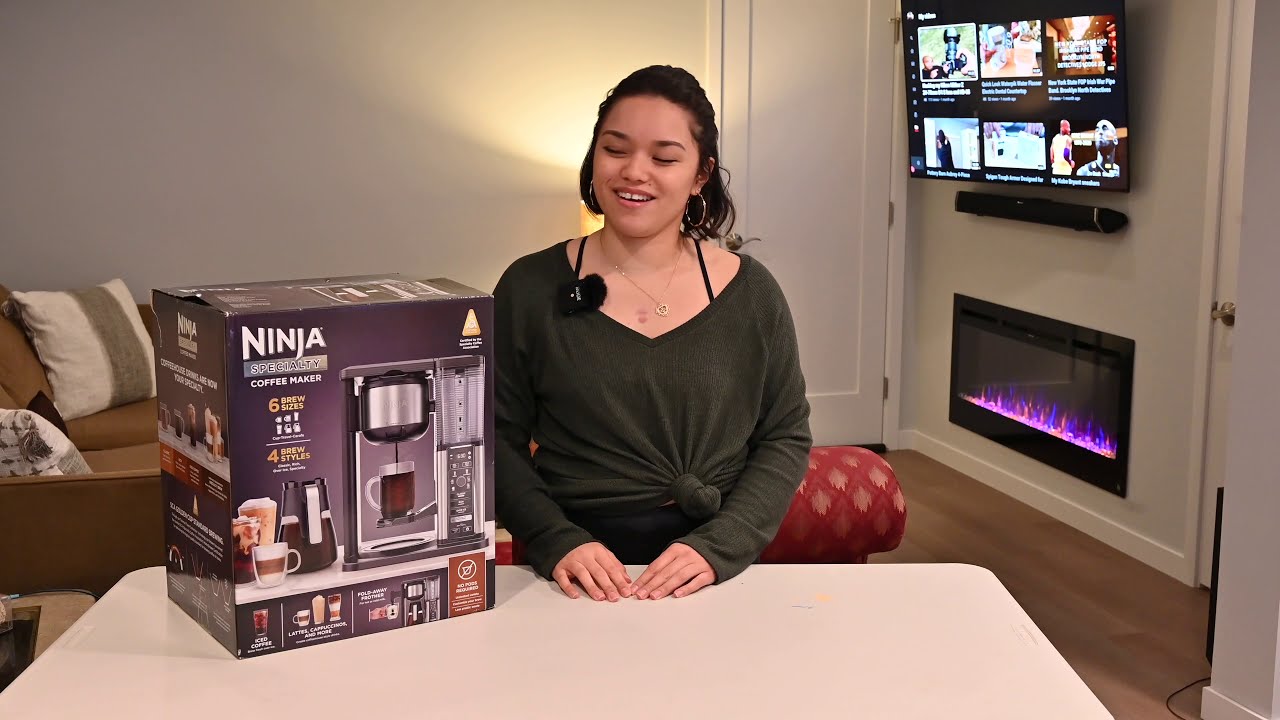 Product Specs:
Pros & Cons:
Ground Coffee
6 x Brew Sizes
Fits a Travel Mug
40 oz Reservoir
1 Year Warranty
No Coffee Pods
Classic, Rich, Iced, Specialty
Reusable Filter
Removable Reservoir
12' D x 8.8' W x 15' H
Pros:
You can expect a grate cup of coffee using average market beans.
The delayed brew feature allows you to wake up to hot coffee.
The Ninja has an attractive design and is easy to use and clean.
Cons:
The Ninja struggles to extract the fully body richness of top-quality beans.
The Stainless-Steel Carafe model's base has no heating element.
The unique design of the carafe makes it difficult to clean.
Check Current Price →
3. BLACK & DECKER Single Serve Coffee Maker
features
6.5
ease of use
8.5
durability
6.5
brew quality
7
value for money
8
A famous brand well known throughout the home appliances industry, Black & Decker have proved it once again with this nifty little coffee maker. They have come up with a sleek design that fits any compact space while incorporating numerous auxiliary features. It comes with a 16oz thermal travel mug and will easily fit in all car cup holders. It's a perfect way to start your day.
The machine comes with a removable permanent filter for the coffee grounds, and you need not worry about replacing it like the paper filters. While you can use paper filters regardless, the metal filter works efficiently with all grounds.
This coffee maker uses a one-touch operation, convenient for people with a busy lifestyle. You will get your favorite drink in the mug directly if you have your coffee grounds ready and pre-programmed. The automatic shut-down feature ensures that it conserves power if you forget it in a rush. Needless to say, an inbuilt optimal brewing temperature setting ensures that the water is heated at the correct temperature, resulting in the perfect flavor. With its compact size, all of these features come in a lightweight body and is easy to stash away when not in use.
Highlights:
Dishwasher safe parts
Auto turn off feature
Easy maintenance
Compact and portable
Ecofriendly with no paper filters
Easy programmability and controls
Comes with a travel mug
Optimal brewing temperature for superior taste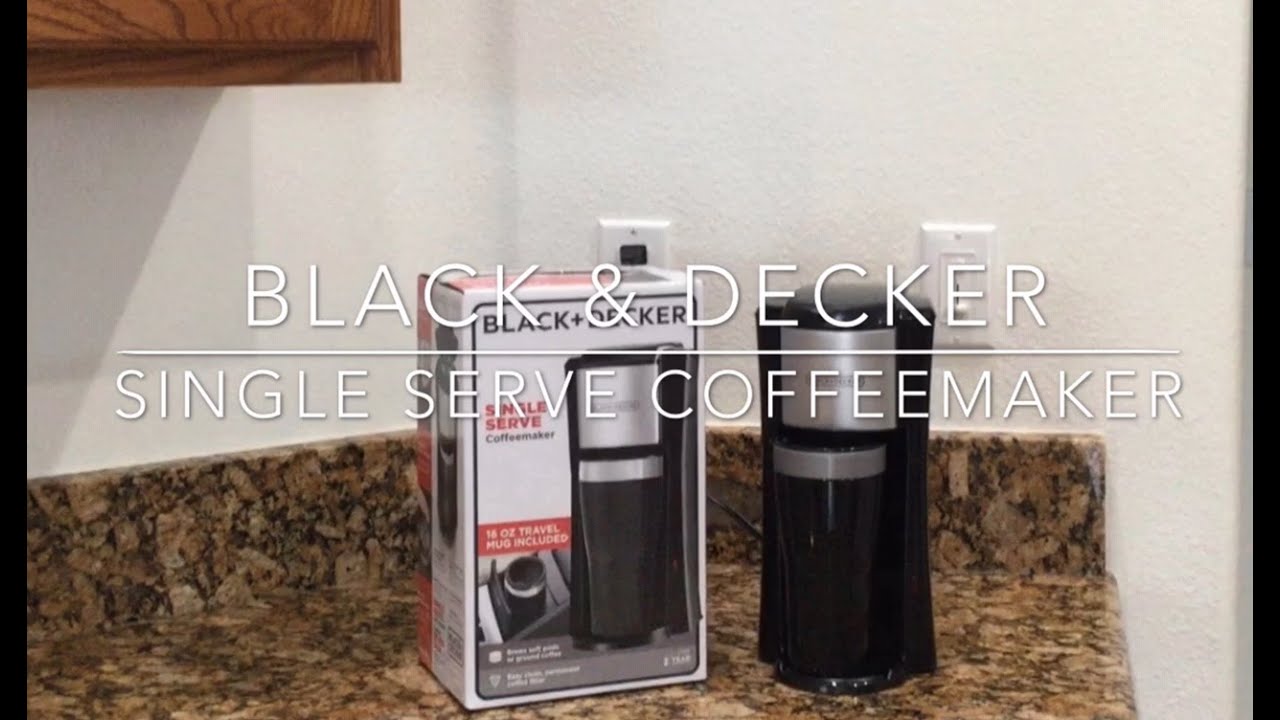 Product Specs:
Pros & Cons:
Ground Coffee
1 x Brew Size
Fits a Travel Mug

16 oz Reservoir
2 Year Warranty
Coffee Pods
Regular Brew
Reusable Filter
Fixed Reservoir
6.1' D x 5.5' W x 9.4' H
Pros:
The coffee maker is easy to use and the coffee taste great.
Comes with a decent mug, easy to access and rinse filter.
The filters are reusable so good on the environment.
Cons:
Other cups are harder to position when not using the travel mug.
There is no window for the water reservoir to use when filling.
The coffee maker drips liquid after the coffee is finished brewing.
Check Current Price →
4. Krups Simply Brew to Go
features
6
ease of use
8.5
durability
6
brew quality
6.5
value for money
7.5
A simplistic but effective coffee maker, the Krups produces an excellent coffee at the push of a button at its base and a lighted on/off switch on the side. You can easily scoop ground coffee into a permanent filter and brew coffee without the need for pods or paper filters. It brews a single serve of up to 14 oz. of drip coffee with enough space for milk or cream should you wish.
The body is made of a plastic material with a predominant black and stainless-steel silver accent, giving it a graceful and elegant appearance in your kitchen. On the top, it has a large opening and water compartment for easy refilling, and an incorporated travel tumbler can double as a container to store water.
The double wall stainless steel thermal mug with a 12 oz. capacity helps you carry your coffee wherever you go while keeping it hot at the same time. Once you are done, the cleaning of the machine is no big deal. Place a cup below, pour some water and push start to make it ready for your next drink.
With a compact design and very minimal footprint, it will blend perfectly into any kitchen. Its versatile base can hold coffee cups of all sizes, and the travel tumbler with its sleek structure will complement any kitchen without doubt.
Highlights:
Easy to use and maintain
Simple operational interface
Double-wall construction thermal travel tumbler
Compact proportions for small-sized kitchens
Takes minimal space during use and storage
Stylish appearance perfect for all locations
Sturdy material and good build quality
Product Specs:
Pros & Cons:
Ground Coffee
1 x Brew Size
Travel Mug Included
12 oz Reservoir
2 Year Warranty
No Coffee Pods
Regular Brew
Reusable Filter
Fixed Reservoir
6' D x 5.3' W x 12.3' H
Pros:
Easy to use, small counter footprint and heats up very fast.
The Krups brews fast and delivers a very hot cup of coffee.
The coffee brewer automatically shuts off when it's done.
Cons:
Travel mug needs a cozy around the outside and drip free lid.
The coffee brewer continues to drip after you shut it off.
Difficult to judge how much water you add to the reservoir.
Check Current Price →
5. Hamilton Beach Single-Serve
The Hamilton Beach Single-Serve brews a customizable cup quickly according to your needs with very little fuss. Its functioning is brief and requires adding your grounds, lowering the lid, and pressing a button for a hot cup of coffee. The coffee maker lets you brew either a 10 oz. with a K-cup pack or up to a 14 oz. travel mug with grounds.
The design on the front has a water window that lets you know how much water is available for use in the water reservoir. The reservoir itself has been ergonomically positioned for easy filling, and you need not worry about over-pouring. An adjustable cup rest not only allows you to use any size mugs, but it also comfortably holds K-cup packs or the brew basket upon removing.
The machine comes with a travel mug, needle holder with seal, single serve pack holder, and a funnel. Hamilton Beach has emphasized the use of the funnel while brewing as it prevents the spillage of coffee on the counter.
The cleaning process is made more accessible with its easily detachable parts, demonstrated in the included quick start guide and user manual for proper care of the device. It comes with all the necessary information about the parts of the machine, its safety features, and instructions regarding cleaning and troubleshooting.
Highlights:
Can brew up to 14 oz. with ground coffee
Water window for the water reservoir
Removable cup doubles as a storage container
Effortless clean-up
Brews cups as tall as 8″
Compatible with small paper filters
Negligible footprint
Product Specs:
Ground Coffee
1 x Brew Size
Fits a Travel Mug
14 oz Reservoir
1 Year Warranty
Coffee Pods
Bold / Regular
Reusable Filter
Fixed Reservoir
8' D x 11.2' W x 15' H
Check Current Price →
6. Cuisinart SS-10 Single-Serve
Another one of the fastest appliances among the selected, this coffee maker can brew a coffee in under a minute and a half. With a 72 oz. capacity, the Cuisinart Premium Single Serve Brewer is ideal for any household due to its versatile programmability and effortless operability.
The Cuisinart provides a variety of delicious hot beverages with multiple cup sizes of 4, 6, 8, 10, and 12 ounces. It also consistently brews the hottest cup at a considerable temperature of 172º F. Additionally, it employs a hot water setting that can prepare tea, soup, hot cocoa, and many others.
The removable water reservoir is large with a 72 oz. capacity and eliminates the requirement for periodic refilling. Besides, it also comes with a reusable charcoal filter strategically placed away from external visibility. An in-built rinse setting instantaneously cleans the brew chamber and keeps the insides of the machine spotless. It is also possible to dismantle the machine and clean it thoroughly without creating a mess.
The system also features a backlit blue LCD settings interface with a programmable clock, making it all the more impressive and unique. While the material is made of plastic, this machine is durable and lasts impressively long for a lightweight coffee maker. It's relatively cheap, has captivating attributes, and has a programmable interface making it an instant pick among us coffee lovers!
Highlights:
Large water capacity
Quick and efficient brewing time
Rinse feature cleans the insides instantly after brewing
Versatile and convenient
Three years warranty
Charcoal water filter
Removable drip tray for travel mugs
Five different beverage sizes
Product Specs:
Ground Coffee
5 x Brew Size
No Travel Mug
72 oz Reservoir
3 Year Warranty
Coffee Pods
Regular Brew
Reusable Filter
Removable Reservoir
11' D x 11.6' W x 15.5' H
Check Current Price →
7. Mixpresso
The Mixpresso 2 in 1 Coffee Brewer looks very modest on the outside but is engineered to produce great results for every cup. Mixpresso have also made it a point to mention the cheap imitators of their products for copying their simple yet elegant design.
The Mixpresso provides two options for making coffee. All you need is to add water to the tank, put grounded coffee, and savor a hot and delicious coffee within minutes. A 1000 volt motor ensures that the water warms to your preferred temperature, and a touch button will start or stop brewing your coffee in an instant. This is complemented by an automatic power-off feature, the best fit for people who want their coffee ready as they rush off to work.
The body is modeled with environmentally safe materials, and by keeping all kinds of formal and informal settings in mind, it blends naturally in all surroundings. It is especially handy for campers and travelers who wish to take a quick refreshment break in the middle of anywhere. Its assembly is also suited for quick cleaning, thanks to its removable ground coffee filter and drip tray.
This machine takes three minutes to make a scorching cup of coffee, picking from dozens of types and flavors. Priced at a reasonable cost, the Mixpresso coffee maker is simple to use and will leave you satisfied.
Highlights:
Perfect for people who prefer their drink extra hot
14 oz. water tank capacity
Compatible with most travel mugs
1-Year 'no questions asked' warranty policy
Powerful 1000-volt motor
Quick brewing system
Product Specs:
Ground Coffee
1 x Brew Size
Fits a Travel Mug
14 oz Reservoir
1 Year Warranty
Coffee Pods
Regular Brew
Reusable Filter
Fixed Reservoir
11' D x 11.6' W x 15.6' H
Check Current Price →
8. AdirChef Grab N' Go
The name in itself conveys that this is a coffee maker for those on the go. Place your travel mug on the base and brew a flavorsome coffee within 5 minutes.
Simply open the top cover, pour coffee grounds into the reusable filter and add your water. Turn on the brewer to start the brewing process. You can go about with your day once brewed as the machine immediately shuts down after your 15 oz. cup is loaded with your coffee.
The body measuring 6.7 x 5.1 x 10.1 inches is made of plastic and stainless steel in parts, making it extraordinarily light and easy to carry. You also get to choose between an array of colors of black, red, crystal blue, green, orange, ruby red, and sour green. Besides being almost weightless and coming in your favorite color, the material is durable and sturdy, and will endure any challenging condition. A portable mug made of stainless steel comes with every machine, and other cups can easily fit in the space, considering that you have placed them at the center.
Again, as the name suggests, this highly portable brewer can be enjoyed anywhere, be it in your office or while camping outdoors. The only precaution you need to take is that it requires some time off after brewing to cool. It might otherwise produce a risk of burning or overheating the water. Rest assured, ADIRchef Single Serve is exceptionally cheap and has incredible accessibility.
Highlights:
Comes in refreshing colors
15-ounce insulated cup with comfort grip handle
Dishwasher safe
Compact footprint
Stainless steel construction
Permanent filter
Steaming hot coffee in minutes
Product Specs:
Ground Coffee
1 x Brew Size
Travel Mug
15 oz Reservoir
1 Year Warranty
No Coffee Pods
Regular Brew
Reusable Filter
Fixed Reservoir
6.7' D x 5.1' W x 10.1' H
Check Current Price →
9. BELLA One Scoop
Bella One Scoop is more suitable for those who are not coffee-obsessed. It is simple and makes delicious coffee for a single cup.
Bella's One Scoop is ergonomically devised to save space and includes a reusable filter. While it comes with a ceramic mug, the base can be lifted to brew into smaller mugs. This prevents the splashing of coffee as the drip tray can accommodate both travel mugs and smaller cups. The brewing process is simple and finishes quickly for a reasonably compact machine.
The coffee maker is exceptionally easy to operate, and its multifunctional capability is a pleasure for a little break. Not in the mood for coffee? You can use the machine for brewing hot water for tea, oatmeal, hot chocolates, and even water for cup noodles!
Made of plastic, the coffee maker is rather delicate and would need gentle use for it to last many years. The same goes with the 14 oz. water tank, which requires proper handling and periodic cleaning. Thankfully, its dimensions make it easy to clean, and frequent wiping using a wet cloth will do more than enough.
Overall, this machine is ideal with a small footprint and can easily be stored when not in use.
Highlights:
Brew size up to 14 oz
Easy to clean
Small footprint
No automatic shutdown
Multifunctional use
Comes in a variety of colors
Includes a ceramic mug
14 oz. water tank capacity
Product Specs:
Ground Coffee
1 x Brew Size
No Travel Mug
14 oz Reservoir
2 Year Warranty
No Coffee Pods
Regular Brew
Reusable Filter
Fixed Reservoir
4.8' D x 10' W x 7.3' H
Check Current Price →
10. CHULUX Single Serve
features
8
ease of use
9.5
durability
8
brew quality
7.5
value for money
9
We found the Chulux Single Serve has a moderate brewing time and delivers a tasty cup of coffee within 2-3 minutes to energize your morning.
It has a straightforward process, and you only need to turn on the power button and adjust the top knob to start brewing. All mug sizes can be placed in the machine, and the drip tray can be removed to create more space.
It comes with a 12 oz. built-in water reservoir made of stainless steel. Your coffee is served extra hot and makes up for the added brewing time. The unit then turns off by itself after three minutes without holding you back from going about your day.
Concerning the body, it has a simple design and is composed mainly of plastic. While you need to handle the device carefully, it is not much of a problem as it is lightweight and holds up to 12 oz. It also employs a 3.5 bar pump and locking mechanism on the top lid for extra protection. With dimensions of 7 x 4.3 x 9 inches, it fits in all compact spaces, be it in your home or workspace. This machine is easy to use and clean, comes at a reasonable price, and is definitely worth giving a shot.
Highlights:
Simple, compact design
Overheating protection
Auto shut down after three minutes
Locking mechanism to open/close the lid
Low maintenance
3.5 bar pump
Lightweight and can be stored easily
Product Specs:
Pros & Cons:
Ground Coffee
1 x Brew Size
Travel Mug Included
12 oz Reservoir
1 Year Warranty
Coffee Pods
Regular Brew
Filter Separate
Fixed Reservoir
7.4' D x 4.3' W x 9' H
Pros:
We found the brew time to be around 3 minutes.
We found no leakage or grounds in coffee/cocoa/tea.
The Chelux is lightweight, compact & good for travel.
Cons:
The Chelux only heats to around the 162-degree mark.
The Chelux is noisier than expected while it heats up water.
It's a squeeze to fit your travel mug in properly if at all.
Check Current Price →
Final Thoughts
All the coffee makers above are brilliant and you should now have a clear idea of which one suits you best. While the eco-friendly characteristic of these machines is commendable, coffee makers without pods also give you more control over the strength of your coffee.
Good luck choosing your favorite!
FEATURED PRODUCTS
Hamilton Beach Scoop Single Serve Coffee Maker, Fast Brewing, Stainless Steel (49981A)
2 Brew Sizes / 2 Brew Types
Single Serve Only
No Pods Required
(L) 8.4″ (W) 6.7″ (H) 8.7″ (W) 5.1lbs
Shop Amazon →
or
Shop Direct
* Details updated less than an hour ago (by Amazon's Advertising API)
Ninja Specialty Fold-Away Frother
6 Brew Sizes / 4 Brew Types
Single Serve or Carafe
No Pods Required
(L) 12.0″ (W) 8.8″ (H) 15.0″ (W) 9.2lbs
Shop Amazon →
or
Shop Direct
* Details updated less than an hour ago (by Amazon's Advertising API)
BLACK+DECKER Single Serve Coffeemaker, Black, CM618
1 Brew Size / 1 Brew Type
Single Serve Only
Ground Coffee or Coffee Pods
(L) 6.1″ (W) 5.5″ (H) 9.4″ (W) 2.3lbs
Shop Amazon →
or
Shop Direct
* Details updated less than an hour ago (by Amazon's Advertising API)
Recommended Reading
The 10 Best Espresso Machines Under $200
A rich cup of coffee will energize you and lift your mood, paving the way…
Learn More >
COMMENTS
The 10 Best Espresso Machines Under $100
The only motivation that gets most of us on our feet every morning is the…
Learn More >
COMMENTS
The 10 Best Espresso Machines Under $300
As someone whose day starts with a cup of coffee, you might want to get…
Learn More >
COMMENTS