Starbucks Verismo vs Keurig – Who Performs Best?
By Evelyn J Stafford ~ Updated 8 August 2022
As an Amazon Associate I earn from qualifying purchases
Today we're looking at two of the best personal coffee makers you can buy. It's the Starbucks Verismo vs Keurig K-Mini. Both coffee makers are incredible machines that provide you with a delicious squirt of morning coffee at an affordable price. But which one belongs in your kitchen?
It's hard not to get behind a big name like Starbucks, but it's also difficult to dispute the quality and effectiveness of the Keurig coffee machines. The K-Mini does single-serve, brewed coffee in about a minute, it comes in a wide variety of colors, and it looks great in the kitchen. Can Starbucks beat it?
If after this comparison, the Verismo or Keurig don't quite appeal to you – why not give the Ninja coffee maker a look? To see why may are making the switch, be sure to check out our guide to the best ninja coffee maker.
Verismo vs Keurig Key Differences
The K-Mini Plus is one of Keurig's most popular coffee machines. It comes in a slim 5-inch design, can store up to 12 ounces of water, and has a strong brew feature for those who need an extra kick in the mornings.
Starbucks' answer to the instant coffee machines, this model uses K-Fee capsules and delivers a coffee as close to its namesake coffee shop as possible. It uses dual-pressure technology for a perfectly even espresso, coffee, or tea.
Warranty period not long enough? Gain Better Peace of Mind with an extended warranty period through Amazon's partner ASURION.
There are quite a few differences we can talk about here. The Verismo and Keurig use different pods, neither of which are interchangeable – although you can get Starbucks K-Cups for your Keurig machine, not the other way around.
Then there is the actual difference of the systems. The Starbucks Verismo Home Brewer delivers both espresso and drip coffee just like you would get at one of their cafés. It uses dual-pressure technology to deliver their own special brew straight into your mug.
In terms of price, the Keurig K-Mini is definitely cheaper. It's also quite a bit easier to use with a one-button feature for making all your coffee, no settings required!
The Keurig K-Mini Plus
Features
The Keurig K-Mini Plus is one serious coffee maker. Out of all the Keurig machines you can buy, it's one of the best. It's smaller than other models, it makes coffee faster, and it can provide a single cup of the best coffee ever. And that's what a good coffee maker is all about, making delicious coffee as quickly and effectively as possible.
And that's exactly what you get with the Keurig -Mini Plus! It's also wildly affordable. It features a variety of brewing sizes, allowing you to make a single cup any size between 6 and 12 ounces. The machine also features a slim and stylish appearance, making it look very nice in your kitchen. And it can fit a travel mug thanks to its removable drip tray.
And unlike the original K-Mini, the Plus model has a strong brew option, it has a removable pod storage container, a removable water reservoir, and it's available in more colors. You can get this model in black, red, teal, and more!
Ease of Use
It doesn't get easier than using this coffee maker. It's very simple. Place your K-Cup into the basket, make sure the water reservoir is full, and then close the lid and push the button. There's literally one giant button on the top of the machine and it's the only one you will ever need to use.
Plus, this is the upgraded version of the K-Mini. It comes included with a removable water reservoir, that way you can fill it directly under the tap instead of having to mess around with the entire machine like you did with the original K-Mini.
Brew Quality
This is one of those coffee machines that has a perfect brew quality. The machine makes coffee at the perfect temperature. As for the actual quality of the brew, that all depends on you and what kind of coffee you're making. The great thing about using a Keurig machine is that you have infinite options for flavors and brands. No matter what you make, the coffee is going to be delicious.
Cleaning & Maintenance
Cleaning is an absolute breeze. It only takes a few seconds to wipe down the exterior of the machine, and you can take out the removable drip tray and water reservoir and wash them separately. If you want a simplistic machine to make you a single serving of coffee without ever needing to clean it, the K-Mini Plus is for you.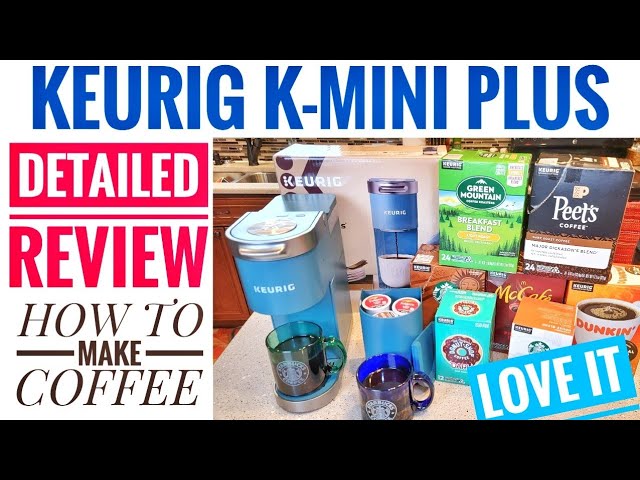 Product Specs:
Pros & Cons:
K-Cup Compatable
Brew Size 6-12oz
Fits Travel Mug
Reservoir 6-12oz
1 Year Warranty
My K-Cup Compatable
Regular / Bold Brew
No Over Ice
No MultiStream
11.3' D x 4.5' W x 12.1' H
Pros:
We found the K-Mini Plus a perfect traveling companion.
You can store up to 9 pods inside the machine.
You can store the cord inside the machine.
Cons:
We found the K-Mini Plus noisy to operate
You can't remove the reservoir (to clean it).
The power cord is very short.
Check Current Price →
Starbucks Verismo
Features
It's time to take a look at one of Starbucks' very own brewing machines. The Verismo makes some fantastic coffee, and it does it using specialized pods. But don't let the exclusivity of the pods throw you off. This is still one of the best coffee machines you can buy.
You can make your favorite Starbucks drinks at home in just a few seconds. The Verismo comes Swiss-engineered and uses dual-pressure technology to give you a professional espresso, coffee, or even tea. The pods are available in a wide variety of different Starbucks signature blends, giving you a huge range of variety in what you drink.
Ease of Use
It's about as easy to use this coffee maker as it is with other similar machines. There is a row of buttons on the top to choose your settings. It's not as easy as the Keurig, but it's still pretty simple. It takes a more refined approach, making coffee using proper pressures for ultimate Starbucks flavor.
Brew Quality
The brew quality is excellent. There is no denying that out of all the coffee machines out there, this one gives you dedicated Starbucks beverages for that signature taste we all know and love. We like that you can make drip coffee and espresso, and the espresso actually tastes like it should!
Cleaning & Maintenance
When it comes to cleaning, the Verismo is a bit more of a challenge than the Keurig. It needs to be properly cleaned once a month, top to bottom, and it should be descaled every three months. For the average coffee drinker, this could be a deal breaker. Nobody really wants to have to descale their coffee machine, even if it is a simple process.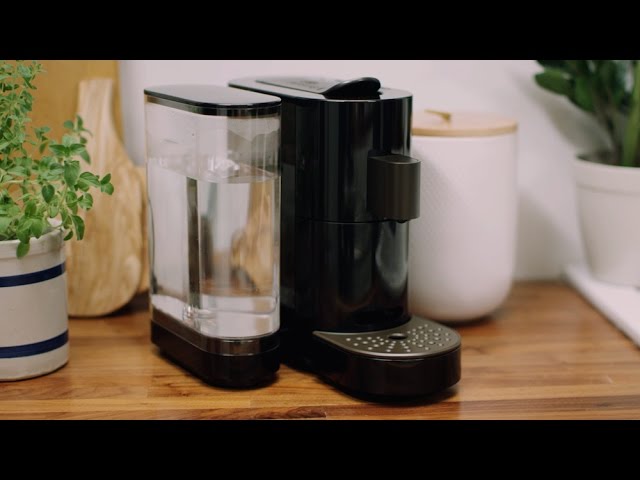 Product Specs:
Pros & Cons:
K-fee Capsules
Brew Size 10oz
Fits Travel Mug
Reservoir 78oz
1 Year Warranty
No Grinds
Espresso / Coffee
No Over Ice
No Over Ice
12.9' D x 8' W x 11' H
Pros:
We found the machine warms up almost instantly.
Makes espresso, coffee, tea & specialty drinks.
The machine costs less than a Keurig machine.
Cons:
We found the machine takes a long time to brewing.
The long lever at the top requires tall clearance.
You won't find pods readily available in stores.
Check Current Price →
Verismo Pods vs K Cups
The big difference here is that K-Cups come in a massive variety, whereas with Verismo pods you are kind of limited. You can actually get Starbucks cups for your machine, which almost makes the Verismo coffee maker obsolete. If you want delicious coffee, a K-cup or a pod is going to deliver. To tell you the truth, between a pod and a K-Cup, there is not much difference.
Does Verismo Take K Cups?
Can you use K-Cups in a Verismo? The answer is no! The Verismo does not take Keurig cups. The K-Cups are way too big to fit into the Verismo coffee maker. Likewise, the Keurig coffee maker is too big for the Verismo pods, so you're going to need to buy your machine's pods separately.
This can be a pain for those with a Verismo, as the Starbucks pods are harder to find and more expensive than the traditional K Cups.
Our Pick
Whe While the Verismo is definitely a solid coffee maker, our pick is going to have to be the Keurig K-Mini Plus. It's simply a better machine. Between the poor reviews for the Verismo, the outrageous price, and more complications, you're better off going with the K-Mini.
The K-Mini makes delicious coffee, you can use any kind of K-cup you want, it's simple to operate using only one button, and it makes nearly instantaneous single-serve coffee that really hits the spot first thing in the morning.
FEATURED PRODUCTS
Keurig Mini Plus
Single Serve (6 – 12oz)
Removable Reservoir
Up to 9 Pod Storage
(L) 11.3″ (W) 4.5″ (H) 12.1″ (W) 6.6lbs
Shop Amazon →
or
Shop Direct
* Details updated less than an hour ago (by Amazon's Advertising API)
Starbucks Verismo
Single Serve Only
Removable Reservoir
No Pod Storage
(L) 12.9″ (W) 8.0″ (H) 11.0″ (W) 7.7lbs
Shop Amazon →
or
Bed Bath & Beyond
* Details updated less than an hour ago (by Amazon's Advertising API)
Recommended Reading
Nespresso Vertuo vs Original
Today we are taking a look at all the best Nespresso machines, including the Vertuo…
Learn More >
COMMENTS
Nespresso Evoluo vs Vertuo
Today we're looking at the entire Nespresso VertuoLine of coffee makers. These are definitely the…
Learn More >
COMMENTS
Hamilton Beach Flexbrew vs Keurig Duo
If you are having a tough time deciding between the Keurig K Duo Single Serve…
Learn More >
COMMENTS