The Best Italian Espresso Machines in 2022
By Evelyn J Stafford ~ Updated 30 June 2022
As an Amazon Associate I earn from qualifying purchases
Are you in the market for the best Italian espresso machine? I'm not talking about your run of the mill machine for coffee. I'm talking about an authentic, fully automatic espresso maker that is easy to clean, makes delicious espresso at home, comes with a sizable water reservoir, and makes the very best espresso ever.
If you are into Italian coffee, then you definitely want one of these awesome espresso machines. There is nothing better than waking up in the morning with a real Italian espresso at home. Especially when you are using the best automatic espresso machine!
As amazing as these machines are, this range of coffee maker won't keep your coffee hot! Its times like these that only the best thermal carafe coffee maker will do. Check out our guide for our top 10 selections.
Overview
If you have only come here for the dirt, here is a quick overview of the two best machines on the list.
The De'Longhi ESAM3300 Super Automatic is not only my favorite espresso maker, but I would argue it is one of the best available right now to the public. Obviously, you cannot put an entire barista system on your kitchen counter. But with the ESAM3300 Super Automatic, you get a miniature version of what all the best cafés use.
The coffee this maker produces is unmatched. Rich espressos, flavorful coffee, and creamy lattes and cappuccinos. This machine does it all, and it does it without using capsules or pods or a big annoying carafe. It has all the most important parts to fuel your love of coffee.
However, if you are into the single-serve capsules, I highly recommend the De'Longhi America EN750MB Lattissima Pro Original Espresso Machine with Milk Frother. It uses the Nespresso capsules with a unique milk frother and an extremely high-pressure pump to deliver quality beverages in record time.
The Lattissima Pro is basically a supercharged single-serve machine with an advanced frother that makes your beverages taste far better than the average capsule unit. You will notice a massive difference if switching from a "budget" pod maker.
The other espresso machines on the list also make great Italian coffee, but these two are the best. There is something to be said about the quality of Nespresso's coffee machines. The designs are minimal yet robust, the internal components are known for their longevity, and their coffee is widely accepted as the best tasting.
Benefits of an Italian Made Espresso Machine
There are so many Italian espresso machines to choose from, but which one makes the best espresso? For that matter, what is the benefit of an espresso maker? Well, a quality espresso machine will give you a real taste of Italy first thing in the morning with a powerful cup of Italian espresso.
These awesome automatic espresso machines are not designed just for boring ol' coffee. A good espresso machine will come with the ability to make the best espresso you have ever tasted, while still facilitating your need to drink coffee. So, who can make use of the best Italian espresso machine?
Anyone who loves strong coffee! Drinking the best espresso is like drinking the richest and strongest coffee you have ever tasted in your life. I promise that one sip of the quality coffee that comes out of one of these coffee makers is going to have you addicted!
Almost all of the greatest Italian espresso machines come packed with features you just don't get with an ordinary coffee maker, such as a useful milk frother to add a level of creamy goodness to your espresso, and the wand for making true espresso.
This is not the same automatic espresso you get with "single-serve" coffee makers. The steam wand works to give you an authentic barista coffee taste in your own home. It's perfect! You can make the most delicious coffee and espresso recipes using real frothed milk at the ideal temperature and texture.
Plus, most of these Italian espresso machines are highly advanced, with one-touch systems, sliding drip trays, removable water reservoirs, automatic rinsing functions, and the ability to make cappuccinos, espressos, ground coffee, lattes, and macchiatos with one touch of a button.
These are automatic espresso machines, and they work wonders for coffee lovers. If you are a fan of coffee or espresso, I highly recommend paying a bit extra and getting one of the best Italian espresso machines on the market. It makes a world of difference with your morning coffee or espresso.
1. De'Longhi Super Automatic Coffee / Espresso Machine
What can I say about this awesome espresso machine? If you want the best Italian espresso in your kitchen with minimal effort and maximum flavor, you definitely want the De'Longhi ESAM3300 Super Automatic Espresso/Coffee Machine.
This stainless-steel espresso machine brews consistently every time to ensure you have a cup of espresso that is the perfect temperature and perfectly rich just like the Italians make.
With the manual frother, this machine mixes steam with milk to create the best foam you have ever had with a coffee drink, and it works with anything from a cappuccino to a latte. This is not just an espresso machine. It can make tons of different coffee drinks, all of them with barista-quality tastiness.
Additionally, the ease of use with the Super Automatic Espresso Machine from De'Longhi is exceptional. The control panel is super easy to use with well-labeled buttons and the perfect amount of settings to set the strength of your coffee, the cup size of your coffee, and everything else.
In fact, this amazing espresso machine remembers your favorite settings to make brewing even easier. That means your favorite espresso is going to be made exactly the same every time you push the button on the machine, giving you an instant sense of peace and comfort in the morning with that first beverage.
Features
Cleans Exceptionally Easy
Makes Great Coffee & Espresso
Control Panel is Easy to Use
Brews Consistently w/ Memory Technology
Delicious Frothed Beverages
Quality Foam
We like
The Professional Burr Grinder
The Heap of Unique Settings
The Multitude of Brewing Options
We don't like
The Staggering Cost
A Little Bulky
Difficult to Repair
See It In Action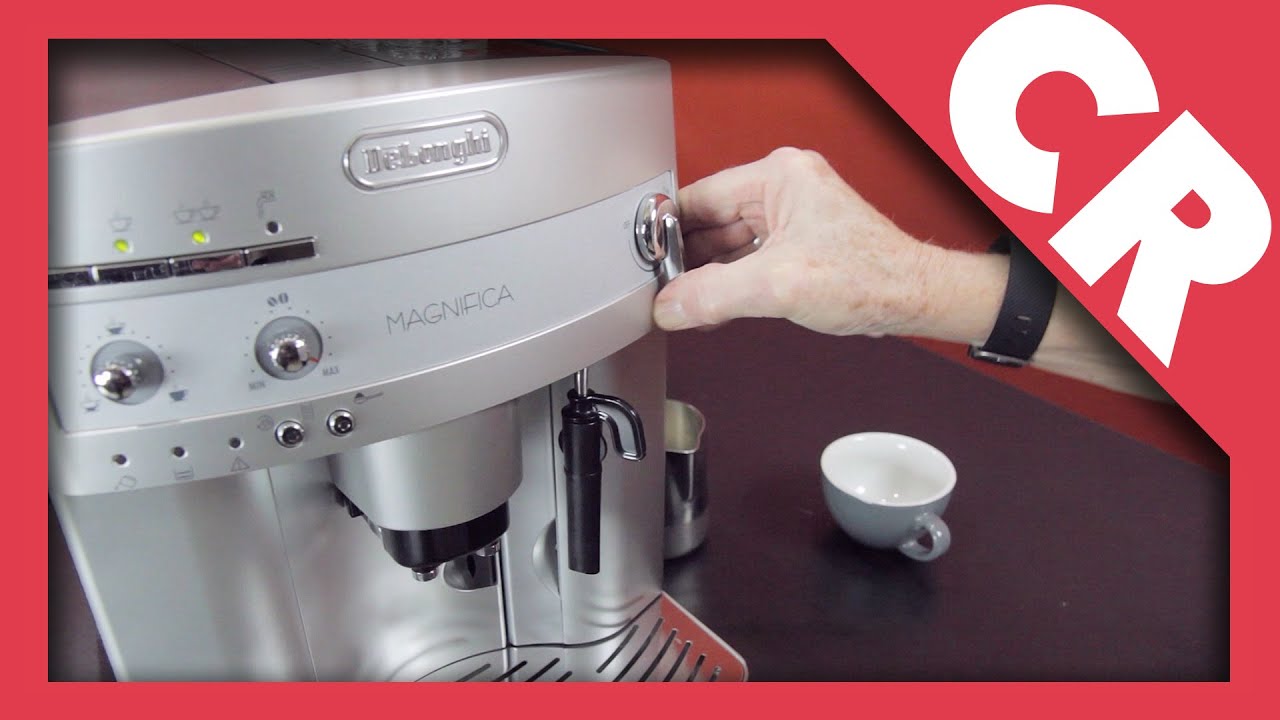 2. De'Longhi America EN750MB Lattissima Pro Original Espresso Machine with Milk Frother
As far as the best Italian espresso makers go, this is up there in quality. The De'Longhi America EN750MB Lattissima Pro Original Espresso Machine with Milk Frother is a super slim espresso maker that works with Nespresso's unique capsule system to bring you the ultimate convenience at home.
You can use the recyclable capsules to make espresso that far surpasses your expectations, made even more delicious with the easy-to-use foam system that delivers unbelievably rich froth with one push of a button. Everything this espresso machine does is precise, from the amount of milk used to make froth to the amount of rich espresso in your cup.
One of the great design bonuses of this espresso machine is that the milk never comes into contact with the machine itself, keeping everything clean and sanitary. You can even remove the special milk container to keep the milk chilled in the fridge until the next time you need a coffee.
And talk about flavor! You get 19 bars of pressure with this espresso machine, mixed with just the right flow of water for a powerfully flavorful beverage, always delivered at peak temperature for you to drink immediately.
Plus, you don't need to wait like you do in the lineup at your local cafe. The espresso machine heats up super fast, from cold to hot in only seconds.
Features
Starts Extremely Quickly
One-Touch System
Ultra-Quick Milk Frother
Removable & Dishwasher Safe Components
Drip Tray Slides Out
Pump is High Pressure
We like
One of the Fastest Frothers Ever
Intuitive Programs & Easy to Use
Coffee Tastes Extremely Fresh
We don't like
Only Uses Nespresso Coffee Capsules
Can't Use Ground Coffee
Buying Lots of Coffee Pots is Expensive
See It In Action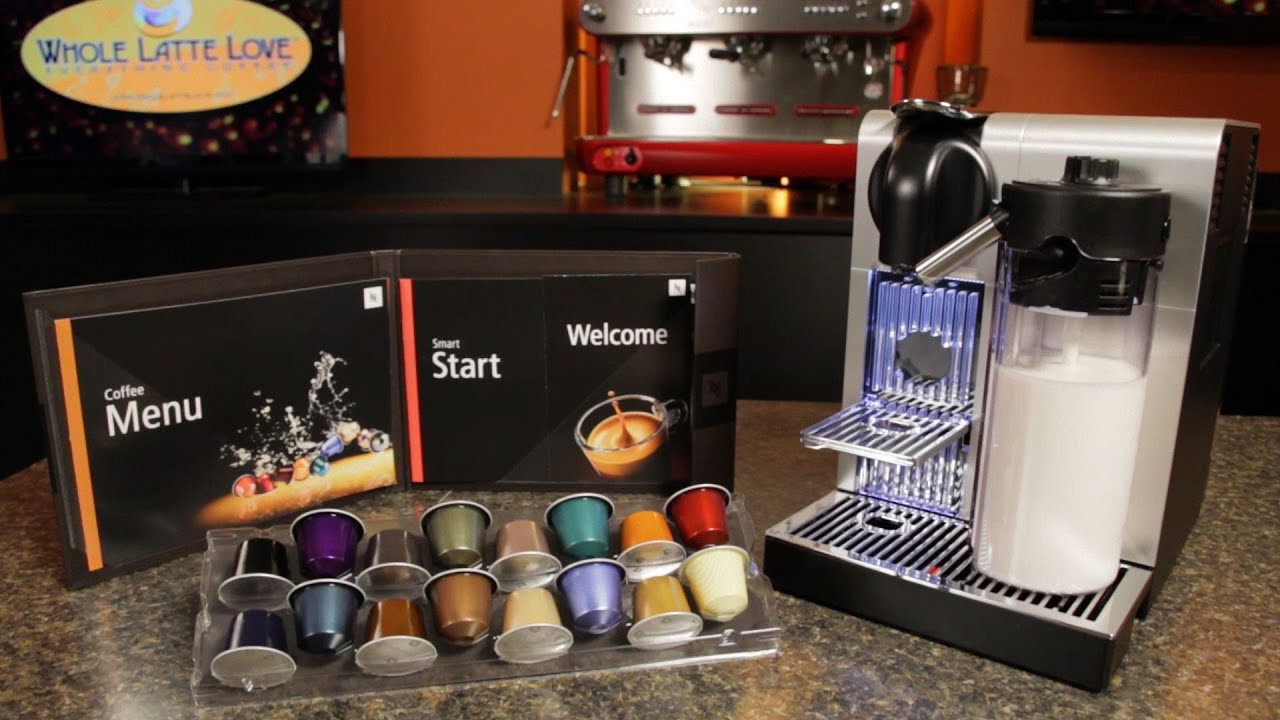 3. Delonghi EC680M Dedica 15-Bar Pump Espresso Machine
Here we have a fabulous espresso machine, completely stainless steel, with a 15-bar pump that delivers quick and accessible espressos just like your favorite barista makes. If you are in the market for a durable (but not over priced) machine, this is it.
While it may not be able to make ground coffee, that is not what an espresso machine is all about. This machine lets you make espressos, cappuccinos, or lattes. Plus, you can make a double espresso for those particularly difficult mornings when you need your coffee with a bit of an extra kick.
The machine comes with a 3-in-1 filter holder so that you can make a single or a double, or even an espresso pod. Thanks to the steel drip catch, the advanced frother, and the twin brewing cycle, you will never complain about the quality of your homemade coffee ever again.
Plus, this is one of the easiest machines to use. It has a very short learning curve, which means you will be making the best coffee of your life like a professional within days. The machine is sleek, so that you can keep it discretely on your kitchen counter next to other appliances. And it even comes in three unique colors, either red, metallic, or black.
If you are an americano kind of person, you will be happy to know that this machine accommodates tall cups. You are by no means restricted to small Italian espressos. You can still make big americanos to sip throughout the day.
Features
3-in-1 Filter holder
Super Easy to Clean
Removable water reservoir
Steel Drip Catch
Twin Brewing Cycle
Advanced Frother
We like
Amazing Coffee Taste
Room for Tall Cup
Sleek to Save Space
Two-Shot Espressos
We don't like
Can't Make Ground Coffee
A little Loud
Not Greatly Reviewed Online
4. Gaggia Brera Super Automatic Espresso Machine
The Gaggia Brera Super Auto is a medium-budget espresso maker that has all of the bells and whistles to keep you enjoying flavorful coffee day after day. Because this machine is so compact, you can easily store it beside the toaster or kettle without even noticing it's there. Plus, it's stainless-steel finish makes it ideal for modern kitchens.
You are able to brew using whole beans or ground coffee thanks to the integrated burr grinder and the bypass dozer. In plain English, the machine will grind beans for you or filter pre-ground coffee beans. This allows you to purchase whatever coffee you prefer and still be able to brew it into a powerful espresso.
But not just espressos. Thanks to the high-tech steam wand, you can get the richest cappuccinos and lattes ever. The steam wand works to siphon air directly into the milk for the foamiest foam that a person can make at home.
For maintenance, it is extremely easy to take care of this machine. Not only can you remove most of the major pieces like the water tank, but you can also remove some internal pieces, like the brew group. By easily removing the internal mechanisms, you will prolong the life of your machine with regular maintenance and rinsing.
Rather than a lot of confusing buttons, this coffee maker has only a few one-push buttons on its face that allow you to quickly choose what kind of coffee you want to make. That does not mean this machine lacks options. It still has lots of custom ways to make your brew, with variable strengths and sizes. Did I mention the machine makes coffee extremely quickly? It heats up in under ten seconds!
Features
Easy Front Access to Components
Pannarello Steam Wand
LED Display
Rapid Steam Technology
Flavor & Aroma Extraction
Sim & Compact
We like
The Espressos are Truly Delicious
Can Use Whole Beans or Ground Coffee
Frother is Lightning Fast
Steam Wand Makes Creamy Beverages
We don't like
Not Ideal for Travel Mugs
Mainly for Espresso & Specialty Drinks
Rather Expensive
5. Saeco HD8645/47 Vapore Automatic Espresso Machine
The Saeco HD8645/47 Vapore is without a doubt the most attractive machine on the list. This automatic espresso maker looks amazing with its shiny black facade, ceramic burr grinder, twin brewers, and classic milk frother.
Not only does this coffee maker look innovative and efficient, but it is. This unit is packed full of brewing technology, including many things that you do not find in other machines at a similar price.
For example, you get five adjustable settings for the coffee grinders. This means that you can grind your coffee beans extremely fine to get a full-body espresso, or very coarse to receive a lighter coffee. This machine facilitates all breeds of coffee lovers.
Not only can you adjust the grinders, but you can adjust the taste of your brewed espresso. By using the machine's unique memo function, you adjust the length of the coffee to better suit your personal taste, and all it takes is one push of a button.
Worried about cleaning up the mess? Not anymore. The Vapore comes specially designed to automatically clean its internal coffee circuit when you start up the machine or switch off the machine. This keeps the circuit clean for a fresher taste with every cup of coffee.
But let's go back to the grinders for a second. Not only are they adjustable, but they are built in such a way as to not overheat and to last for a long time. They are also extremely quiet, which is great because I know there is nothing worse than a grumbling coffee machine when all you want is peace, quiet, and a rich espresso.
Features
Adjustable Grinders
Automatic Cleaning of Coffee Circuit
Classic Milk Frother
Removable Components for Maintenance
Small & Effective
Volumetric Controls
We like
Stylish Appearance
Remarkably Easy to Maintain
Coffee Flavors are on Point
The Frother Works Very Well
We don't like
No Room for Large Cups
Water Tank is Small
No Temperature Control
Our Pick
My number one pick for the best Italian coffee machine must be the De'Longhi ESAM3300 Super Automatic Espresso/Coffee Machine.
This automatic espresso machine is simply amazing. It does everything, from rich espresso 2 dark brewed coffee, frothed cappuccinos too creamy lattes. You cannot get a better espresso + coffee machine that this.
While the other models are great, this is simply the best. It fits nicely on your counter, it can make something for the whole family, it has a removable drip tray and a removable water tank. I simply love this machine!
I highly recommend it to anyone who considers themselves a coffee fanatic, or for anyone sick of single-brew or drip-brew coffee machines that deliver poor flavor. It's worth the money!
FEATURED PRODUCTS
De'Longhi Super Automatic
4 Coffee Brew Types
Whole Beans / Ground Coffee
Removable 60oz Reservoir
(L) 11.0″ (W) 15.3″ (H) 14.4″ (W) 23.1lbs
Shop Amazon →
or
Shop Direct
* Details updated less than an hour ago (by Amazon's Advertising API)
De'Longhi Lattissima Pro
5 Coffee Brew Types
Nespresso Capsules Only
Removable 44oz Reservoir
(L) 7.6″ (W) 13.1″ (H) 10.8″ (W) 12.6lbs
Shop Amazon →
or
Shop Direct
* Details updated less than an hour ago (by Amazon's Advertising API)
Recommended Reading
The Best Battery Operated Coffee Maker for People On The Go
Welcome to the world of the battery operated coffee maker. When it comes to these…
Learn More >
COMMENTS
Best Under Cabinet Coffee Makers
Are you tired of having to fight to get your coffee maker out from under…
Learn More >
COMMENTS
7 Best Manual Espresso Machines in 2022
Today we are looking for the best manual espresso machine. There are two main types…
Learn More >
COMMENTS