Best Thermal Carafe Coffee Makers of 2022
By Evelyn J Stafford ~ Updated 8 August 2022
As an Amazon Associate I earn from qualifying purchases
There is no better way to keep your coffee hot than with a thermal carafe. While some people are crazy about single-serve coffee machines and automatic pod brewers, there are still some of us who prefer using a good ol' fashion thermal carafe coffeemaker.
Most of the amazing coffeemakers on our list are new and improved versions of the traditional brewer. Each impressive model comes with a thermal carafe capable of brewing a full pot of rich, tasty coffee. Our job with this comparison guide is to find out which coffeemaker is the best, and which comes with the best thermal carafe.
For a true authentic shot of coffee extracted the old fashion way, you can't go past a manual espresso machine. For a breakdown of best manual espresso machine, be sure to swing by our guide.
Top Pick Overview
Cuisinart Classic & Black & Decker
While our main pick must be the Classic Thermal Programmable Coffeemaker from Cuisinart, the Thermal Coffeemaker from Black & Decker is a real close second. Both these machines produce great drinks, but the Cuisinart comes with the greatest carafe.
Now, the Cuisinart is a little more expensive, but it is well worth the extra cash. You get more features, the best thermal pot, and reliable pre-programming for that special wake up drink. This machine offers a larger carafe, but who has the time to guzzle 12 whole cups in one sitting?
Both coffeemakers come with an automatic brew setting, an automatic shutoff setting, and a brew pause setting. And while the control panel looks more futuristic on the Black & Decker, we like the traditional feel of the Cuisinart better.
Each machine comes with a double-walled carafe to keep liquid perfectly hot, but the Black & Decker's is exactly 2 cups larger than the one from Cuisinart. While some people may appreciate the extra space, we think it makes the whole machine a little too bulky.
One aspect we really enjoy is that the Cuisinart coffeemaker comes not only in black with a silver control panel, but also in stunning all-white. This looks particularly impressive in a clean, modern kitchen. Cuisinart's thermal carafe is also more appealing because it's glass, unlike the Black & Decker's outdated stainless carafe.
Finally, this unit doesn't come with a self-cleaning feature. The Cuisinart does. What do you think, is a coffeemaker that cleans itself worth an extra couple of dollars?
1. Cuisinart Classic Thermal Programmable Coffeemaker
If you are a fan of the traditional coffeemaker, you are going to love the Classic Thermal Programmable Coffeemaker from Cuisinart. In fact, we believe this to be the overall best on our list. It is definitely the one with the greatest thermal carafe.
Why is this coffeemaker so great? Well, it cleans itself. This feature alone is incredible. The machine also comes with a permanent gold tone coffee filter to reduce waste. No more paper filters clogging up your garbage.
The pot stores a full 10 cups of coffee and keeps your precious caffeine heated at just the right temperature. That means you can slowly drink cup after cup without needing to reheat.
With its 24-hour programmability, this machine is an early riser's best friend. Simply place the coffee grinds in the top, ensure the water tank is full, and program your coffee for whatever time you wake up. You will have a hot potfull of coffee waiting for you. It really is that simple.
If you aren't in the mood for a full 10 cups of coffee, you can easily set this machine anywhere between 1 and 4 cups. There is no need to waste coffee grinds with the thermal Programmable Coffeemaker from Cuisinart.
Features
Completely automatic w/ self-cleaning power
Specialized charcoal water filter
24-hour programmable
1-4 cup settings
Coffee tastes better with the gold tone filter
We like
The classic look is refreshing
It is easy to program
Keeps coffee at perfect temperature
Comes in a simplistic white colour
We don't like
Not as convenient as an automatic pod brewer
Clock is very small
Annoying to scrub the large pot
See It In Action
2. Black & Decker 12-Cup Thermal Coffeemaker
Black & Decker is a great company. They make all kinds of household products, including one of our favorite thermal coffeemakers with one of the best thermal carafes on the market.
It's true that if you buy this machine you are not going to be wowing your neighbours with a space-age coffeemaker that talks to you and cleans the floors. Nevertheless, you can rest assured knowing that with the Black & Decker 12-CupThermal Coffeemaker you are going to wake up to the sweet smell of freshly brewed coffee every morning.
This is thanks to the machine's handy programmable feature, allowing you to set the exact time that your coffee is brewed. It takes the hassle away from coffee making in the morning, allowing your coffee to brew a cool ten minutes before your alarm goes off. Now that's serious convenience!
And at such an unbeatable price – it's almost impossible not to buy this coffeemaker. It comes with a double-walled, vacuum-sealed, 12-cup thermal carafe to keep your coffee hot. The carafe also has a no-spill lid for easy pouring.
All of this for a reasonable price! We're talking quick-touch programing on the simple user interface, a washable brew basket, a special showerhead water dispenser for extracting full flavours from your coffee. The list goes on!
Features
Special strength selector for strong coffee
Double-walled & vacuum-sealed thermal carafe
Showerhead-style water dispenser for max flavour
Brew basket is washable
Compact and easy to store
Thermal carafe has a wide mouth for easy cleaning
We like
Massive carafe for serious coffee drinking
Thermal carafe is double walled w/ no-spill spout
Easy & futuristic menu interface
Pre-programable is a must
We don't like
Not ultra-high quality, but great price
Screen is very small
12-cup thermal carafe seems too big
See It In Action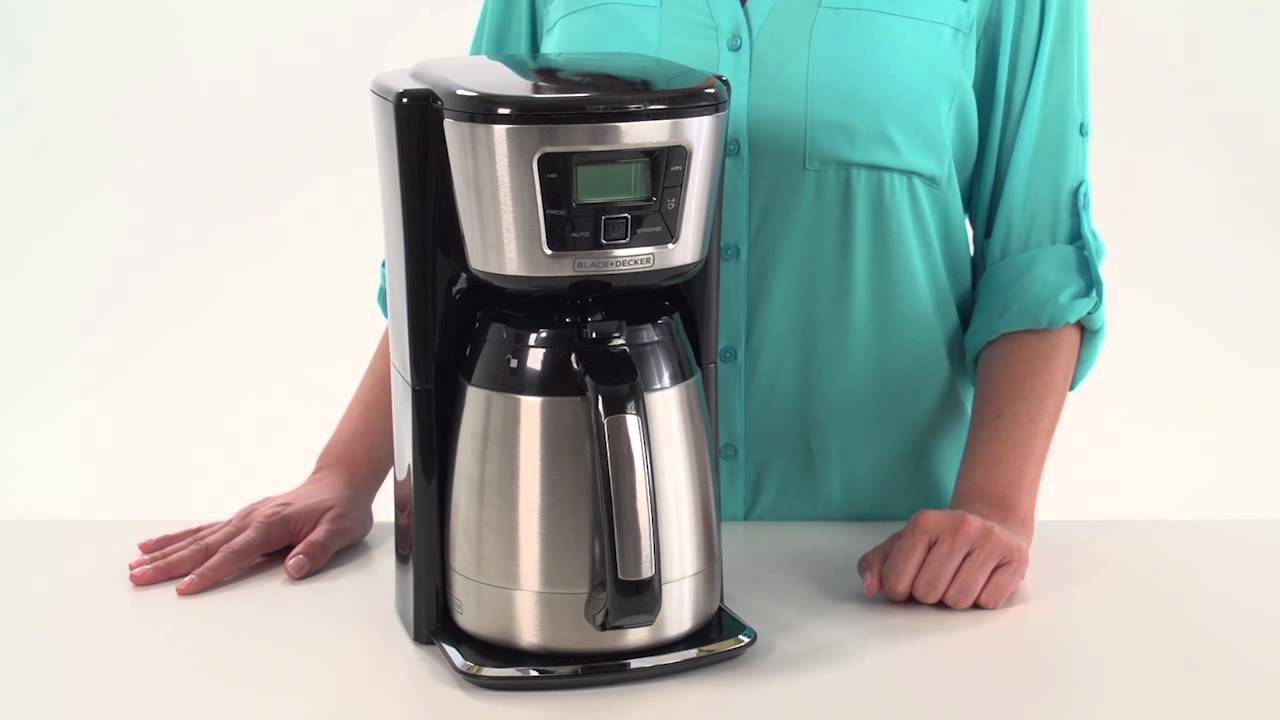 3. Hamilton Beach 12-Cup Coffee Maker
The Hamilton Beach 12-Cup Coffee Maker is an awesome piece of equipment. It keeps your coffee warm for hours, maintaining that fresh taste all morning long. You can dispense directly into your travel mug or to-go cup, you can brew your favorite coffee grounds, and it comes complete with a lot of usable settings.
One of the best things about this machine is that it has an iced setting. It also has other brew options to match your flavor. You're able to make fresh coffee, cold or hot, that stays fresher for longer. And you can make it your way!
Perhaps the most notable thing about this machine is that it doesn't actually come with a pot. It's designed for you to brew your beverage directly into your cup of choice. Into your mug, your travel container, or even a big bowl if you feel like it.
It actually has a special container inside of it that holds the coffee. Instead of having a big and cumbersome pot, the coffee is stored inside of the machine, where it's able to stay hot for up to 4 hours! There's no hot plate, which means no burnt coffee!
The only downside is that you need to use paper filters to brew your coffee. You also can't use pods or capsules, and it doesn't come with an automatic grinder. But if you're looking for a standard drip coffee maker with an innovative twist and less mess, this is your best option!
Features
Enclosed brewing system w/ internal heater
Dispenses directly into mug or travel cup
Iced coffee settings + brew options
Handy press bar for easy pouring
Never burns coffee
We Like
Large water reservoir
Keeps coffee hot for hours
No need for pot/Easier to clean
Removable water tank
Super affordable
We Don't Like
Limited to paper filters
Coffee may be more warm than hot
4. Cuisinart Grind-and-Brew Thermal 10-Cup Automatic Coffeemaker
The Cuisinart Grind & Brew Thermal 10-Cup Automatic Coffeemaker is an affordable revolution in coffee-making technology. This is not the most luxurious machine, but you get a whole heap of quality features at a very low price.
For features, you can expect full programmability, a sharp LCD display with an easily identifiable on/off indicator. You can turn the grinding option off with one push of a button. You can even fill the water reservoir with the convenient release button.
The removable pieces of this machine can be washed safely in the dishwasher, including the gold tone coffee filter and the included measuring scoop. Plus, the 10-cup thermal carafe has an ergonomic handle and a dripless spout that makes pouring easier than ever.
The icing on the cake is, of course, the integrated grinder. This baby really works. Pour in the beans, set the machine to brew, then wait while the machine grinds the beans, filters the water through the fresh grinds, and miraculously pours straight into the carafe. It is all done in one automatic process.
Why is this great? Because coffee beans lose their flavour after they've been grinded. By using this excellent coffeemaker from Cuisinart, your 10-cup stainless-steel thermal carafe is always going to be filled with the freshest coffee money can buy – straight from the bean!
Features
Integrated bean grinder
100% programmable 24 hours
Thermal carafe is double-walled & stainless steel
BPA free
Permanent filter to reduce waste
Includes scoop/charcoal water filter/gold tone filter
We like
Grind & Brew feature makes freshest coffee
The price-to-features ratio is spot on
Comes with everything you need
carafe is topnotch & BPA free
We don't like
Looks primitive & cheap
Has atrocious reviews online
Not that durable
5. Cuisinart Programmable Automatic Brew-and-Serve 12-Cup Thermal Coffeemaker
Thousands of people all over the world agree, Cuisinart makes good beverages. Their Programmable Automatic Brew & Serve 12-Cup Thermal Coffeemaker is another example of how Cuisinart is dominating the industry with smart, simple designs made to appease coffee drinkers everywhere.
This unit is pretty barebones. In truth, it doesn't care about anything except making you delicious cup. The stainless-steel thermal carafe can hold 12 cups and is doubled walled to ensure coffee is kept at the ideal temperature until you're ready to drink it.
While this model may not come with a fancy grinder, who needs one anyway? Simply pour in the grinds, hit the button, and enjoy a beautiful pot in mere minutes. With the programmable feature, you will always have a cup ready when you wake up or when you walk in the door after a long day of work. This coffeemaker simply works.
For simplistic brewing while keeping caffeine drinks a hassle-free activity, this automatic brewer is right for you. It costs next to nothing, so it won't hurt your wallet. Plus, the carafe is big enough to brew a cup of coffee for the whole family.
Features
Stainless-steel carafe
Comes included with instruction booklet
Automatic w/ full programmability
Slim and compact design
Window for easy identification of water level
Simplistic menu configuration
We like
Special technology keeps coffee fresher for longer
Carafe can hold 12 cups
Affordable
Simple model from Cuisinart, no bells or whistles
We don't like
Feels a little too simple
No extra special features
6. Ninja Hot and Cold Brewed System
Ninja has created the ultimate luxury brewing system. Talk about a versatile coffeemaker, their Hot & Cold Brewed System does literally everything that you could ask for in terms of coffee and tea.
The machine comes with separated baskets to keep everything organized. It allows you to brew six different sizes, ranging from a single cup of joe to a full travel mug . The carafe is stainless steel to keep a full 12 cups of liquid at the perfect temperature just for you. The list goes on and on!
For those hot summer days, this coffeemaker can brew at lowered temperatures over ice to produce cold-brew beverages. Not only that, but the foldaway frother makes coffeehouse-quality froth and cream for an added yum factor, great for iced lattes or hot cappuccinos. To make things better, all of this is done without using a single pod – straight into your cup or into the carafe.
In fact, the only reason this is not our number one pick is because of the price. That being said, if you have the money to splurge and love sipping on a wide variety of caffeinated drinks, Ninja's Hot & Cold Brewed System might be the best pick for you.
Features
Compatible with tea and coffee
Makes amazing iced beverages
Brews in six sizes, single cup to travel mug
Five different brewing styles , including rich/cold brew
Comes with integrated foldaway frother
Separated baskets
We like
The high quality stainless steel carafe
The outstanding amount of options for brew style/brew size
The ability to make hot, cold, or specialty drinks
It is extremely easy to use w/ smart systems
We don't like
The price is extremely high
There is no hot plate
Takes a little long to brew
7. Breville Grind Control Brewer
The Breville Grind Control Brewer is a state-of-the-art machine that crafts specialty coffee by grinding the beans immediately before brewing. It also uses new Steep & Release technology to create a fresher, more flavorful coffee. This is arguably the best coffee maker on the list, although also one of the most expensive.
All you need to craft this impressive new type of coffee is hot water and coffee beans. You can even program it to brew 24 hours in advance. Simply fill with hot water and ensure the bean hopper is full, and the coffee will be ready at the appropriate time.
Additionally, the Grind Control Brewer comes with a thermal carafe that will keep your coffee the perfect temperate for hours. It's nearly indestructible. There's also an LCD display that shows your grind settings, your grind time, and the strength of your coffee. Everything is digital and easy to figure out!
And in case you were worried about being able to use normal ground coffee, there's nothing to stress about! The machine comes with a grinder-bypass mode, allowing you to brew using normal ground coffee instead of beans.
For the serious coffee lover who wants to get the most flavor out of their favorite beans, and for people who like to grind their own beans but would prefer a machine do it for them well also brewing their coffee in one easy package, this is the best brewer for you. It may be a bit expensive, but it's well worth the money, as it's a great investment and it's built out of solid, reliable parts.
Features
Advanced Steep & Release technology
Integrated burr grinder
Fits travel mug or full thermal pot
Programmable auto-start
LCD display for settings
We Like
Thermal Carafe Keeps Coffee Warm
Brews quickly and efficiently
Lots of settings for tweaking coffee taste
Large capacity w/ bean hopper + water tank
Useful accessories included
We Don't Like
Very Expensive
Large & Heavy
8. Keurig K-Duo Plus
The Keurig K-Duo Plus is a huge upgrade from the standard K-Duo machine. This bump in quality is reflected in the slight increase in price. But if you're a fan of Keurig and the ease of their capsule system, you're going to absolutely love having access to a typical one-cup drink or a full pot of coffee – it just depends on your mood.
The great thing about any Keurig Duo is that as long as you have hot water in the tank and a pod in the holder, simply hit the button and drink your coffee! There's no stress to it, no annoying settings, and no confusing add-ons, like a grinder or a frother.
As for just what exactly your options are, you can brew 6, 8, 10, or 12 cups inside the carafe or a single cup for the strongest brew. You can also use a K-Cup or your own coffee grounds, giving you way more options than ever before with what coffee you drink.
And of course, there are programmable settings to make life easier. You can set the machine 24 hours in advance to wake up with a drink ready to go, either in a mug, in a travel container, or in a thermal carafe! You get the same easy access, the same minimal maintenance, and the same great flavor of Keurig – just with way more options.
Features
Uses grounds or K-Cups
Slim design w/ easy controls
Best options for brew strength & brew size
Huge water tank
Includes reusable filter + stainless pot
We Like
Simplicity of Keurig
Can brew any type of caffeine drink or hot chocolate
Saves space on the counter
No-hassle cleaning
Programmable auto-brew
We Don't Like
Better for those who prefer Keurig flavor
Price of K-Cups can add up
Much more expensive than normal K-Duo
Buyer's Guide: Thermal Carafe Coffee Makers
Before you go picking out the best thermal carafe coffee maker, you should know there are a few major aspects to consider. You're going to want to balance your budget and your desire to have the best coffee with a coffee machine that keeps coffee warm, that offers customization for brew strength, and that works with the optimal brewing temperature.
To understand what you're looking for a bit better with the best thermal carafe coffee makers, check out our buyer's guide.
Coffee Capacity
How much coffee are you looking to brew? If you have a serious hunger for coffee, you want your thermal carafe coffee maker to be large enough to keep you guzzling all day. So long as you have ample tap water and access to electricity, your coffee maker should be able to brew you a generous amount of hot coffee to keep you satisfied.
Generally, the biggest thermal carafes come with 12 cups of space for your hot coffee. Forget 10-cup thermal carafes. Forget buying a 10-cup coffee maker. Thermal coffee makers should come with a solid thermal carafe with a capacity for 12 cups of coffee that you can keep hot for hours while enjoying every last sip!
On the other hand, if you don't care about size, you may want a 10-cup coffee maker. That's enough for the average person to enjoy great coffee for a few hours while the 10-cup thermal carafe keeps your cup of joe warm.
Brewing Time & Brewing Temperature
Brewing times and brewing temperatures go hand in hand. If you want a coffee maker with thermal carafe that brews hot water into piping hot coffee, you had better get a solid hot water system that turns drip coffee into liquid gold!
What you want to look out for is a coffee brewer with positive reviews describing a fast brewing cycle and a powerful hot water system. There's nothing worse than a coffee maker with thermal carafe that brews great coffee, except that it's cold. And this isn't about a hot plate that keeps coffee warm – it's about a system which can brew quickly and at the perfect temperature.
Of course, some thermal coffee makers come included with a setting to turn up the brew temperature, and this is definitely ideal if you prefer piping hot coffee.
Customizable Settings
The best thermal carafe coffee maker is going to come with all kinds of fancy settings. If you want the most from your coffee maker, you need settings like 24-hour programmability, brew strength control, single-cup or full pot, temperature control, automatic shut off, brew pause, and so on. It's also handy if your thermal carafe coffee maker comes with a clock and a digital touchscreen.
Of course, these settings are not necessary. But if you want the most out of your thermal coffee maker, it's nice to be able to expertly control your brew.
Do I Need a Burr Grinder?
You're probably wondering if getting a thermal carafe coffee machine with an integrated burr grinder is necessary. The answer depends on how efficient you want to brew your favorite drip coffee. Do you want to pour your raw coffee beans into a burr grinder, hit a button, and let your machine brew a pot of coffee from scratch? If so, a grinder is definitely something you want to have on your checklist.
The big issue here is that most coffee makers of 2022 don't come with a grinder. There are a few, but they're typically a bit more expensive. If you truly want a drip coffee maker that can grind your beans and brew your coffee, you might have to pay a little extra, and you might not get the brand that you're after. But let us tell you, where convenience is concerned, that extra bit of money is a great investment.
Cleaning
Keeping your thermal carafe coffee maker clean is super important. Equally important is how much time you spend cleaning your thermal coffee maker. The last thing you want is to spend more than a few minutes wiping down and descaling. That's why it's critical that you get a thermal coffee maker that cleans itself and makes your life easier.
For this, we recommend that you get a great coffee maker with a large water reservoir, a high brewing temperature, and a self-cleaning feature. If there is no self-cleaning feature, don't stress. Any machine that has an optimal brewing temperature can easily be descaled and cleaned by simply brewing some tap water and vinegar. All you'll need to do is keep the surfaces wiped down!
Coffee Machine Size
The size of your thermal coffee maker is pretty important, especially if you want your countertop to be clean and uncluttered. Unfortunately, it's almost impossible to determine the size of the coffee maker when looking at images online or reading thermal carafe coffee maker reviews. This is why you should follow these steps to ensure your coffee maker isn't way too big.
First, measure how much space you have on your countertop. Next, find which thermal coffee maker you're interested in and look through the specifications until you find the measurements. Compare the online measurements with your available counterspace and boom! You'll know just what you're getting yourself into before buying the coffee maker.
Standard Drip vs Espresso Dual Coffee Maker
There is a huge difference between drip coffee makers and dual coffee makers. And believe it or not, you can actually get the best of both worlds. You can get a standard drip coffee maker with thermal carafe while at the same time having a coffee brewer that makes single serve coffee using your favorite ground coffee.
The difference here is that a dual coffee maker will come with everything you love about an ordinary coffee maker with thermal carafe, only it has a separate hot water system to brew a single serving. With a dual machine, you can do both!
Thermal Carafe vs Glass Carafe
There is a lot of confusion surrounding what type of carafe is best. The truth is that both are great options. A glass carafe is going to be a bit weaker, able to break easier, and not quite as good at keeping coffee warm, but it is stylish.
On the other hand, if you want to keep coffee hot rather than keep your coffee warm, you want a thermal carafe. These types of containers are designed specifically to keep coffee hot. A glass carafe keeps coffee warm, it looks clean and modern, but it might miss the mark if you want your coffee to stay piping hot for hours.
Price
The first important thing is obviously going to be price. The best thermal coffee maker is definitely going to be more expensive than the worst, as the steeper you go in price, the better your thermal carafe coffee maker is going to function.
But don't stress. You can still get a reliable thermal carafe coffee maker with a reliable hot water system, delicious drip coffee, a strong thermal carafe, and a generous water reservoir for an affordable price. Some starter units go for under $100, while the more advanced thermal carafe coffee makers can go for double or even triple.
The good news is that when you pay extra, you get more. The best thermal carafe coffee makers are going to come with stronger carafes, quicker hot water, a bigger water reservoir, and even single-serve functionality so that you can brew one cup of coffee or a whole pot!
Our Pick
It's hard to say anything bad about the Classic Programmable Coffeemaker from Cuisinart. This is an effective and trustworthy coffee-making machine. It comes with tons of settings, allowing you to brew various sizes of coffee. It is programmable. It self-cleans. It just simply works.
The Cuisinart comes with the nicest carafe, available in either black or white. Also, the carafe is glass and double-walled to keep coffee warm for hours after it is brewed. While all the coffeemakers on our list are high quality, nothing beats Cuisinart's classic coffee maker and its strong carafe.
FEATURED PRODUCTS
Cuisinart Classic Thermal
Thermal Carafe (1 – 10 Cups)
24-hour Delay Brew
Self Cleaning
(L) 8.1″ (W) 10.2″ (H) 14.2″ (W) 7.0lbs
* Details updated less than an hour ago (by Amazon's Advertising API)
Black & Decker Thermal
Thermal Carafe (1 – 12 Cups)
24-hour Delay Brew
Manual Cleaning
(L) 8.0″ (W) 11.0″ (H) 11.5″ (W) 4.0lbs
Shop Amazon →
or
Shop Direct
* Details updated less than an hour ago (by Amazon's Advertising API)
Recommended Reading
The Best Battery Operated Coffee Maker for People On The Go
Welcome to the world of the battery operated coffee maker. When it comes to these…
Learn More >
COMMENTS
7 Best Manual Espresso Machines in 2022
Today we are looking for the best manual espresso machine. There are two main types…
Learn More >
COMMENTS
Wacaco Minipresso vs Nanopresso – What the Better Choice?
If you are a coffee lover who needs your coffee on the go, the Nanopresso…
Learn More >
COMMENTS